The Manufacturer MX Awards 2016 winners announced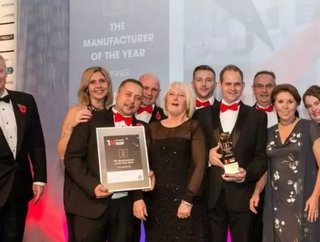 Yesterday,the very best of UK manufacturing gathered atthe Vox Conference Centre inBirmingham for an evening of celebration atThe Manufacturer MX Awards...
Yesterday, the very best of UK manufacturing gathered at the Vox Conference Centre in Birmingham for an evening of celebration at The Manufacturer MX Awards 2016.
The annual occasion is dedicated to encouraging and promoting competitive manufacturing in the UK, and celebrating the very best in the industry. It is the culmination of an intense two stage, four-month judging period, which included benchmarking factory site visits covering over 10,000 miles with a panel of over 50 hand-picked, experienced judges. This year the judges included: Steve Whittle, Head of Business Intelligence, Rolls-Royce; Robert Carr, Oxford Instruments; Gil Woodward, Manufacturing Manager, Accolade Wines; and Archie MacPherson, CEO, WMG Centre.
Supported by 15 industry sponsors, including NatWest, which has sponsored the event for ten consecutive years, the celebration attracted manufacturing business of all sizes engaged in a diverse range of activities, with 2016 seeing more than 50 manufacturing businesses represented across 15 award categories.
A spokesperson from Dura Automotive winners of the overall award Manufacturer of the Year said: "We are thrilled to have been selected for Manufacturer of the Year 2016 and particularly against such robust competition that was clearly demonstrated by the shortlisted companies. Winning what has long been recognised as the ultimate UK industry accolade will undoubtedly help us in securing further contracts in the future. This is a true testament to all the hard work our teams have put in over recent years."
Compered by Comedian Rory Bremner, a fantastic evening was enjoyed by all, with Hennik Group CEO Nick Hussey saying, "The Winners have demonstrated a very clear strategy, superb employee engagement through skills development and training, hugely effective customer focus and an overall level of manufacturing excellence which is truly world class. They are an exemplar of the wonderfully diverse and vibrant UK automotive manufacturing sector. They should be very proud."
Philippa Oldham, Head of Manufacturing at the Institution of Mechanical Engineers, said: "The TMMX Awards showcase the amazing vibrancy and talent in UK manufacturing and I'd like to congratulate all of this year's winners. Manufacturing is at the heart of the UK's economy, and these awards not only recognise outstanding achievements, but also help drive improvements in business practices of all the companies involved."
Richard Hill, Head of Automotive and Manufacturing at NatWest, headline sponsor for the event, told TM: "A big congratulations to the team at Dura Automotive on their success at this year's awards. Manufacturing remains a key focus for us and we're delighted to be continuing our support of The Manufacturer MX Awards. The awards programme and the gala ceremony are an incredible reflection of the diversity, innovation and expertise that British manufacturing has to offer.
"Our team of manufacturing specialists, who are based across the UK, will continue to work closely with the manufacturing industry to help support and stimulate more of this great work.
"I'd like to congratulate all the participants, and specifically the winners, for their achievements and also for their contribution to the sector and the UK's prosperity as a whole."  
Winners and Highly Commended are:
Innovation & Design
Highly Commended: McLaren Automotive Ltd
Winner: Xaar Plc
Partnership with Education
Winner: GE Aviation
People & Skills
Dura Automotive
Supply Chain Excellence:
Highly Commended: Coty Manufacturing UK
Lander Automotive
Through-life Engineering Services:
Leonardo Airborne and Space Systems
Customer Focus
Coty Manufacturing UK
Young Manufacturer of the Year
Andrew Williams, Vaillant Group UK
Apprentice of the Year
Andrew Batsford, Stadco Ltd
Lifetime Achievement
Gareth Humphreys MBE
World Class Manufacturing
Dura Automotive
Sustainable Manufacturing
Dura Automotive
Leadership & Strategy
Highly Commended: Coty Manufacturing UK
Hayward Tyler Group Ltd
Smart Factory
Hayward Tyler Group Ltd
Manufacturing in Action
McLaren Automotive Ltd
The Manufacturer of the Year Runner Up:
The Autins Group
Siemens Plc
The Manufacturer of the Year 2016
Dura Automotive