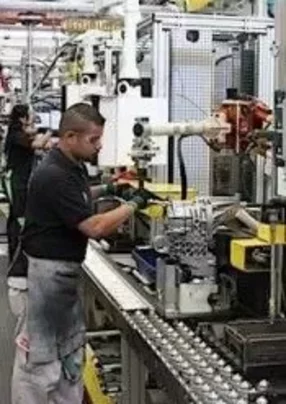 American Axle & Manufacturing (AAM)
American Axle & Manufacturing has the power to deliver...
Supplying highly engineered driveline and drivetrain systems and related components, American Axle & Manufacturing (AAM) counts the world's largest automotive companies among its many customers, including General Motors, Chrysler and Nissan.
From its 1.4 million square foot (72 acre) facility in Guanajuato State's western city of Silao, around one million axles are manufactured every year for GM alone, 170,000 for Chrysler and a combined total of almost 2.9 million drive shafts.
In close proximity to both its customers and suppliers, AAM's three Mexican plants and forging facility are strategically located on the primarily automotive-related Fipasi Industrial Park where finished products are predominantly shipped to the US and Canada.
"We're in a growth cycle right now from an industry perspective due to the decline which occurred during 2008/2009,"said Director ofInvestor Relations, CorporateCommunications & Marketing, Chris Son."We've been fortunate enough to take advantage of that rise and our operations in Mexico definitely provide a strong manufacturing and operational base for AAM to leverage on."
Exceptional employees
With a north plant manufacturing light duty front and rear axles, a central plant producing passenger car axel assemblies, RDMs (rear drive modules) and PTUs (power transfer units), a south plant making drive shafts and a separate steel forging facility supplying rough castings to them all, General Manager, Greg Tokarz attributes much of the region's success to the productivity of his 4,000 associates.
"We've been very successful with the region's unions and workers, as well as forming close ties with the four local universities," he said. "One of the things unique to AAM is that we require a minimum of a high school education, and we encourage our hourly workforce to complete their college education in order for us to promote them to salaried engineers."
"We bring students in on initiatives like summer internships and provide opportunities for them to become aware of AAM in advance of graduating," added Human Resources Director, Roberto Reyes. "Prior to new hires entering the facility, they undergo a 90-day training course at a dedicated centre to teach them all aspects of manufacturing."
The government-sponsored training centre, also in Silao, contains CNC machining stations, welders, assembly lines and a variety of other equipment associates would encounter in AAM's plants, ensuring they are already highly trained before walking through the door. Each associate also undertakes an additional 50 hours of training across a number of key areas.
Continual improvement   
With a culture of progression, promoting from within and opportunities for mobility across AAM's 30 global locations, it's not just the associates which are constantly developing. Locating new programmes and customer orders from the wider company in Mexico is accelerating growth, demonstrated from the expansion of the initial 400,000 square foot plant in 1998 to the 1.4 million square foot site in action today.
"We are getting to the point where we couldn't take on any more business at this facility, so we are looking at potential other areas to expand," Tokarz said. "At the same time, we are continuing to look for other growth opportunities within the region."
Though daily interaction occurs with AAM headquarters, the facility is run locally, with the management team allowed the autonomy to approach daily operations in their own way; a method which is clearly working. A key method of progression, implemented across all of the company's sites, is the AAM Manufacturing System, a quarterly assessment geared towards reducing lead times, eliminating waste and developing action plans for further improvement.
"This facility has also been the recipient of bronze, silver and gold Shingo awards, as well as the highest accolade, The Shingo Prize for Operational Excellence – sometimes referred to as the Nobel Prize for manufacturing," the GM continued. "This world standard indicates that we are continuously working on improving on quality, operational efficiencies and employment involvement."
Highest quality standards
With customers expecting unwavering product quality, AAM have incorporated stringent checks and measures at every stage of its operation, starting with its supply chain. The facility has almost 360 suppliers, principally located in Mexico and the US, as well as a handful hailing from China and the Far East; all of which are managed by an extensive Supplier Quality Development department.
"The department visits and assesses a supplier prior to bringing them onboard to ensure they adhere to our systems and are capable from a quality and throughput perspective; assessments which are regularly repeated," said Tokarz. "We also have multiple systems in place to monitor every aspect of quality and production, such as our FIS (Factory Information System), and act accordingly."
Investing over $1 billion in the facility to date, in technologies such as NVH (Noise, Vibration & Harshness) simulators, AAM stands out from an increasingly crowded marketplace because of its desire for improvement. In 2002, its quality measure PPM (parts per million) was around 200, a decade later that figure has plummeted to 8.7, with a future target of 3.4.
"PPM is an example of a performance metric that our customers recognise, combined with our year on year reduction in product warranty costs, among others," he continued. "We target a minimum of a 20 percent improvement year on year and we've never failed to achieve that."
The road ahead
By aiming to provide and support its customers with an innovative product portfolio that continues to maintain high quality standards and fulfil future technology requirements, AAM are doing anything but switching to cruise control.
"A product we've recently launched is our unique EcoTrac Disconnecting AWD System, which provides All Wheel Drive when needed, but eliminates any spinning of components which aren't ", Son said. "It's an example of how we're increasingly looking at fuel efficiency and reducing CO² emissions and weight; as well as potential growth opportunities in emerging markets, such as China, Thailand and Brazil.
"We have a business backlog order book from customers of new and existing products spanning the next three years which totals $1.25 billion, that's a key driver to reach our revenue target," Son continued. "We have a continued organic growth focus to capitalise on strategic opportunities as they arise, resulting in a projected growth rate in excess of the industry average, 11 percent versus less than five."
"We have one of the nicest, cleanest facilities you'd ever want to work in, our people really enjoy what they do and it's a very conducive environment for both individual and corporate success," concluded Tokarz.