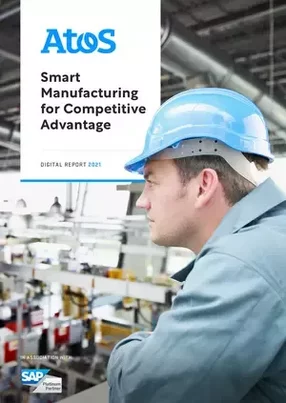 Atos: On smart manufacturing for competitive advantage
We talk to digital services specialist Atos UK and Ireland about smart manufacturing, Industry 4.0 and the importance of technology in data use for future
Atos is a major global systems integrator which provides a range of digital services to predominantly large corporations, as well as some smaller ones. It operates in the following industry sectors; retail, logistics and transport, utilities, manufacturing, financial services and insurance, healthcare and life sciences, public sector & defence, telecoms and media. The company provides everything from traditional IT services through to large SAP implementations, cybersecurity, cloud, decarbonisation and digital transformation. It is a lesser-known fact that Atos is, in fact, the largest digital services company in cybersecurity in Europe.
One of the company's key offerings and a significant focus for Atos in Northern Europe is smart manufacturing and, specifically, the integration of SAP, PLM, MES, OT, IoT and data analytics to achieve genuine closed loop manufacturing.
So how would Simon Culshaw define smart manufacturing when it comes to Industry 4.0 ?
He says what crystallises the concept is to drive sustainability through the design and implementation of intelligence-led integrated solutions that transform the performance of manufacturing. And this is done by connecting business strategy, people, processes and, of course, technology.
"That for me is it in a nutshell. It's a holistic approach to using technology to improve the end-to-end business of manufacturing. To really drive change, you have to look at the culture of the business and the way in which people operate within it," says Culshaw.
He provides an example of one of the company's customers, a major food and beverage manufacturer, that Atos helped to increase production line efficiency by more than 20%. What wasn't expected from the deployment was the culture changes that came about as a result.
"One of the plant managers told me that there was a change in culture among staff working different shifts as they became more competitive. It's that kind of culture you want to create, a sense of pride in the fact you have an operation which is running very efficiently and you're making the best of the technology to increase productivity. I think that's a big part of industry 4.0."
The technologies driving the movement
Culshaw speaks about the cloud. It took time to implement it across the manufacturing side of the business, but we are seeing our people adapt to the new methods. He mentions that Atos employs edge devices to collect data from factories and move the data lakes to the cloud to provide enterprise-level smart factory control room functionality.
"To our company, this means that an operations director in head office can see how all the plants are performing in real time, and at any time."
He believes ERP solutions like SAP have a massive part to play across Atos. "Silos have very defined functions and, if not used correctly, it can result in poor communication between them. One of our big challenges is to get rid of these silos and get the business working together to produce what is required to be the most efficient and cost-effective way, whilst improving quality and increasing agility. ERP and integration on the shop floor and product lifecycle systems are critical if we are to succeed."
Atos works with SAP software extensively in the smart manufacturing space. It has, over time, invested heavily in the technology. A great example of this is what he refers to as 'smart manufacturing studio'. This, he says, is an immersive experience in which customers can test drive different technologies involving SAP to address business and manufacturing scenarios and demonstrate how cases can be implemented. The SAP software covers areas like product life-cycle management (PLM) integration, intelligent asset management and performance management in factories. Culshaw believes that joining up these areas across a business adds massive value. Atos is working with many manufacturers to achieve this in factories. 
Critical cyber security in industrial technology
Although cybersecurity is obviously hugely important, Culshaw says in some cases it's treated with the utmost importance and in others it's not taken seriously enough. In industry sectors such as aerospace and defence, huge emphasis is placed on cyber security, but it sometimes becomes apparent that other types of companies such as manufacturing focus less on cybersecurity. With the world moving increasingly to the cloud, it is more important than ever. Culshaw has, for example, witnessed malware having considerable impact on production and OT systems, causing days of downtime. 
"When it comes to the expansion of the use of cloud to hold larger and larger amounts of data, having the right cybersecurity measures in place is critical. Any vulnerabilities can be exploited and that can have serious repercussions for a business. The importance of solid cyber security measures cannot be underestimated," he states.
Atos and their partners and importance of relationships
Atos works with major providers for products like PLM and manufacturing execution systems (MES). One of their biggest partners is Siemens, with which, Culshaw says, Atos has a major strategic partnership. In regards to manufacturing, they have been working together since the start of the Industry 4.0 initiative. The partnership revolves around investing in the production of a number of solutions to meet specific use cases within the manufacturing industry.
"For example," he says. "It could be around preventative maintenance and the creation of solutions involving IoT products, such as MindSphere. Our chief executives have made
a commitment to ongoing partnerships over the next five years. We are involved in a number of initiatives alongside Siemens. We would like to improve the competitiveness of
UK manufacturing."
However, Culshaw is keen to add that Atos also partners with smaller operators and runs a scheme called the Horizons Programme that supports small technology companies to bring their innovations to market. Atos helps these companies by introducing their innovations to larger corporate manufacturing companies, including Atos customers. This helps to grow these businesses and brings value to Atos customers to introduce innovation early in the lifecycle.
Culshaw concludes: "There's no one size fits all, there are a lot of different partners and a wide partner ecosystem we work with in terms of technologies." 
How does he think Atos' relationships with their partners, large and small, are changing?
"What is starting to change is our thinking about how we use technologies like MES from an enterprise perspective. Traditionally, manufacturing companies haven't tended to use this technology on an enterprising scale and things like scalability and licensing haven't become issues. That's starting to change because companies want to standardise specific platforms so they can have easy access to their data across their entire operation," Culshaw answers.
"Companies are starting to think about how they put models in place from a commercial perspective and how they scale their products to large global operations – this is going to be a challenge. It is already an area that we are working across." Culshaw again gives Siemens as an example, as Atos has provided the company with dynamic PLM services in the cloud – a consumption-based model which allows a lower cost of entry that can be scaled as demand grows.
And what does he think is the secret to Atos' long lasting and successful partnerships across the industry? Culshaw sums this up in just one word, "trust" – this often requires a bit of a leap of faith but once we are there it creates momentum and enables us to work together in a constructive way.
"If you can establish one small victory, everyone wants to repeat it, which leads to success in other parts of the business."
What will a successful business look like in terms of technology within five to ten years?
Culshaw says this is going to be dominated by companies that know what they're doing with their data and know how to use it to get useful insights. Data is growing exponentially, and this is only going to become more complex and more difficult to extract insights. However, it gives rise to greater opportunities.
"Companies that grasp this are going to have a significant advantage over their competitors. The technology landscape is going to be dominated by this," he says.
He goes on to say that there is still lots of work to do in terms of the emergence, development and expansion of IoT technologies."I don't think businesses are quite there yet when it comes to stable and reliable IoT technologies because we're not at the point where people fully understand and know what exactly to do with them.
"Over the next few years, we will start to see the emergence of some key players in this space - this is hugely exciting and will enable lots of new business models, the likes of which we have barely begun to think about."