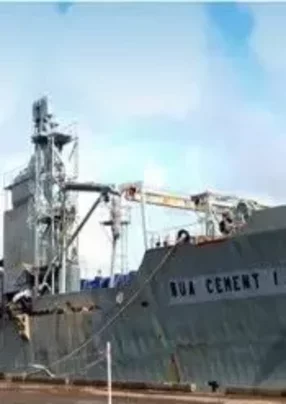 BUA's $500m investment expands cement production...
BUA Group is investing $500 million into a large and ultra-modern cement plant in Okpella, Edo State, due to open later this year and aimed at bringing its high-grade product to the whole of Nigeria and beyond.
The plant will be operated by BUA subsidiary, Edo Cement, acquired in 2009, which along with Sokoto Cement in 2010 represents a series of shrewd investments by the Group as it has diversified its services and broadened its business horizons over the years.
The company signed a $35 million contract with Siemens, who will build a new gas turbine plant, featuring three SGT 500 turbines to power the cement factory, and they will be specifically designed for the African market to ensure low maintenance costs, high reliability and minimal personnel required for its operation.
The new plant will treble annual production capacity to three million metric tonnes, satisfying demand in the midst of an explosion in construction projects in Nigeria and creating huge employment opportunities for locals.
This development adds to BUA's impressive record in the cement market. The company owns and operates Nigeria's first floating cement terminal, BUA Cement 1, which was designed specifically for bulk and bag unloading.
With the cement bagging plant located inside BUA Ports and Terminals, it, together with the floating factory, can be moved efficiently to areas of high demand.
In 25 years, Lagos-based BUA has enjoyed exponential expansion to become an industrial giant with annual revenues of around $2 billion. Chaired by businessman Abdulsamad Rabiu, it holds a stake in a wide range of business sectors including manufacturing, port management, flour and oil milling, oil and gas, iron & steel and shipping & real estate.
Port management
Its port management service, BUA Ports and Terminals, operating at the Port Harcourt Ports in Rivers State, was registered in 2006, and has since expanded more than sixfold to a daily cargo capacity of around 1.5 million tonnes.
The 24/7 port service of four berths is staffed by an expert workforce which prides itself on excellent customer service.
It has a stacking area of 15,000 sqm and two 4,000 sqm warehouses for cargo storage.
Sugar refinery
Sugar is another key area for the Group. The BUA Sugar Refinery at Tin Can Island, Lagos has an installed capacity of 2,000 tonnes of imported raw sugar refined per day.
The refinery makes use of the latest market-leading technologies from Brazil, and is structured to generate its own power during the process of converting molasses to sugar.                                         
The formerly federal government-owned Laifiagi Sugar Company and its plant in the western Kwara state was acquired in 2010, upping capacity further, and last year BUA announced it is to build yet another refinery in the central Kogi state as it seeks a stronger foothold in the international sugar market.                        
Flour mills
Over the years, the general trend for BUA has been from importation to self-manufacture.
BUA's Flour Mills Limited subsidiary was formed in 2005 as a response to the Nigerian Government's efforts to address malnutrition amongst a booming population, and minimise reliance on imported goods in a move towards self-sufficiency.
It also furthered the company's own intention to produce flour for local and international markets, at a high level of quality and under the strictest of hygiene conditions.
BUA takes pride in its unique flour which absorbs more water than other brands, and consequently gives higher yield per bag while being able to withstand a longer fermentation time.
Two plants are currently producing and both the one in Lagos and the newer example located in Kano have a capacity of 500 tonnes per day.
In March 2012, the new pasta subsidiary began production in Kiri Kiri, Apapa, Lagos, producing semolina at a capacity of 360 tonnes per day and pasta at a capacity of 240 MT per day.
Other sectors
BUA Oils, which has been operational for more than 20 years, became the biggest vegetable oil processing company in West Africa, having acquired Nigerian Oil Mills in 2000.
The vegetable oil processing plant in IKeja, Lagos is the largest oil mill in West Africa, with a daily production level of 700 tonnes ensuring the abundance of high-quality products including RBD Palm oil, Palm Olein, Stearine and DFA, which are produced by a team of local and multinational experts.
These products have performed strongly in the market based on their excellent reputation.
In the real estate sector, the group owns and operates huge real estate development projects in Northern Nigeria, and has played an important role in assisting Nigeria's Millennium Development Goals, having developed several affordable housing estates throughout the country.
Social Responsibility
A company that has benefitted and grown so strongly recognises that such success could not have been achieved with the Nigerian people, and as such takes its Corporate Social Responsibilities toward them extremely seriously.
The Group sponsors grassroots football and other sporting activities aimed at uncovering and developing the talents of youths.
It also supports healthcare and medicine in the country, such as the Cancer Centre in the capital Abuja, which aims to improve the delivery of healthcare in rural areas to women and children in particular. The Group has also donated quality medical equipment to the Daniel Ogechi Akujobi Memorial Foundation's Accident and Emergency Centre in Ogun State.
It additionally aims to increase awareness of disability through sponsorship of high-profile campaigns.
All of these charitable undertakings are working towards the ultimate goal of the establishment of the dedicated BUA Foundation.
This impressive strategy of expansion, acquisitions and effective partnerships in Nigeria are all part of the Group's self-described mission to create sustainable products and services offerings, which add value to consumers, while positively contributing to the social development of its host communities.
Whilst consolidating its numerous achievements to date, the Group going forward intends to continue actively exploring, both locally and internationally, for additional investment opportunities in line with its vision of unlocking opportunities and remaining a first class regional and international conglomerate.