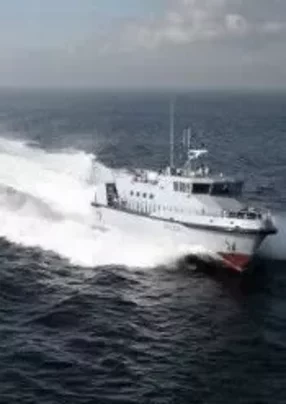 Nautic Africa gives rough waters a personal touch...
Nautic Africa is ready to roll out five new vessels and expand into operating its own fleet of ships as it nears its five-year anniversary.
The South African bespoke boat-building company has seen turnover grow by 60 percent year-on-year thanks to its expertise and determination to help clients get the boat they really need, and has now received International Safety Management certification which will allow it to branch out into operating its own fleet.
The company specialises in high-speed, high performance, purpose-built boats for client-specific applications and turnkey solutions. The three pillars to the business are construction of the vessels, the leasing of said boats and the after-service and support.
Stormy seas
Anti-piracy, illegal poaching control, onshore and offshore territorial waters patrol, maintenance and security of oil and gas assets including safe transfer of crew in all sea conditions are among the areas the firm has to consider in applying its collective years of boat-building expertise to each order.
Nautic is well used to operating in "dangerous quarters", such as the Gulf of Guinea and East Africa, said Founder and Chief Executive Officer James Fisher.
"There is always risk and danger," said Fisher.
"I suppose that is why there is the opportunity. But if you operate carefully and you mitigate your risk than it is not too bad, it is not a warzone like it used to be but these places have a long way to go. But we know how to do business there, so we are comfortable."
Innovation
The company is responsible for a unique composite sandwich structure which offers ballistics protection to Nato Level 3 standard, meaning a boat will be able to withstand multiple rounds from a 9mm submachine gun or an AK47. Fisher claims it is the lightest of its type.
Oil companies with significant investments offshore and authorities looking to clamp down on marine crime are among Nautic's clients. A recent contract with the South African Department of Fisheries to manage and operate their fleet of vessels has inspired the company to consider operating a Nautic-owned fleet.
Entrepreneur and company founder, Fisher is not a boat builder himself but, passionate about marine manufacturing, he collected together a team of expert naval engineers and architects in 2008 and used his business nous and connections from a previous project in Dubai to start Nautic, with the aim of capitalising on a blossoming, young African economy by filling a gap in the market where hyper-current boating expertise should be.
"it is not like in the UK, America or Germany where there is an ingrained culture around boats and fairly  good understanding of propulsion systems and so on. There is very little known about that in Africa, so there is more of a reason to provide that service here," said Fisher.
The company has offices in Cape Town on South Africa's western shore, as well as in Ghana and Nigeria, where it has begun to offer local service and support to existing clients.
"We are dealing in an area where times are booming. In a lot of these smaller African countries it is a bit like the San Francisco gold rush, there is a massive demand but just no services or suppliers," said Fisher.
The company's last reported turnover was $60 million, with a profit of 15 percent.
Gadgets galore
Nautic has a unique, copyrighted hull shape design, which aims to maximise efficiency and aerodynamics, to give the user better fuel efficiency but also maximise the square metre footprint of the vessel.
The big boys' toys shopping list offered by Nautic is vast and includes multi-function displays, radar, night vision cameras and even a 'panic room' function where passengers and crew can safely hide during an attack.
But the key attribute that sets Nautic apart is that the team is not just happy to take the client's money, rather they offer advice and insight into what is necessary and feasible, helping the client to realise what they need.
The company's experts do an analysis of a client's requirements to design the perfect vessel in terms of range, seating capacities, fuel capacities, speed requirements and, if necessary, ballistics protection, among other things.
Fisher added: "What you find has been happening a lot in the market is that clients go and do a bit of brochure shopping, they will look online and see what they think the need, and in a lot of cases it is either too much boat, too little boat or just the wrong boat, and so we offer a service to insure they are buying the right boat.
"The holistic approach to the business has been very successful in offering clients the whole package."
A supportive service
With Nautic's turnkey solutions all the client has to do is turn the key and off he goes. The vessel is delivered to location, has a professional handover and the crew even receives training from Nautic.
The firm also assists certain clients in developing their mission and application studies.
"Really its holding a client's hand throughout the whole process, to ensure that their investment is well utilised," said Fisher.
Nautic provides services to big-name clients in the oil and gas industries, such as Shell, BP, Agip, as well as local port authorities and navies.
Going forward the company is beginning to do a lot more in-house design, with five new vessels, locally designed and ranging in size from 15 to 42 metres, ready to be launched next year.
 Fisher said: "The future aim is to have a bigger footprint in Africa, have more representation on the east coast and integrate more of our activities through the three pillars.
"We want to apportion the business more evenly across the three pillars and more evenly across Africa, increasing the leasing, subservice and support front, as well as branching out into operating Nautic's own fleet."