All Access: BPM 2023
Tue 19 Sep - Thu 21 Sep, 2023
Free PEX Network Online Event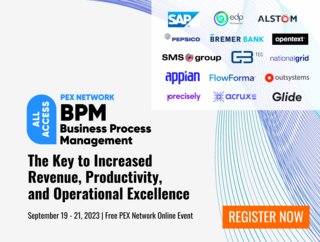 All Access: BPM 2023
All Access: BPM 2023 September 19 - 21, 2023
Unlock the Key to Increased Revenue, Productivity, and Operational Excellence. Discover the latest insights, strategies, and success stories that will empower your business to flourish at All Access: BPM 2023, our largest free online event of the year!
As industries evolve and strive for operational excellence, Business Process Management emerges as a crucial channel for organizations of all sizes. BPM techniques can be used to refine and optimize operational landscapes, leading to streamlined costs, heightened process efficiency, and improved customer satisfaction.
A recent survey of business leaders found that 85% of today's enterprises use process management techniques. However, only 20% of organizations have fully integrated BPM into their strategic framework. This means that there is a significant opportunity for organizations to improve their business performance by more effectively leveraging process management techniques.
All Access: BPM will provide a comprehensive overview of how business process management can be used to achieve operational excellence. We will cover the following key topics:
Data and Digital Tools: Adopt data analytics and Generative AI to enhance processes.
Hyperautomation: Strategies to automate and streamline processes with hyperautomation.
BPM Maturity: The different phases of BPM, from inception to maturity.
Process Mining: Explore how to use process mining to analyse and improve processes.

BPM Democratization: Strategies to democratize BPM through Low Code/No Code for universal understanding.
Hear from our currently confirmed industry expert from: PepsiCo, EDP Renewables, Bremer Bank, SOCAR Türkiye, Alstom, SMS group, OpenText, AcruxKC, Precisely, OutSystems, Glide, SAP, GBTEC Group, Appian Corporation, Camunda, and FlowForma
Register here - https://ow.ly/XPRR50PK0lQ