The importance of ISO9001 certification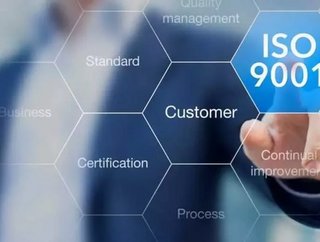 As a business owner, it is vital that you have a quality management system (QMS) in place. Your customers will return if they know they can trust you, a...
As a business owner, it is vital that you have a quality management system (QMS) in place. Your customers will return if they know they can trust you, as well as the products and services you offer. Due to the fact that many companies have international relationships, it is also imperative that these quality standards are the same everywhere so that businesses are measured the same way.
The ISO9001 is one of those international standards that ensures certain requirements for a QMS, and over a million companies across the globe are already certified. The ISO9001 offers a wealth of benefits to a company and can be obtained by organisations of any size or in any sector, including the manufacturing one.
Economic contribution
In the UK, the relevance of standards is impossible to overlook. A comprehensive study conducted by the Centre for Economics and Business Research, which includes data from 1921 and 2013, reveals that standards like the ISO9001 are vital to the UK's economic growth.
The figures don't lie, with £8.2 billion they already contributed to the economy and the 37.4 percent rise in productivity that can be attributed to them. An additional £6.1 billion in UK exports can be credited to standards as well.
Improving operations
If you are interested in improving your management and operations, the ISO9001 will help you achieve your goals. The intention behind this standard is to improve your business by implementing efficient procedures designed to streamline operations and help staff achieve higher productivity.
This can be done by improving consistency, for instance. If you are consistent in what you offer, customers will learn to trust that you can deliver quality at all times. The same outputs, the same tolerances, the same dimensions. All of these and more need to remain consistent which each product or service delivery.
Higher efficiency
No company runs smoothly 100 percent of the time, especially not with the number of variables needed to have a successful business. However, standards like the ISO9001 can help you achieve your targets on a regular basis and with better precision, increase quality and streamline processes.
This also means that implementing this certification in its totality can also help you reduce waste. Not only are these factors important for the growth of your company, but they can also help you attract new clients who prefer to deal with an eco-conscious business.
By improving operations and consistency, as well as reducing waste, you can become more efficient and see a reduction in costs. Saving money that can be invested back into the business is a well-known way to help it grow.
What customers want
The ISO9001 is recognised around the world and indicates that your QMS is continually evaluated and approved. This is why many companies prefer to do business with ISO9001-certified organisations, and you might share the same beliefs. After all, other businesses also benefit from the same improvements that this standard offers your own.
Your customers will be aware of the fact that the ISO9001 means lessening mistakes, improving communication, better quality and higher standards in general. A company that becomes certified, then, might see an increase in customer satisfaction and, of course, business.
According to the BSI Group, becoming ISO9001-certified can potentially increase your competitive edge by 54 percent. Companies with this certification have also reported a 57 percent rise in new customers, a staggering figure that clearly showcases the importance of the ISO9001 for organisations.
Obtaining the ISO9001 certification and implementing it in your business can lower operational costs, improve your bottom line, offer a competitive advantage, improve your reputation, deliver better products and services, and much more.
Investing in the ISO9001 certification can increase the performance of your company and take it to new heights, whether you're in the automotive, industrial, aerospace, medical, or manufacturing industry.
Dean Group adheres to the ISO 9001 approval and has more than 40 years of experience in the manufacturing industry, specialising in high-quality, high-integrity casting processes.