Procurement & Supply Chain
Unilever moves Dove to 100% recycled plastic bottles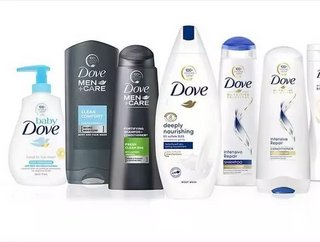 Unilever is positioning beauty brand Dove to address plastic waste througha combination of alternative packaging materials, recycled plastic and investi...
Unilever is positioning beauty brand Dove to address plastic waste through a combination of alternative packaging materials, recycled plastic and investing in refill technology.
Supporting Unilever's recently announced goals on plastic reduction across the business, Dove has opted for long-term initiatives rather than one-off limited editions to ensure a greater and sustained impact.
In a move that will reduce more than 20,500 tonnes of virgin plastic from its portfolio per year, and support the creation of a circular plastics economy, Dove is making some significant changes to packaging and products.
As one of the biggest known reduction plans of its kind in the beauty industry, the amount of virgin plastic Dove will save globally per year would be enough to circle the Earth 2.7 times. The new commitments are part of Dove's 2025 pledge to reduce plastic waste, which will see the brand avoid the use of more than 20,500 tonnes of virgin plastic globally per year.
Richard Slater, Unilever Chief R&D Officer commented: "At Dove, we are proud to have more than 100 initiatives ongoing around the world dedicated to tackling plastic waste. But as one of the biggest beauty brands in the world, we have a responsibility to accelerate our progress even further. 
"This announcement is an important step in our work to transform how we produce, use and dispose of plastic packaging. By making this move, we aim to drive the global recycling industry to collect more waste plastic and make more recycled plastic available for use."
SEE ALSO:
Unilever joins forces with Veolia for sustainable plastic packaging partnership
Unilever launches new packaging technologies centre in the UK
Unilever and Nestlé become first major processors to use ProductDNA
Read the latest issue of Manufacturing Global here
Plastic waste is one of the biggest global environmental and human health issues we face today: an issue being driven by a linear, single-use consumption model. To be part of the solution in creating a circular plastics economy, one where plastics are reused and recycled, globally Dove is following the 'no, better, less' framework:
NO PLASTIC
Next year Dove's iconic beauty bar single packs will be plastic-free globally, and development is underway to replace the plastic outer-wrap of its beauty bar multipacks with a zero-plastic material.
BETTER PLASTIC
Dove will start to launch new 100% recycled plastic (PCR) bottles where technically feasible, in Europe and North America, by the end of 2019 – across all ranges (Dove, Dove Men+Care, and Baby Dove). Dove continues to search for solutions where recycled plastic is not currently technically feasible, including for caps and pumps.
LESS PLASTIC
Dove will leverage the technology behind its new reusable, refillable, stainless steel format deodorant sticks: minim. This technology minimises waste by radically reducing the amount of plastic required. The launch date is not yet confirmed, and launch markets are being decided, but work is well underway.