Adidas revamps manufacturing process, offers customers greater customisation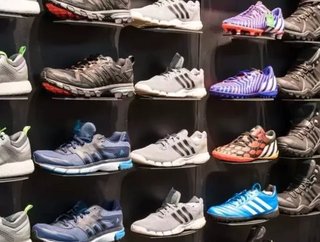 Adidas plans to speed up production and allow shoppers to customize more shoes and clothes, aiming to accelerate sales and profit growth over the next f...
Adidas plans to speed up production and allow shoppers to customize more shoes and clothes, aiming to accelerate sales and profit growth over the next five years.
The German sportswear firm, which has been losing ground for years to fast-growing rival Nike, said it was testing automated production units that would allow it to shift manufacturing from Asia closer to consumers.
"We will bring production back to where the main markets are," said Chief Executive Herbert Hainer, adding the current six weeks it took to ship from Asia to Europe was too long. "Robots can be everywhere."
Manufacturing closer to consumers should allow it to react more quickly to fast changing trends - like floral prints this spring - as it seeks to challenge market leader Nike as well as fashion retailers like H&M, which are already much more responsive and are moving into sportswear.
Adidas said it would extend innovations pioneered by its NEO teen fashion brand which gets new products into store in 45 days, compared with a sports industry standard of 12-18 months.
Global brand chief Eric Liedtke, seen as the strongest internal candidate to succeed under-pressure Hainer, said Adidas was seeking to shake up the market in the same way that Nike did when it moved production to Asia in the 1980s.
Liedtke, a former American football player, said the German company's priorities included reversing falling sales in North America, retaining its global leadership in soccer, doubling sales in running and doing more to appeal to female consumers.
Nike has been taking market share from Adidas and is seen as doing a better job at setting trends.
Adidas said it expects sales to grow by almost half to above 22 billion euros ($24 billion) by 2020 and net income to rise around 15 percent per year on average, which Hainer conceded would not translate into a double-digit operating margin.
Hainer faced calls to step down last year after he was forced to abandon the company's previous five-year targets - including a 2015 goal for a 11 percent operating margin.
"Their main problem is weak profitability and we are hearing very little about that," said Ingo Speich, fund manager for Union Investment which has a 1.3 percent stake in Adidas, who has repeatedly criticized Hainer in the last year.
"The strategy will only be credible under new management as Hainer could not deliver on what he promised."
CEO SEARCH
The company said last month the board had launched a formal search to replace Hainer, in the job since 2001, although the CEO has said that did not mean his departure was imminent.
Adidas shares, which have risen 20 percent so far this year in part due to high expectations for the strategy presentation, were down 0.15 percent at 1030 EDT but still outperformed a 1.3 percent weaker German blue-chip index .GDAXI.
Adidas, founded by German shoe maker Adi Dassler in 1949, laid out its new strategy in its innovation center, where it demonstrated machines which allow shoppers to print their own names and logos on to its popular "Superstar" sneakers, tapping into a broader trend for personalized products.
It said it was working with German companies and the government on innovations in robotics and machines which can "knit" sneakers rather than having them sewn by hand, which could allow it to move production away from hubs in China, Cambodia, Laos and Vietnam.
To help it get closer to consumers, Adidas, which until a decade ago only sold its products wholesale, plans to open another 500-600 stores so that its own retail business accounts for above 60 percent of sales, from about half in 2014.
Adidas expects its cash flow to grow at a faster rate than operating profit in the next five years, allowing it to raise its range for future dividend payments to 30-50 percent of net income from a previous 20-40 percent.