Ford F-150 and BMW i8 win 2014 Innovation Vehicle Of The Year Awards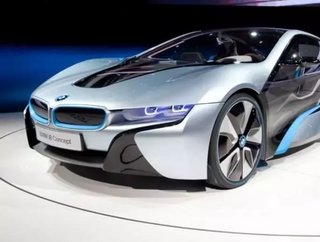 The Motor Press Guild (MPG), the largest automotive media association in North America, announced two winners of its 2014 Innovation Vehicle of the Year...
The Motor Press Guild (MPG), the largest automotive media association in North America, announced two winners of its 2014 Innovation Vehicle of the Year (IVY) Award, with the 2015 Ford F-150 winning the under $30,000 class and 2014 BMW i8 taking the award for the $30,000 and over category. The announcement was made Wednesday during the LA Auto Show's MPG Motoring Invitational.
An expert panel of judges evaluated all nominated vehicles and selected a group of 13 finalists. Those vehicles were then voted on by MPG's journalist and analyst members, who determined the winners by evaluating each car on innovation, technology, engineering, safety, environmental impact, price, affordability and value.
To aid voters in their final decisions, MPG partnered with AutoHarvest to supply third-party information about the advanced technologies incorporated into the finalist vehicles.
Under $30,000 Winner: 2015 Ford F-150
According to John Dinkel, MPG's IVY Awards Chairperson, the all-new 2015 F-150 sets up an enormous risk-reward scenario for Ford, as the brand introduces its first all-aluminum bodied model. By using aluminum, the F-150 saves up to 700 pounds of weight, giving the truck advantages in fuel economy, acceleration, braking and a higher towing and hauling capacity.
There are also synergistic weight reductions in powertrain and chassis components and customer concerns with strength, ruggedness and repair-ability have been addressed via high-strength, dent and ding resistant, aerospace-grade, aluminum alloys.
"All these risks-rewards are focused on one word—aluminum—and Ford's decision to become the first automaker to use significant amounts of this lightweight material in high-volume production is a gamble," said Dinkel. "Huge as manufacturing delays could cost Ford its truck sales leadership. Then again, if everything aligns, Ford will become the world leader in the use of aluminum in automobiles. This truck is a game changer."
Over $30,000 Winner: 2014 BMW i8
High performance and high efficiency are not often used as descriptors of the same car, but MPG members agree the BMW's i8 sports car is a notable exception. BMW's first plug-in hybrid sports car features a powerful electric motor driving the front wheels combined with a turbocharged 1.5-liter 3-cylinder gasoline engine connected to the rear wheels. MPG members were impressed with the car's drivetrain combination, which powers the i8 from rest to 60 mph in around 4.3 seconds and to a top speed (electronically limited) of 156 mph.  In either of its two pure EV modes, the i8 can be driven about 23 miles before the IC engine kicks in.
"The i8 also boasts an extensive use of recycled, renewable raw and naturally treated materials, further exemplifying the innovation, environmental impact and enhanced engineering principles of the IVY award," said Dinkel.
Furthermore, to compensate for the extra weight of the batteries and electric motor, the i8's passenger compartment is made of carbon fiber, making BMW's i models the first high-production vehicles to make such substantial use of this high-tech material.
"On behalf of all MPG members, I'd like to congratulate Ford and BMW on their IVY awards," said MPG President Joni Gray. "We had an exceptional group of entries this year, but MPG's journalist and analyst members agreed that these two vehicles represent the year's best in technology, safety and innovation."
The MPG Motoring Invitational was an exclusive morning event that featured nearly 50 unique, historic and significant vehicles and celebrated all aspects of the car hobby, bringing together some of the most interesting automobiles from influential icons, tastemakers, luminaries, collectors and celebrities for Press & Trade Day attendees to enjoy.