Manufacturing sector most impacted by global sanctions and tariffs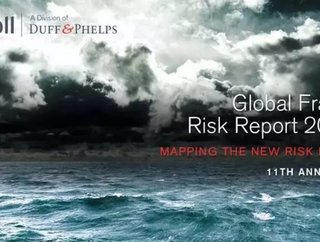 Kroll's annualGlobal Fraud and Risk Reporthas found thatOver half of manufacturing firms (57%) have been affected by newly imposed sanctions over the...
Kroll's annual Global Fraud and Risk Report has found that Over half of manufacturing firms (57%) have been affected by newly imposed sanctions over the past 12 months.
Kroll, a division of Duff & Phelps (the global leader in risk mitigation, investigations, compliance, cyber resilience, security and incident response solutions) found that the figure was 10% higher in the manufacturing sector than the global average (47%). More than two thirds 69% of manufacturing business leaders also reported an impact from new tariffs or trade wars, compared to a global average of 54%.
Kroll's Global Fraud and Risk Report, with research conducted by Forrester Consulting, examines the current global risk landscape, understanding the biggest risks facing global companies and the steps being taken to prevent, detect and respond to daily threats.
Geopolitical issues continue to impact manufacturing firms, making accurately predicting and preparing for future opportunities and challenges difficult. Looking ahead, leaders in this sector are concerned about the potential breakdown in intergovernmental mechanisms for handling issues such as dispute resolution, free trade and combating corruption, with over two thirds (69%) voicing concern, compared to a global average of 61%.
"The research clearly shows that the manufacturing sector is susceptible to a number of evolving risks. One of the most prolific historically has been IP theft, which has plagued the sector for years, but geopolitical risks such as sanctions and tariffs are becoming an ever-greater issue for the industry to mitigate," commented Nicole Y. Lamb-Hale, a Managing Director in the Business Intelligence and Investigations practice at Kroll.
"Tariffs are a form of taxation that erode profitability and are a significant risk to the sector's financial wellbeing. Many firms are now being forced to consider alternative options for their global supply chains and distribution networks, which often results in navigating unfamiliar territories posing a new set of opportunities and threats."
Technology, governance and risk:  Navigating the evolving challenges of the manufacturing industry
Make UK welcome Brexit deal but voice concerns over future with Europe
Epicor survey finds UK manufacturing maintaining growth despite Brexit
Read the latest issue of Manufacturing Global here
Perhaps unsurprisingly, manufacturing firms are particularly vulnerable to intellectual property (IP) theft, with 43% of business leaders stating that they have experienced this over the past year—the highest of any sector surveyed. The sector is also experiencing the highest incidence of leaks of internal information, with nearly half (46%) of firms being affected by this, 7% higher than the global average of 39%.
The research also found that the manufacturing industry is reporting above-average rates of reputational damage due to third-party relationships, with over a third (35%) experiencing reputational damage within the last 12 months, compared to a global average of 29%. This finding suggests that manufacturing firms may need to enhance their reputational due diligence on suppliers. While a majority (89%) conduct this type of due diligence, manufacturing firms are below the global average of 92%. 
Perhaps due to the impact of robotics and other technologies on the sector, manufacturing firms are more concerned than other industries about disruptions due to artificial intelligence, with over two thirds (67%) of business leaders agreeing that artificial intelligence is a concern for the future compared to a global average of 56%.
About the Global Fraud and Risk Report
For the 2019 Global Fraud and Risk Report, Kroll commissioned Forrester Consulting to conduct an online survey of 588 senior executives who have responsibility for, or significant involvement in, determining their organization's risk management strategies. Survey respondents were drawn from the 13 countries and regions and 11 industries listed in the table of contents. Ninety two percent of the organizations operate in more than one country, and 55% have annual revenues of $1bn or more. The survey was conducted in March and April 2019.