ESPRIT Collaborates with Alma for Robot Additive DED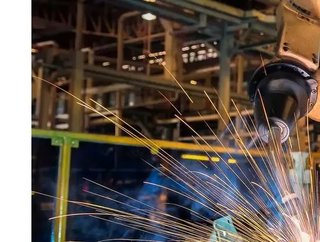 ESPRIT announces partnership with Alma to create a complete programming solution for robot additive DED...
ESPRIT, the industry's most trusted CAM software for CNC programming, optimisation, and simulation, announces a partnership with Alma, the leading CAD/CAM provider for robotics, to create a complete programming solution for robot additive DED (direct energy deposition). 
Additive DED is a series of metal 3D printing technologies that creates parts by melting and fusing material as it is deposited. Wire arc additive manufacturing (WAAM), also known as DED-arc, is one of the additive DED technologies being applied in robot additive DED to produce the near net shape preforms with significant cost and lead time reductions, increased material efficiency, and improved component performance. 
Compared to a machine tool-based DED machine, which can cost up to several million dollars, a robotic DED machine costs significantly less (close to US$150,000 to US$200,000). Additionally, many companies have existing programmable, industrial robots that can be retrofitted for additive DED applications. However, in order to program a robot to perform an additive DED task, an engineer needs to determine not only the toolpath of the DED head but also the robot arm movements to efficiently achieve the ideal toolpath.
To provide customers with an end-to-end solution for programming robot additive DED, ESPRIT has been working with Alma to bring the best of the two worlds together—the world's most advanced toolpath planning in both subtractive and additive areas, and the industry-leading technology in robotics trajectory computation and off-line programming of arc welding robots.
This solution allows Alma to use the full ESPRIT additive DED cycles such as 3x, 4x, and 5x, bringing the software to a new level of support for additive technology. On the other hand, the solution allows ESPRIT to support industrial robot brands, including Yaskawa, ABB, Fanuc, Kuka, and many others. 
The result of this technology partnership is a complete workflow to provide end-users with:
Dedicated additive toolpath planning and programming
Robot programming, simulation, verification, collision detection, and code generation  
Subtractive finishing process planning, simulation, verification, collision detection, and G-code generation
Through industry collaboration with several key customers and research institutions, the solution between ESPRIT and Alma has been validated in multiple applications and test cuts with various robot brands. The solution is backed by the world-class technical support from both ESPRIT and Alma. 
For a general understanding of the robot additive DED workflow, watch an from ESPRIT. 
For a more detailed explanation of the topic, please sign up for ESPRIT's .
About Almacam
About Alma Known for over 40 years for its expertise in cutting optimisation, Alma is a leading developer of CAD/CAM software for sheet metal working, cutting and robotics. Alma was also a pioneer in robotic CAM 20 years ago and has accumulated unparalleled experience in developing off-line programming software for arc welding robots. Right around the world, the Almacam software products help optimise the consumption of material and the potential of machines and robots. Today Alma is internationally renowned for its technical expertise, which it has developed over the years in many different countries. Alma is pursuing its industrial strategy based on the development of an extended range for Industry 4.0, a long-term corporate project and the commitment of its employees.
About ESPRIT and DP Technology Corp.
DP Technology Corp. is a leading developer and supplier of computer-aided manufacturing (CAM) software. ESPRIT®, DP Technology's flagship product, is a powerful CAM-system for CNC programming, optimisation, and simulation—supporting the entire manufacturing process. With factory-certified post processors delivering machine-optimised G-code and ESPRIT's ability to solve unique challenges with automation solutions, ESPRIT is the smart manufacturing solution for any machining application. With world-class technical support, ESPRIT empowers you to get started quickly and keep running at top efficiency. ESPRIT is the only CAM system you'll ever need.
DP Technology reinforces its commitment to technical excellence by dedicating nearly 20 per cent of its annual revenue to ongoing research and product development. This long-term focus has produced powerful technological innovations that have placed ESPRIT in an industry-leading position since its market launch in 1985.