Exclusive interview: Tetra Pak and intelligent customisation in food & beverage processing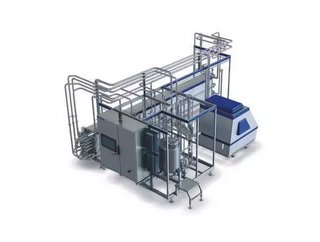 The needs and requirements of food and beverage manufacturers are increasingly diverse, as they tailor their products and processing approaches to meet...
The needs and requirements of food and beverage manufacturers are increasingly diverse, as they tailor their products and processing approaches to meet ever-changing consumer demands. A Global Food & Drink Trends Report by Mintel identified transparency and trust, self-care, stress, individuality and sustainability as their top five consumer themes for 2018 – indicating modern consumers have more complex needs than ever before, with many now needing to feel confident about the safety and purity of the food and drink they buy.
From a product perspective, these needs have led to continued demand for products with perceived or added health benefits, such as coconut water with naturally occurring electrolytes, or dairy beverages with added protein for sport recovery. Due to busy and active modern lifestyles, consumers also demand that these products be convenient and able to be consumed on-the-go, which can be more challenging in terms of processing and packaging. What's more, manufacturers are also seeing opportunities opening up for products that explore multiple senses with consumers, from texture and taste, to aromas.
To meet this diverse set of needs, Tetra Pak recently launched their Intelligent Customisation heating platform, an innovative portfolio of modules, that helps provide tailor-made heating solutions. For this exclusive feature, Manufacturing Global interviewed a variety of Tetra Pak processing experts, to get a sense of how the technologies practically work and the ways in which they can benefit manufacturer operations.
Intelligent Customisation and Beverages
Maria Norlin, Juice, Nectars and Still Drinks Sub-Category Manager, Tetra Pak
MG: Can you tell us a bit about Intelligent Customisation – what is it?
MN: Put simply, Intelligent Customisation is a collaborative process we go through with our customers, to help them achieve the best solution for their food and drink production needs.
To do this, we ask them design-orientated questions across a variety of topics, such as the products typically produced, their production process, running times, utility costs, and their short term, as well as long term product goals.
This allows us to comprehensively understand what design direction they wish to take, after which we devise the optimum heating system to bring maximum value and flexibility to their business. 
MG: Which of Tetra Pak's processing lines does it include?
MN: This new customised modular portfolio integrates 7 heating solutions into one process, that can be combined in any number of configurations, offering consistent features and functionality as well as maximum flexibility to upgrade and adapt heating solutions. This includes Pasteurizers and UHT units for Dairy, Beverages and Prepared Food.
MG: How can Intelligent Customisation benefit beverage manufacturers?
MN: Our customers in the beverage sector need to be extremely agile to meet consumer demands for novelty, value add ingredients and high-quality products. They need to go wherever consumer tastes takes them and most often produce fruit juices, nectars as well as flavoured still drinks on the one line.
Through Intelligent Customisation we are able to serve large manufacturers through to small. For instance, we recently worked with a small customer that was seeking to take advantage of a growing market but with a limited investment budget. The customer anticipated growth of their business in the future, and so also wanted a solution that was fully upgradable.
MG: Interesting. So, what were the main challenges and how did you address them?
For the smaller customer, the challenge often centres around their requirement of a diverse line of products with long shelf life, while not compromising on safety or product quality. With a small investment budget, this can of course be a challenge!
However, to meet these requirements, we developed a match in the form of the fully upgradeable Tetra Pak® Pasteurizer BC for the continuous temperature treatment of high-acid beverage products. The unit can be aseptic or hot fill design with a plate or tubular heat exchanger, and a flexible capacity range from 4,500 l/h to 50,000l/h.
Prepared Food
Helena Arph, Technology Specialist, Tetra Pak
MG: What are the main challenges faced when trying to identify the right heat treatment in the prepared food category? How does one find the perfect match?
HA: Choosing the right method of heating for prepared food applications is a delicate task. This is mainly because the heating process not only ensures that the product is safe from a microbiological perspective, it also actually cooks the ingredients. Much like what happens in kitchens all over the world, we use heat to achieve a desired taste and texture. A range of product characteristics, including viscosity, acidity and particle content can determine how the process might impact important features like colour, taste or mouth feel.
Tetra Pak's portfolio boasts a large selection of heating equipment including plate -, tubular, coiled- and scrape surface heat exchanges. This give us the possibility to supply a heating solution optimal for the products to be processed.
MG: What customer requirements are you seeing in the prepared food category?
HA: Our customers increasingly need to produce a wide range of innovative nutritional products for a growing market, ranging from fruit preparations to energy and recovery products and convalescence food, on-the-go snacks, desserts, soups and baby foods.
They need a supplier with both the necessary expertise and a pilot facility to collaborate on the adoption of new technologies and opportunities in new markets.
MG: How does Tetra Pak meet their needs?
HA: We view ourselves a trusted partner to our customer and endeavour to provide highly flexible and upgradeable heating solution that can quickly be adapted to handle a variety of products. These products will have different ingredients, viscosity and particle content, including high value-added sensitive ingredients, such as vitamins and flavours.
However, handling products that are so different requires a highly automated solution with flexible capacity and innovative features like smart cleaning. It also needs to be extremely adaptable to whatever the future holds.
To give an example, the Tetra Pak® Indirect UHT PFF with coiled heat exchanger is highly versatile, future proof and offers a low heat load for sensitive formulations. Its exceptional design enables gentle treatment of particles, highly efficient heat transfer and delivers excellent product quality.
Dairy
Bengt Eliasson, Business Manager, Dairy & Beverage Systems, Tetra Pak
MG: Why does heat treatment remain such an important part of dairy processing in the 21st century?
DE: As you know, the heat treatment of liquid foods began with the heating of milk back in the mid-19th century and later became commonplace in the production of cheese and butter. Today, pasteurization remains the predominant processing treatment for dairy products to destroy bacteria and ensure safe consumption.
At Tetra Pak, dairy processing has been at the core of our business for decades and for the 21st century we are focused on Intelligent Customisation. The collaborative process between us and our customers secures the highest levels of product quality and food safety, while also helping them achieve their organisational goals.
MG: Can you describe a typical customer challenge in the dairy category?
DA: Of course. We recently had a customer that wanted to produce milk with different fat content and yoghurt with different flavours and specific characteristics. They needed to remain efficient on the bulk products such as plain milk, but also be able to deliver a variety of yoghurt products with a short turnaround time and a low amount of waste which is especially important for products with value-add ingredient. The challenge came in producing a wide range of products – including small batches of specialised products – using the same line, without compromising on quality.
MG: And what solution did Tetra Pak provide?
DA: Using our Intelligent Customisation approach, we matched the customer with the Tetra Pasteurizer D, as the ideal solution for a variety of milk and yoghurt applications. The unit is easy to adapt, including the ability to bypass different submodules. The compact design and the low loss balance tank also minimizes product losses.
On top of this we also have the flexibility to match solutions for more viscous, particulate and high acid products containing particles. Therefore, we can provide flexible, adaptable and upgradeable heating solutions for today's needs and tomorrow's demands, delivering a really good performance for dairy, as well as prepared foods and beverages.
CASE STUDY – Kaslink: Ready for Anything
Like many other great entrepreneur-driven companies, Kaslink started in a garage. In 2001, Raino Kukkonen began to co-pack high-quality sauce bases for a customer who sold the products to professional kitchens around Europe. Sixteen years later the same company has sales of 60 million euros, 170 employees and products that are sold in more than 15 European countries.
The ambition is to try and create new, ground-breaking products for consumers. In doing so, they are determined to explore the newest consumer trends to main­tain the company's rapid rate of growth. One such trend is the move towards non-dairy products such as oat-based drinks and fermented oat-based products.
"Most of our manufacturing today is in dairy, but non-dairy products will take over," says CEO Tuomas Kukkonen (brother of Raino). "There is a big global shift going on, especially among millennials who are switching from dairy and meat to non-dairy and vegetarian products. This shift will persist." As the trend grows stronger, Kaslink wants to act fast to get new products on the market as soon as possible but must have adaptable solutions to meet shifts in processing demands.
"Tetra Pak is a great company, they have lots of expertise in all the fields we're working in," Kukkonen says. "They are a complete-solution provider, so we see good possibilities in cooper­ating with them. The partnership keeps us ahead."