Piezo crystals and PrecisionCore: A look into Epson's innovation pipeline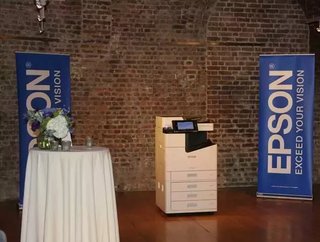 Think Epson and you probably think consumer printers. When Business Review Europe spoke last year with the company's Senior Vice President for Europe...
Think Epson and you probably think consumer printers. When Business Review Europe spoke last year with the company's Senior Vice President for Europe (and its UK Managing Director) Rob Clark, he admitted that Epson had marketed this area of its expertise almost too well.
Dig deeper and you'll learn that Epson has been at the forefront of robotics for over 30 years while investing in everything from visual communications and wearables to virtual reality. There's more to Epson than the kind of products you buy in PC World, maintains Clark: "Actually half our revenue is already generated from products that are not in the consumer space at all. Things like high-end presses, large format printers and sophisticated projectors. What we're doing to change the understanding is to launch innovative products into the workplace and establish that business brand back again."
Clark is well-placed to balance the needs of steering a business making waves with its technological innovations in the inkjet market, whilst  built on a strong ecological platform, while charting a course for ambitious growth. A tech savvy business leader, he started his career with the MoD as an electrical and electronic engineer. "When I talk to our engineers I at least have some idea what they're saying!" he jokes. It's actually a false modesty, because Clark clearly oozes passion for the products and the ethos of a company he joined 25 years ago as Product Manager for its dot matrix printer division.
"Back then the inkjet market hadn't started and Epson was pretty much a B2B company," he remembers. "Actually, I've gone full circle; I've seen Epson go through the inkjet growth into the consumer market and now we're trying to build back that re-seller base and connect with those B2B customers for the mainstream of the product range."
It's a product range driven by Epson's heavy investment in its PrecisionCore technology. "We've made a significant investment of €350m in a print head factory and there's another €150m to come over the next couple of years," promises Clark. PrecisionCore is key to Epson's latest wave of inkjet devices and office market intentions, but how does it work?
"We've been developing our inkjet technology for over 70 years," says Clark. "Most other manufacturers use a thermal based process that heats ink to 300 degrees Celsius, thus creating a bubble, and when that bursts it ejects the ink on to the paper. But ours is based on crystal technology (squeeze certain crystals, such as quartz, and you can make electricity flow through them), specifically piezo crystal."
Epson has a deep knowledge base with crystal technology going back to its association with parent company and watch manufacturer Seiko. "The property of a piezo crystal allows you to put a charge across it which makes it change shape and when you take that charge away it changes back again. Switching this charge on and off creates a pump mechanism which allows the ink to flow," explains Clark. "That's a basic breakdown of how the crystal works, but now it's becoming a very sophisticated device." PrecisionCore is manufactured in clean room conditions and uses silicon wafer with a piezo material placed on that before being etched to create the print head. The same technology found in Epson's latest office products also features in its high-end label presses costing upwards of £300,000."
Among the big product announcements Epson made last month at IFA in Berlin – including the game changing laser-based ultra-short-throw home cinema projector, the EH-LS100 – the company unveiled its latest Ecotank and Workforce printers featuring the PrecisionCore tech. "We launched Ecotank in Europe three years ago and were proud to unveil the next generation," says Clark. "The principal with Ecotank is about turning the business model for consumer printers on its head. In the past, inkjet manufacturers would have made an investment by selling the hardware which it recouped over a period of time by selling cartridges. This approach was unsustainable. In response, we developed an alternative with no ink cartridges that uses replaceable ink packs (for businesses) or bottles (for consumers). It costs slightly more up front but saves considerable sums of money in the medium term and provides at least two years' worth of printing without the need to refill (depending on the printer model you can achieve a minimum of 6,000 printed pages), and the refills bottles are very cheap (as little as £8.99). At the same time, we're offering our customers some real eco benefits – meaning far less waste, much lower energy consumption and an end to expensive cartridges."
Meanwhile at the dedicated small business and home office end of the spectrum, Epson has improved its Workforce range of A3 printers. "These RIPS (Replaceable Ink Pack System) products can give you 86,000 pages in the initial set up you get with the system," Clark states. "The Workforce Enterprise, our top-of-the-range office device, also comes in two flavours: 100ppm and 75ppm. That's using the PrecisionCore, but instead of a head that goes across the carriage it has multiple heads to build up an array which is the width of a page so it's only the paper that moves while the head is fixed," he adds.
From printers to home cinema equipment, all of Epson's products are built with an ecological ethos to minimise impact to the environment. Epson's global President Minor Usui set a challenge for the organisation when he declared the company would reduce its CO2 emissions by 90% by 2050. Clark explains this has sharpened the focus on delivering products to help achieve that saving. "I think our PaperLab project encapsulates that ethos and typifies what we're trying to do. It's taken to task the elephant in the room: paper wastage. I've worked at Epson for 25 years and this product has captured the imagination more than any other during my time here.
"The tech is in its infancy and needs to be reduced down in size but the future of this device would see it sit next to a Workforce Enterprise. Imagine a world-first paper recycling machine designed for the office…" The PaperLab concept takes printed paper and turns it back into blank paper. So rather than sending waste paper off for shredding and recycling, you can feed it to PaperLab and out of the other end comes plain reusable paper. "The whole idea of PaperLab is a closed-loop ecosystem of printing and recycling within the office environment," says Clark. "I expect the take up to be high, especially in Germany and the Nordics, but it depends on how quickly the tech develops over the next three to five years."
Clark believes it is this strong ecological message that sets Epson apart from its competitors and will help drive the take up of its business solutions. "We've got a 92% saving on waste and a 94% saving on CO2. These are not just small changes in our environmental credentials, it's a massive step change. And the reason we can do it is because inkjet technology is – and I'll say these words even though it makes the engineers cringe – just firing ink at paper. There's a little bit more to it than that I'm told!" he laughs. "But because we're not heating the ink to fuse the toner to the paper and we're not applying any pressure, the number of parts in a device is dramatically reduced. Our tests back up the ecology. If you print a million pages on one of our inkjet devices versus a laser multi-function device, on the laser you'll need to replace 32 parts and on our inkjet you won't replace any. It's a significant difference in terms of the ecological impact that's going to have."
Epson's monozukuri philosophy to embrace the art and science of design and manufacture in house is helping deliver these benefits to the end user and has its roots in its parent company's origins. Seiko was born when eight ambitious Japanese engineers set up shop to make watches by hand in a converted miso warehouse where everything was achieved under one roof. This is just as true today with Epson's diverse range of hardware. And when it comes to software the company is keen to build links with like-minded partners that share the same values.
"The main partnerships are focused on the software we're developing for our products," says Clark. "We're an open platform technology which means we have alliances with print management software like Papercut. We've announced a relationship with Nuance (award-winning providers of speech and imaging software) so that we can deliver security and follow-me print (a solution for large sites operating a common printer fleet). We're working with vendors like these to enhance the compatibility with our systems."
Epson is in a growth phase and has been investing heavily over the last few years in people, offices and marketing activities. "The challenge for us is to change our business, change our channels and sales resource to be targeting that office market," asserts Clark, who maintains that continued investment is key to the company achieving its goals. "Over the last three years we've put €75m of additional investment into the European market place," he reveals. "Predominantly to grow the business in the office market. The whole intention is to grow our revenues by €500m by 2020 to reach €2bn. That's the target for the European business and we're on our way to achieving that with a current total of €1.7bn." Signs then, that not only is Epson back in business, but it's aiming to stay.