Remanufacturing Demystified: Redesigning Business for a More Profitable Future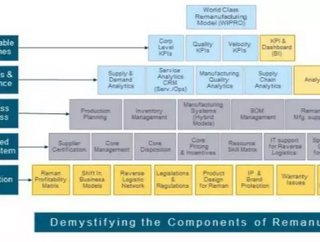 Remanufacturingis becoming increasingly popular among World Class Companies (WCCs) as they adapt to an extended business model to realise the business b...
Remanufacturing is becoming increasingly popular among World Class Companies (WCCs) as they adapt to an extended business model to realise the business benefits of its adoption.
At a Motors and Equipment Remanufacturers Association (MERA) conference in October 2013, Cummins, a global leader in engines and related technologies,presented a series of facts related to its global business of power generation.
With 46,000 employees spread over 190 countries and sales of $17.3 billion, Cummins disclosed that its remanufacturing initiative had 3,000 employees in nine global facilities, contributing $1 billion to sales. The numbers demonstrate the tremendous business investment Cummins is placing on remanufacturing.
Cummins is not alone. Automotive giant Renault has also expressed its growing faith in remanufacturing, as has construction vehicle and machinery supplier, Caterpillar to name a few.
Besides environmental benefits, WCCs are increasingly driven by the business benefits of its adoption. Adopting remanufacturing has shown to:
·         Maximise value of materials in end-of-life products and improve profitability
·         Reduce energy bills related to components that have already been manufactured and need only reconditioning to specifications
·         Reduce the use of expensive virgin materials, thereby offering more competitive pricing to customers
·         Reduce business risk by minimising exposure to volatile costs of raw materials
·         Create new business models that are aligned with emerging consumer trends
·         Reduce warranty costs and improve aftermarket product offerings
Remanufacturing in many ways is similar to classic manufacturing. But some of the "building blocks" are unique to remanufacturing. 
Implementing a "reman" strategy
The foundational element for 'reman' is building a strategic plan and integrating it with the larger enterprise strategy for new products.
One of the first exercises is to conduct a market analysis to select suitable products for remanufacturing and identify the core components of high value.
Once completed, a broad financial model that captures the cost benefit analysis including the reman processing cost of the components needs to be identified for remanufacturing. This should include reverse logistics costs and the core exchange/broker costs, as well as confronting operational challenges.
Getting over the first hurdle
Conventional OEMs are ill-equipped to manage the many business and operational challenges of reman, simply because their traditional strategy has focussed on procurement, supply chain, manufacturing and sales. End-of-life disposal is usually left to third parties.
Also, for a successful adoption, OEMs must get over the fear of 'cannibalising' their own products, and develop strong competencies in the reverse supply chain of core components.
On the operational side, companies face the initial hurdle of accurately estimating the availability and quantities of cores that can be retrieved and the lack of product designed for remanufacturing.
Core availability issues are best addressed by building the incentive programmes through channel partners; while tackling the lack of product designed for remanufacturing through the use of traditional PUGH matrix, a criteria based decision making tool.
A reverse logistics programme is essential to any reman strategy, but unfortunately this is an area where many OEMs have difficulty.
For remanufacturing, two supply chain streams are required; one for new parts and other for used. Control of a reverse logistics network can be done in three different ways: directly by the OEM; through handpicked dealers/distributors; or by third party logistics, if the forward and reverse logistics can be delinked.
Even with a successful reverse logistics network in place, remanufacturers struggle to accurately forecast demand and match the data with the flow of actual returns.
Furthermore, the return yields are unpredictable due to the variability in the quality of the cores. Finally, it is imperative for manufacturers to match warranties similar to new products for market acceptance.
Many companies overcome some of these challenges through analytics for asset recovery programmes to gain early insight in order to match supply and demand.  
Also, a successful reman strategy relies upon IT and analytics support in order to build information and operation systems essential to the creation of a successful and effective ecosystem.
The opportunity now and in the future
Remanufacturing is becoming more and more important to today's manufacturers as it allows them to take advantage of a large pool of untapped revenue and growth.
For many traditional OEMs there are a number of challenges that need to be addressed before a reman programme can be undertaken.
By addressing the two main challenges of implementing a reverse logistics network, as well as designing the products for multiple product life cycles, OEMs will have a leap start in the reman journey.
Remanufacturing has never been more important as demand for raw materials increase with decreasing availability.
Companies that successfully implement a remanufacturing strategy will be the ones who sustain growth and success in the circular economy era to come.