Conexiom: B2B Customer Service Via Sales Order Automation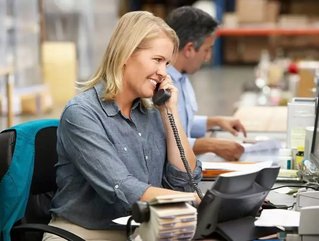 In manufacturing and distribution, optimizing B2B customer service is paramount. Sales order automation frees up CSRs to focus on customer needs...
B2B customer service is important in any industry. However, if you are a wholesale manufacturer or distributor, it is paramount. Offering an exceptional b2b customer experience can be a crucial differentiator – but isn't easy.
Unique Customer Service Challenges of Manufacturing and Distributing
1. Relationships need to be nurtured. If you're a wholesale manufacturer or distributor, you probably operate a quality over quantity model. Relationships have been nurtured over years, and both parties trust one other. Consistent, high quality b2b customer experience is essential to maintaining the health of these relationships. 
2. Issues are often complex. The purchase order process can be very complex. Customers can use divergent part numbers or descriptions, or they may require different items to be delivered on different days to different locations. Often, the specs of a product aren't enough, and customers need to talk through subtle issues. This is why skilled CSRs rely on decades of experience to excel at their job.
3. People want to talk to real people. "Talk through subtle issues" really does mean just that: talk. Customers dealing with tiny and complex differences in components and product specifications know that the advanced knowledge they need can't be automated on a spec sheet. They have questions: About the compatibility of a product with other products, about similar products from different manufacturers, and so on. If a CSR is not available to answer these questions, the buyer will go elsewhere.
4. Companies want sourcing expertise. If a product isn't available, customers want a CSR who can source an alternative – perhaps one they don't even currently carry. Often, the customer needs this alternative in a hurry. Helping customers in these scenarios, with the haste that they need, requires genuine and on-demand expertise.
5. Sophisticated selling takes time. Ideally, CSRs can dedicate time to pricing strategies, account growth strategies and outreach. Above all, they can dedicate time to sophisticated forms of selling, such as upselling and cross-selling. But these high-value activities easily get crowded out by other tasks (like the neverending flood of purchase orders).
These challenges mean that for manufacturers and distributors, exceptional B2B customer service is both very important, and a constant challenge.
Automating the Sales Order Process Frees CSRs to Focus on Customers
Almost all of these customer service challenges come down to one thing: the limited hours in a CSR's workday. Building relationships, talking through complex issues, engaging with customer needs, upselling – all of these things take time.
One massive time drain? The manual purchase order process. The manual sales order process.
A typical CSR can spend three or four hours of every single workday manually keying in purchase orders. Over weeks or months, this adds up to hundreds of hours. And every one of those hours is an hour that wasn't spent offering high-value, sophisticated forms of B2B customer service.
Sales order automation eliminates manual order processing. Purchase orders are automatically delivered into the ERP system, and converted into 100% data-accurate sales orders. No CSR has to waste a minute checking or validating; the whole process is touchless.
Modernizing this business process drives down costs, creates resource efficiencies, and scales to thousands of trading partners. The solution is up and running in less than 30 days, with no burden to IT. 
But most of all: with sales order automation, companies win back thousands of staff hours, which they can reallocate to customer service and selling. Management can tactically redeploy the hours saved into revenue-generating processes. CSRs can raise the bar on their B2B customer service in all-new ways.
The Future of Sales Orders Management is Automated
Sales order automation brings a host of benefits. When it comes to the B2B customer experience, the technology is a labor-saving device for CSRs who are currently being distracted from real customer service by a dated and manual process. 
Manufacturers and distributors across the globe – Grainger, Genpak, Prysmian, Rexnord, USESI, and Compugen – trust Conexiom to help them redeploy human capital to provide the highest levels of customer service. To see sales order automation in action, request a demo here.