Industrial robotics: current trends and future predictions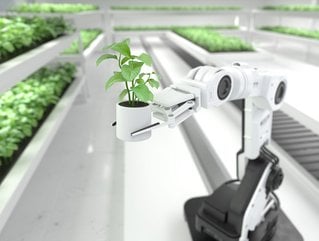 The manufacturing robotics market is growing. It was valued at US$24.35bn in 2020 and will reach US$52.85bn by 2026. Itransition discusses why
Why has the demand for industrial robots grown so high-demand among organisations from industries such as manufacturing, healthcare, military, and others? Enhanced work quality, increased labour safety, and faster performance are among the major reasons, says Itransition.
This article covers the main trends in industrial robotics and provides their future outlook and can help you decide on the viability of turning to a machine learning consulting firm for robotic automation services.
Current industrial robotics trends in manufacturing
Cobotics
With computer vision and machine learning applied to their operating systems, robots can take on tasks that were once the preserve of human workers.
For example, when equipped with IoT technology, especially sensors, cobots can be programmed to pick up and handle objects using neural networks and other machine-learning models. Conventional industrial robots could only do this if supplied with predetermined positioning and retrieval trajectories.
Next-generation cobots can pick up items from non-fixed locations, using 3D vision and laser-triangulation. Better still, the more objects they pick up, the better they become at handling them, due to the continuous iterative refinements of the machine-learning algorithm.
Items that are not rigid still present some handling challenges for industrial robots, but advances are taking place rapidly. The latest tooling innovations enhance dexterity and sensitivity, typically utilising sensors and pneumatic or vacuum-based actuation.
As spatial awareness and navigation capabilities mature, industrial robots will be ready to make the ultimate breakthrough—working safely alongside humans in generic, rather than specialised, factory and warehouse environments. Many current cobot models can do this now but not efficiently, as they are constrained in how they interact.
Artificial intelligence is beginning to change things, though, enabling cobots to map the environment around themselves. They will be able to spot collision-risks en route from A to B and reroute themselves to avoid those obstructions while traversing efficiently along an optimal path.
When working in shared environments with humans, the AI-equipped cobot will be able to switch between optimal and safe for humans levels of force and speed while performing tasks.
Cobots with these capabilities are already in evidence, deployed for carrying goods in warehouses, hospitals, and factories, cleaning heavy equipment, assisting with warehouse and inventory management, and performing tasks in hazardous environments.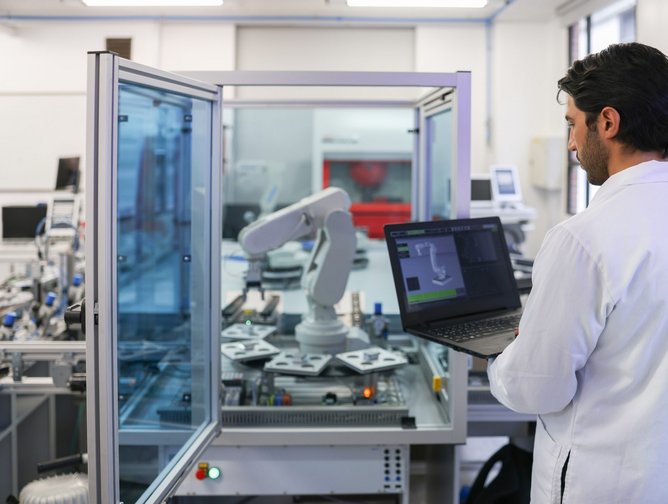 Robotic depalletisation
As you can see, cobots are ideal for human/robot co-working situations and can be adapted for a wide range of tasks. However, even when a single task must be performed with precision and efficiency, the integration of industrial robotics, AI, and 3D computer vision changes the game.
Wherever there is a manufacturing or production operation, there is a need to remove cartons from pallets. Machinery has been deployed to perform this task for some years. Until recently, though, those machines could only remove an entire layer of cartons and place them so a human worker could move them, one-by-one, onto a conveyor.
For a robot to depalletise cartons individually, it must be supported by a combination of image analysis and machine learning. That's just what the Photoneo Depalletizer, from a robotic intelligence vendor based in Slovakia, uses to unload individual cases from their pallets at a rate of 1,000 per hour.
The system uses a convolutional neural network to analyse 3D visual data and physical box texture to unload pallets and place the cartons directly where they are required. It can place them onto a floor space or a conveyor system, lifting weights of up to 50 kilograms and sparing human employees from the risk of lifting and bending injuries. Plus, of course, it can do all this non-stop without ever becoming fatigued or needing a break.
Special effectors helping manufacturers enter the market
If you're not familiar with the term, effectors are the tools used at the end of a robot arm to pick up items. For industrial robots to adapt to various tasks, their design must allow them to accept and work with a range of different effectors.
Suppliers have recognised this and are building their robots to allow fast tooling changeovers, while dedicated manufacturers are developing effectors for hundreds of specialised applications.
Examples of these effector tools include:
Cutting, shaping, drilling, and deburring tools
Welding torches
Spray guns
Collision sensors
Grippers
As interest intensifies in the implementation of industrial robotics, particularly among smaller businesses, the competition among robot manufacturers and vendors will undoubtedly continue to grow. Indeed, according to a report from Supply Chain Dive, the International Federation of Robotics expects sales of robot units to increase by more than 10% during 2020, potentially stimulating many new manufacturers and vendors to enter the market.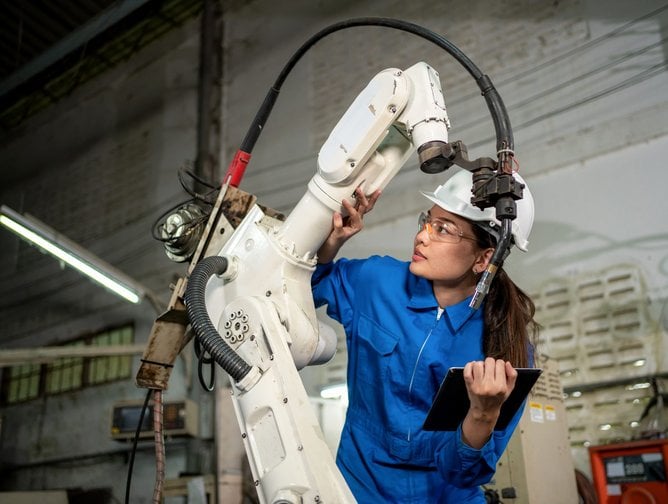 How does the future look for industrial robotics across manufacturing?
Robots that possess features that people can relate to, like eyes, have already shown themselves to be more readily accepted in co-working environments.
The products mentioned above from Rethink Robotics, Sawyer and Baxter, have expressive eyes and a head-like screen that turns in the direction of an anticipated arm movement. That makes them more comfortable for humans to work alongside such robots, as people subconsciously notice head movements, making the following arm movement less of a surprise.
It is subtleties like this that will probably be incorporated into the next generation of industrial robots. Many will also come equipped with multiple, rather than single, arms, which can work in unison or independently, allowing one robot to fulfill several tasks concurrently.
Roaming the manufacturing warehouse
Mobility, too, is likely to become a more mainstream and less novel feature of industrial robots. Today, we tend to see mobile robots as those that can do little more than move payloads while static machines manipulate products and materials.
Soon enough, these capabilities will be integrated more effectively, enabling a robot in a logistics environment, for instance, to move around a warehouse at will. It will be able to pick and pack mixed products in the same way that a human warehouse operative would—only with higher speed, greater accuracy, and improved efficiency.
Up, down, and around the workspace
In a factory setting, robots similar to those in warehouses will be able to deploy and redeploy from task to task as needed, changing their end-of-arm tooling in an instant, as necessary. They will use advanced navigation to move around spaces to assemble large structures, load and unload machines, or carry parts and equipment from one place to another.
There is also no certainty that mobility will be limited to a horizontal plane. By integrating drone technology, it will be possible to have small robots that can navigate internal and external vertical spaces in factory or warehouse facilities. That will make them invaluable for inspection, light repair, or maintenance tasks in areas where humans can't go without jeopardising their safety.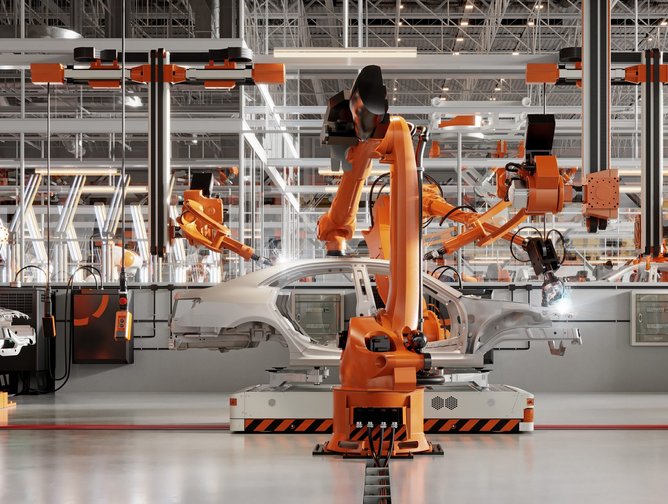 Final thoughts
Industrial robotics is on the rise, with the technology evolving every year, and current trends are being replaced by new game-changing tendencies. Those organisations that are aware of these trends are able to subdue them and thus gain a competitive advantage, both in the short and long term.