Inspiring future engineers with employer engagement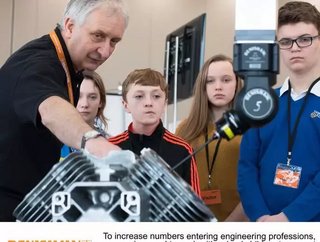 It has been forecast that, to meet employer demand for engineering enterprises, the UK requires 265,000 skilled entrants each year. Here, Simon Biggs, E...
It has been forecast that, to meet employer demand for engineering enterprises, the UK requires 265,000 skilled entrants each year. Here, Simon Biggs, Education Outreach Officer at global engineering company Renishaw, discusses why engineering businesses should offer engagement programmes to primary school children as a way of tackling the skills gap.
Currently, there is an annual shortfall of 20,000 engineering graduates and, to make matters more difficult, too few young people are deciding to consider the required school subjects necessary for engineering careers. To increase numbers entering the profession, companies need to work with school children to promote an inspirational and aspirational view of engineering through outreach.
Subject choices at GCSE and A level means that that too many school leavers and graduates lack the skills needed for science, technology, engineering and maths (STEM) careers, exacerbating the skills shortage. The problem is particularly severe in engineering, which is hidden inside the traditional subjects of maths, design and technology (D&T) and physics. This means it is difficult for companies to find skilled young people for apprenticeship positions.
STEM expertise is crucial in tackling important issues that the climate, the economy and medicine will face in future. Because of this, we need to improve the supply of engineering and technology skills by promoting engineering careers and increasing the profile of engineering to young people.
Perceptions
The good news is that young people's perceptions of engineering careers have grown more positive over the last five years. According to Engineering UK, the proportion of eleven to 16 year olds who would consider a career in engineering has risen from 40 per cent in 2012, to 51 per cent in 2016. It is hoped that this improved attitude to STEM will impact school subject choice, increasing the talent pool for engineering careers.
Alongside improving perceptions, it is also important to address misconceptions about what studying STEM subjects leads to and finding relevance to young people. This encourages children not only to choose STEM at school, but also consider a career in the longer term.
One method of encouraging young people to consider STEM careers is employer engagement programmes. Evidence from the Education and Employers Taskforce demonstrates the positive role that outreach plays in helping young people make good career decisions, as well as its impact on future earnings. To further improve on this, we need systematic and effective employer outreach with schools across the country to connect young people with industry and improve attitudes to STEM. There are several bodies, such as Tomorrow's Engineers and STEMNET, which are working towards this goal.
Outreach programmes
Companies can engage with young people by offering school visits, career talks or work experience opportunities. This can open student's eyes to how studying science or maths can link to getting a good career.
Many young students are unclear as to what an engineer is. By offering an introduction, companies can clarify the specifics of the job roles, and reinforce what a creative and exciting field it is to work on. Companies can use outreach to help improve the perception of engineering, showing it is a diverse and accessible career.
Companies should start this with children at a young age, so that pupils can explore subjects and potential careers early enough to make the subject choices required for engineering degrees or apprenticeships. At Renishaw, our main engagement programmes start at year six with children aged ten and eleven, to improve perceptions of STEM subjects and encourage pupils to think about STEM careers early on. However, we have run ad-hoc activities for year five pupils and even a Brownie group.
Inspiring enough young people to consider a career in engineering to solve the skills shortage requires work from parents, teachers and engineering businesses. Ensuring children are excited, and engaged will encourage children to make STEM subject choices, which will help them to develop the engineering and technical skills required to solve global problems.
For more information on Renishaw visit http://www.renishaw.com.