Manufacturing Myanmar 2014 Opens Doors for International Firms to Enter Budding Market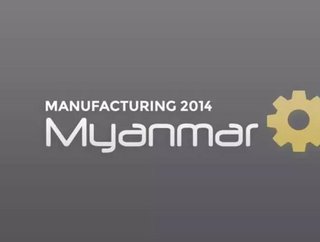 Myanmars first dedicated manufacturing tradeexhibitionwill be held at the Myanmar Convention Centre (MCC) in Yangon, from 2 – 4 October 2014.Seen...
Myanmar's first dedicated manufacturing trade exhibition will be held at the Myanmar Convention Centre (MCC) in Yangon, from 2 – 4 October 2014.
Seen as the gateway for international firms to get acquainted with the budding local manufacturing sector, as well as the vast potential and opportunities it has to offer, Manufacturing Myanmar 2014 will feature a lineup of international companies from Austria, Germany, Italy, Singapore, Taiwan, Thailand and the UK.
 Commenting on the show's key role in bridging the gap between international companies and the emerging market, Mr. William Lim, Project Director for Manufacturing Myanmar 2014 from the show's organiser, Singapore Exhibition Services said: "For the majority of our exhibitors, Myanmar is unchartered territory.
"As the country develops their industries and continues their push to lure Foreign Direct Investments (FDIs) to grow their manufacturing sector, this presents opportunities for international manufacturing solution providers to introduce the technology needed to increase productivity and drive development.
"Manufacturing Myanmar therefore provides an ideal business platform for international firms to get a better understanding of the current and future manufacturing equipment needs of the Myanmar manufacturing market, as well as for local industry players to source for new technologies relevant to their business."
Three international group pavilions will be featured at the inaugural edition of Manufacturing Myanmar 2014. They include Singapore – presented by the Singapore Precision Engineering & Tooling Association (SPETA); Taiwan – presented by the Taiwan Machine Tool & Accessory Builders' Association (TMBA) and Thailand – presented by the Hardware & DIY Club.
With participation of companies showcasing a range of technology from test and measurement equipment, hand tools, metal-forming and metal-cutting machines, and other supporting tools & equipment, the Singapore pavilion will feature a strong contingent of companies that include Agie Charmilles, Asia Masima, Cairnhill Metrology, Hong Chek, Optical Gaging, SI Engineering, Supreme Industrial Suppliers, Tungaloy, TRUMPF and Wenzel.
Mr. Koh Seng Chee, Executive Director of SPETA, coordinators of the Singapore pavilion said: "Our members are very keen to explore opportunities within Myanmar and Manufacturing Myanmar 2014 presents a good chance to do so.
"The pavilion will feature a wide range of machines and equipment that can be applied across various manufacturing industries. We hope to establish some meaningful connections and valuable business contacts within Myanmar."
The show is expected to attract approximately 100 companies from 18 countries/regions to provide the tools necessary to lift and increase capabilities of sectors such as automotive assembly, manufacturing & repair; building, infrastructure and construction projects; metals, mineral processing and jewellery manufacturing; and metal fabrication among others.