Record Number of Small Manufacturers Plan To Create New Jobs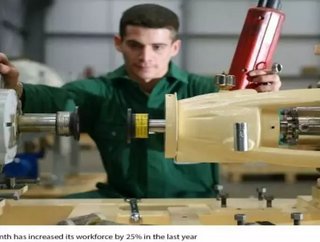 Record numbers of English small manufacturers are looking to take on staff as recruitment confidence hits a three-year high. More than half of firms que...
Record numbers of English small manufacturers are looking to take on staff as recruitment confidence hits a three-year high.
More than half of firms questioned by the Manufacturing Advisory Service's Barometer are looking to create new jobs, marking a 14 percent increase on the same period last year. This is the highest level of confidence in staff recruitment seen in the history of the report.
Firms are looking to take advantage of new opportunities, including expansion and reshoring of supply chains in automotive, aerospace, and nuclear sectors.
The MAS Barometer is the largest survey of its kind, sharing the views of over 800 small manufacturers across England, employing more than 24,000 people and realising turnover in excess of £3bn.
Earlier this month, UK unemployment fell to a five year low. The Office of National Statistics (ONS) data revealed a 23 percent year-on-year increase in vacancies in the manufacturing sector.
These encouraging figures are reinforced by growth in sales – 61 percent of firms reported an increase in the previous six months and 73 percent expect to win more work between now and October – a 14 percent and nine percent rise respectively from March 2013.
Responses also reveal a record appetite for investment in new plant and machinery and in developing new technologies.
Business Minister Michael Fallon said: "Britain's manufacturers are helping drive the UK economic recovery. Through our industrial strategy and economic plan, the Government will continue to work closely with this vital sector to ensure that confidence stays high, creating more highly-skilled jobs and a stronger economy for everyone." 
Steven Barr, Head of MAS, commented: "We have seen consistent signs during the last twelve months that firms are ramping up capacity, in order to meet increasing orders and take advantage of work coming back to the UK.
"This is the clearest signal yet that our manufacturers believe the upturn is sustainable. Three record figures for recruitment and investment in machinery and technology suggest many small manufacturers are planning for the long-term and, encouragingly, they are taking action now to manage future expansion.
"Our Barometer report highlights that small and medium sized manufacturers are contributing strongly to jobs growth and expect to continue to recruit. They may find it harder to follow this trend, especially in advanced manufacturing sectors, unless they invest in training and retention."
These predictions for expansion in the MAS Barometer are taking place against a backdrop of rising energy prices across industry.
Nearly three quarters of small and medium-sized manufacturers reported an increase in their energy costs over the past year, only part of which is explained by increased production. Some 59 percent of those SMEs were hit with rises of six percent or more.
Most companies looking to reduce their energy costs have taken measures to cut their bills. These include enhanced heating or lighting systems, changing energy supplier, upgrading machinery and streamlining processes.
While half of manufacturing SMEs measure heating and lighting, other significant energy uses are poorly monitored.
Tellingly, less than a third of firms monitor usage for plant and machinery and just over one in five admitted to keeping track of energy used in processing raw materials.
Barr concluded: "Managing energy costs is a major concern for our manufacturers, but sometimes this gets overlooked when they are focused on growth and the day-to-day challenge of meeting ever-changing customer requirements
"MAS Advisors can help with this by preparing the right strategies for growth, covering the customers, products, equipment, people, resources and finances necessary for sustainable growth."