The Toyota Way: How the automotive giant manages health and safety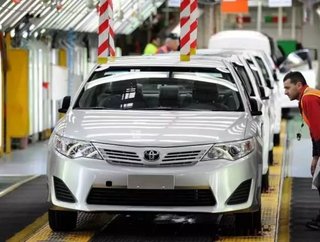 Toyota is the largest automotive manufacturing company in the world, producing in excess of 10 million vehicles each year. Its factory floors are busy...
Toyota is the largest automotive manufacturing company in the world, producing in excess of 10 million vehicles each year. Its factory floors are busy, bustling places full of state-of-the-art manufacturing robots and equipment, moving vehicles and thousands of workers, so health and safety is top of the agenda.
Manufacturing Global goes behind the scenes at Toyota to understand a little bit more about its comprehensive health and safety strategy.
Toyota's health and safety strategy is very much governed by the company's world-class principles, known collectively as the Toyota Production System.
The company's health and safety strategy is known as K-HYP - short for Kaizen and How's Your Process. Toyota management teams at each facility meet every morning to discuss safety and wellness as well as quality, efficiency and other metrics you would expect at a manufacturing plant. During the meetings, managers pass around a clipboard to each team member, asking them to for input on any safety issue, injury or improvement suggestions they may have. Underpinning the meeting is the question: How is your process?
After the meeting, those managers meet with each worker individually to discuss their issues and develop a solution, whether it's for a sore elbow or a slip risk. "We are looking for ways to improve safety, quality and productivity all at once," said Dixon Churchill, manager of environmental health and safety at Toyota Industrial Equipment Manufacturing, talking to EHS Today, "So we merged both sides of it into one daily discussion."
The effect of this approach is two-fold, he explains. First, the system empowers the individual workers to take an active role in developing a safer, better system for their daily production responsibilities. But it also empowers managers across the floor to take a more active role in the EHS conversation.
SEE MORE: Toyota named top automotive manufacturing company, followed by Volkswagen and GM
"While these leaders are certainly responsible for the overall objective of meeting their production numbers and quality numbers on a daily basis, this system puts safety numbers very much on the forefront of that team," he explained.
For a company the size of Toyota, continuous improvement when it comes to EHS is critical to success and long-term sustainability.
Training: Key to continuous health and safety success
As well as having daily management meetings, Toyota is also dedicated to developing a group-wide culture of health and safety from the grassroots up. To this end, the company runs a six-day training for every new hire – permanent or temp – as standard. Every single employee on the production floor must pass through the training program before working on a station.
SEE MORE: Highly trained takumi employees give Toyota the edge
Churchill explains the outline of the program: "Our orientation process includes three full days of classroom training," he said. "We have 11 different classes as part of the orientation process, including environmental classes and we supplement those with side-line dojos where they can observe the specifics about the tools and processes they are going to be using."
In the center of each plant is an enormous cell dedicated solely to safety training, referred to as the 'safety dojo'. The dojo is lined with PPE, instructions, charts and training gear and gives new recruits the opportunity to work with the systems first hand, before being let lose on the production floor.
Safety is taught from day one, even before employees have a chance to get to grips with the actual manufacturing process. It's ingrained in the minds of every worker on the production line. That being said, safety is not a one-time experience for Toyota employees, but an ongoing process. Every year, Toyota employees revisit their dojo training to reinforce that early education and correct lapses or bad habits picked up over time.
Combined with the K-HYP system, this not only expands the reach of EHS through all levels of the organization, but it ensures that everyone it reaches is, in some way, an EHS expert.