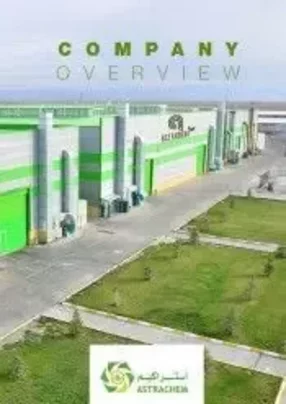 Astra Industrial Complex Co Ltd., for Fertilizer and Agroche
Astrachem benefitting from its diverse offerings...
Astrachem is a well-established company most notable for its specialist work in the agriculture and chemical sectors, and is now set to enjoy more growth across the Middle East and North Africa (MENA) region.
The firm, known as Astrachem but formally Astra Industrial Complex, is part of the AIG conglomerate and was founded back in 1988. It provides tailor-made turnkey solutions to farmers in over 25 mainly MENA countries in the form of fertilizers, pesticides, seeds and plastic.
Due to the success in branching out to a wider customer base, the company has been making major investments in new warehousing and manufacturing facilities in Morocco and Egypt, which will complement existing units in Damman, Saudi Arabia and also in Turkey through its subsidiary AstraNova.
Yehia El Azab, CEO of Astrachem, said: "We have a far reaching presence, mainly in the MENA region but even in places such as Uzbekistan, Ukraine and remote parts of Africa. We plan to keep investing in the agriculture sector, potentially expanding into the larger US and European markets, so that is the direction we are going.
"Due to the water scarcity, there has been a drop in the development of the agricultural sector in Saudi Arabia. Over the past 12 years, cereal production in Saudi Arabia has almost dropped to zero. The export of open field agriculture has been banned and farmers can no longer export open field fruits or vegetables. But the direct result of this is that more attention is being paid to high-tech agriculture, where you can have farm in greenhouses.
"So, in the next five years a lot of projects are coming up for greenhouses and indoor farming. So the farmers can export these products as well. Other than that, we have faced some difficulties, because of a 40% drop in the size of arable land. There was a complete stop in this area since 2008 to 2012. Now we are over this crisis and are geared to start with high-tech farming."
Agricultural player
There was a time when Saudi Arabia was exporting cereals and wheat to other countries, but today it focus its strengths in a few main crops due to various regulations that control production in the Arab country.
It is now pursuing large investments in countries like Sudan, Egypt and Ukraine where projects involve the farming of alfalfa and wheat, which uses up most of the water in the soil. In addition to supplying raw material for agriculture, it is very cost-effective to produce in Saudi Arabia and El Azab believes Astrachem can be very competitive in this field.
Other factors such as Saudization have to be considered going forward, but other than that you can easily product in Saudi Arabia and export to neighbouring Asian countries as well as the MENA regions.
El Azab said: "Our main ports in Dammam and Jeddah are getting faster and more efficient every year. It has become very convenient for us to serve the neighboring countries with low freight costs or in countries where we can use the raw materials produced in Saudi Arabia. Saudi still has an edge over other countries. We can use the country to export more in the coming five years.
We find solutions for the farming needs or requirements that are characteristic to each country; be it climate, soil conditions or traditional farming conditions. We also make use of our synergies between our facilities in Turkey and Saudi, which have always been our two main markets. Pesticides are produced in both countries and we have spent five years in production at our AstraNova facilities in Turkey, which has seen renewed investment."
Future plans
In terms of growth markets, Astrachem management see many Asian countries as key focus areas for the future. Two years ago the company started exporting to Vietnam and Taiwan, and will be concentrating on further emerging markets like Pakistan going forward.
For El Azab, it makes logistical sense to export to these countries as his organisation attempts to muscle in between Europe and China and compete for business by offering high quality products at reasonable prices.
A lot of firm's 400-plus products are either aligned with a multinational logo or a multinational company is allowing Astrachem to produce their product under a brand name. Subsequently, the Astrachem brand image is spreading across multiple countries.
"We are looking forward to going upstream into further production in various other fields which will serve our customers faster and in a cost-effective manner. We believe we can share a part of China's export market, and strategically we see some future in this area." said El Azab.
He concluded: "Every year, we are growing at a rate of double digit figures and we are one of few that produce such a wide range of products under one umbrella, so we are confident for the future as farmers know they can rely on us to meet their high expectations."