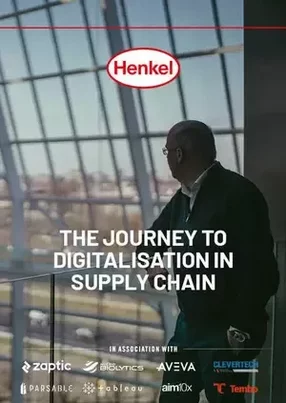 Henkel: the journey to digitalisation in supply chain
The Fourth Industrial Revolution is here.
Technology is an enabler and it is having an increasingly prominent effect on how manufacturing companies and their supply chains operate. Henkel is a leading solution provider in three core areas: Adhesive Technologies, Beauty Care, and Laundry and Home Care. Over the past few years, the firm has experienced rapid transformation and has its finger on the pulse of the latest technological innovations.
Overseeing the company's worldwide supply chain for Laundry and Home Care is Dirk Holbach, Corporate Senior Vice President Global Supply Chain. Holbach has worked for Henkel in a variety of roles for almost his entire working life. Having joined the company as Junior Manager of Corporate Purchasing in 1996, he became responsible for purchasing at Laundry and Home Care in 2004 before transitioning into several different roles prior to moving into his current position in July 2015. As part of Holbach's current role, he is responsible for the end-to-end supply chain for Laundry and Home Care, and in 2018 the business unit accounted for €6.4mn sales. Within Holbach's business unit, Henkel has six regional hubs, as well as 33 factories and 47 warehouses under his remit. Despite being founded in 1876, the DAX company is still majority owned by the Henkel family and Holbach believes this really sets his organisation apart from its competitors. "It provides us with a different strategy: the Henkel family has shown its continued commitment to the company, enabling us to operate with a long-term perspective. We have a strong company culture, and our shared values help us to create sustainable value for future generations," he explains. "Our portfolio is diversified because we have two consumer goods businesses and one that's focused on industrial markets. It's certainly a unique mix." 
Holbach understands that the journey to achieving digitalisation is a continuous one and not something that can be accomplished overnight. "In 2013, we began to invest in our digital backbone, which led to us connecting all our factories together through a standardised approach," explains Holbach. "I'm always looking at the business benefit for implementing technology because introducing digital for digital's sake doesn't make any sense. It's important that new technology helps solve business challenges, such as ensuring that processes become faster, cheaper and more agile." Implementing technology that serves a purpose is a key pillar to Holbach, and he believes that harnessing new processes and systems that aren't sustainable has no long-term value to Henkel. "As a fast-moving consumer goods (FMCG) business, we primarily think in relatively short cycles," explains Holbach. "If the end user has no benefit from a specific technology then they'll stop using it. You can't introduce new technology for the sake of it — there's no point. We're still adopting a vertical approach and are continuously trialling new technology in several different pilot locations." However, Holbach understands the challenge of change management and the process involved for a successful culture shift. "There's a whole transformation of the business to consider and it's vital that you give employees the time to understand and embrace new technologies and provide targeted support and trainings" he affirms. 
Henkel has five core values that it centres operations around: customers and consumers, financial performance, sustainability, people, and the foundation as a family business. As a result of the company's sustainability drive, Henkel has reduced its specific energy consumption by more than 50% in its Laundry division over the last ten years. "It's become part of our DNA and is anchored into our mindset," explains Holbach. "Our products are used millions of times every day around the world, and we recognise the potential impact we can have by developing sustainable innovations. We're designing more and more of our packaging to ensure it's 100% recyclable, reusable or compostable as well as using recycled materials to produce it." The company was one of the first organisations to publish a formal sustainability report more than 28 years ago and has a clear forward-going ambition: to triple the value it creates through business activities relating to its environmental footprint by 2030 – compared to the base year 2010. With a more sustainable approach at the forefront of Holbach's strategy, he maintains that his company is continuously seeking to reduce the amount of packaging in its products. "Compaction is a major trend in our industry at the moment. By taking certain chemicals out of a product, it makes it more compact," he says. "This means that you then have less resource consumption to produce it, ship it, and it subsequently allows the consumer in the final phase to use our products in a more sustainable way." 
Another one of Henkel's core values is people. The importance of having a team in place that is aligned to a common objective is at the heart of the company's drive. Henkel places considerable value on its recruitment drive, as well as ensuring it retains the talent it already has. "People are key. As part of our digital journey, I've built up a small, centralised regional team that works on a range of pilot use cases as well as the implementation across all our sites," says Holbach. "Our recruitment strategy is to ensure we have a solid mix between data scientists and traditional engineers with an understanding of our businesses. We must ensure that all of Henkel's employees have the opportunity to upskill themselves, by having access to digital learnings that will enable training on the capabilities that are relevant today and in the future."
Following the influx of technology such as data analytics, artificial intelligence (AI) and machine learning (ML), Holbach believes in operating proactively rather than reactively in a bid to differentiate from its peers. "Technology has helped to redefine the business frame that we operate in," he says. "We're only now starting to embrace AI and ML but it's an area we're looking to do more in. We're still in the testing stage with a lot of new technology and it's important that we're continuously looking for new opportunities that will accelerate our current processes. We have to always see how far we can push the bar." With technology's influence on the manufacturing sector showing no signs of slowing, the plethora of data at companies' fingertips should be embraced. Over the past few years, Henkel has systematically started to collect an increasing level of real-time data. 
A member of Holbach's team, Sergey Afanasyev, International Digital Transformation Manager at Henkel, is focusing on two key pillars: connected workers and digital upskilling. "I like to encourage digital collaboration between the people using mobile technologies as well as helping build and develop the skills that employees need today because of the digital technologies already in place," explains Afanasyev. He believes that new technologies such as AI, ML and Big Data should be embraced to achieve a competitive advantage. "These technologies allow us to unlock values and data that we acquire through our digital backbone technology that ultimately brings us a competitive advantage," says Afanasyev. "Technology itself is agnostic. It's important to us that we only leverage technology that is true to our vision and strategy."
Henkel has developed key, strategic partnerships with a range of firms including Clevertech, Micro-Biolytics, Aveva Solutions, Zaptic, Parsable, Tableau Software UK, o9 Solutions and TEMBO. Holbach has a clear idea of what he looks for when seeking to establish a mutually beneficial collaboration. "There must be long-term and sustainable benefits on both sides of the partnership for it to be successful," he explains. "It's important that there is a level of openness that develops trust over time. This is especially true when times are volatile, and it is where you see the true value in dedicated partners." 
With the manufacturing space set to continue to transform as the digital age continues to take shape, it's vital that companies adopt an agile and lean approach to ensure they don't get left behind in a competitive and dynamic market. Holbach is confident of what he anticipates the supply chain space to look like over the next few years. "It's clear that we're only at the beginning because I believe that data relevance is only going to increase further," says Holbach. "There will be greater visibility and transparency in the supply chain over the next few years and we must be ready."