Mission Zero: Interface's quest to be carbon neutral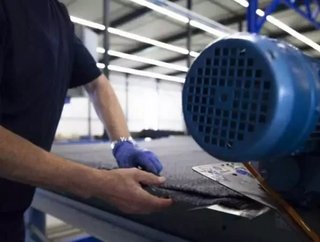 Why set yourself an impossible challenge? For a company that sells $1 billion worth of carpet tiles a year, total elimination of its environmental impac...
Why set yourself an impossible challenge? For a company that sells $1 billion worth of carpet tiles a year, total elimination of its environmental impact by 2020 is surely beyond the realms of possibility.
Industrial manufacturing processes, heavy use of raw materials and layers of supply chain that are not always possible to influence make it difficult to comprehend how Mission Zero can be achieved.   
But this is exactly the point for Interface. What are the realms of possibility, and how close to zero impact can be achieved? In 1994 the company's founder Ray Anderson signalled a sea change in corporate attitude towards sustainability. Legal compliance, although important, was no longer enough.
"Ray was inspired by the book Ecology of Commerce written by Paul Hawken," says Sustainability Director Ramon Arratia. "He changed our thinking from the traditional take-make-waste to a circular model. Industry has the power to make a difference, and this is where Mission Zero and our 2020 vision was born."
It was this ambition and integration of sustainability into every aspect of the Interface business which led Arratia from Vodafone to the seemingly less glamourous world of carpet tiles.
Progress to zero
The setting of such an ambitious target has led to some enormous advances, and in many areas Interface is tantalisingly close to achieving zero impact.
Since 1996, the amount of waste to landfill from carpet factories has been reduced by 91 percent and in Europe this has been reduced to zero. Greenhouse gas emissions have been reduced by 92 percent during the same period, a large part of which is down to huge growth in the use of renewable energy. In Europe, 95 percent of energy used comes from renewable sources. Interface also uses 50 percent recycled or biobased raw materials. 
Operations have also become more efficient, again with European production leading the way. Energy usage has gone down by 54 percent since 1996 while the amount of gas and water used has dropped by 40 and 93 percent respectively.
These headline numbers are hugely impressive, and Arratia is certain that much more can be achieved: "Since 2008, our entire environmental footprint of our products, which includes the whole supply chain of suppliers, their suppliers and so on, has been reduced by 39 percent. We have shown it is possible to do it," he says.
"While we can't control the entire footprint of a product and the various layers of supply chain, we have calculated that per square foot of tile we can reduce the environmental impact by 80 percent, which is huge."
The key for Arratia will be flexibility in the manufacturing process. "We need to have production lines which are adaptable to many different kinds of raw material from which we can make carpet tiles," he adds. "You need to be flexible enough to make yarn from material X or material Y, which can change depending on price and availability, or something new we have found.
"We have installed a new line in our Scherpenzeel factory in the Netherlands which makes the back of our carpets, and hopefully in the next year we will be able to launch new products made from different raw materials."
The Scherpenzeel site is arguably Interface's sustainability flagship, producing zero waste to landfill and using 100 percent renewable energy.
Fishing for carpet
Interface's sustainability drive is being felt socially as well as environmentally, thanks to schemes such as Net-Works which transforms fish nets into nylon for carpet manufacturing.
So far some 93 tonnes of discarded nets have been gathered from some of the poorest coastal communities in the likes of the Philippines and Cameroon, providing welcome income for local fishermen and much-needed waste removal from oceans.
"With this sort of innovation we can create much more of an impact beyond the environmental," Arratia explains. "This is as much a social programme as environmental, and is about how we can put more income into communities.
"Businesses like Vodafone and other tech companies make their impact with their technology – Vodafone has done great work to get mobiles to people in Africa. For a carpet tile manufacturer we can't do this, so we make a difference with raw materials."
Sustainable is profitable
The commercial business case for sustainable investment, beyond simply becoming more efficient and using fewer resources per square foot of carpet, has also been proven by Interface.
"Once you arrive with a new sustainable product or innovation you can expect a premium for it because you have invested in its sustainability – there is a hard business case for investing in it," Arratia says.
"There are softer business cases too, like the ability to recruit and retain people. At the end of the day, we are a carpet company which, on the face of it, may not sound that exciting. I moved from Vodafone to work in this industry because I was won over by Mission Zero and the ambition.
"We have the ability to recruit people who are looking to work towards a higher purpose, and this is not just us saying nice things, it drives right to the core of the company. We are trying to be the first, trying to show the world that this is possible. This is not something dreamy and us just doing the right thing, it is also about us being cleverer than the rest."
Aim high, face reality
Asked what advice he would give to businesses looking to develop their own sustainability strategy, Arratia identified three key messages based on his experiences at Interface.
"First, understand the true impact of your product," he says. "That is hard, because when you carry out a genuine life cycle assessment of a product it is the elephant in the room, and many people don't want to accept the results. It is sometimes a bitter pill to swallow, but you have to face it because eventually it will give you a competitive advantage.
"Following on from this, you should always look at sustainability from a product perspective. This is the only way to truly embed sustainability, and once we innovate a sustainable product this gives our marketers and sales teams an angle to approach the market.
Finally, and perhaps what has been most influential for Interface, is instilling a mind-set without limitations.
Arratia concludes: "Don't be afraid to set high targets which you might not reach. I hear so often of targets being revised down just so companies can be sure to meet them, and this is so wrong.
"This goal of Mission Zero pushed us to venture into the unknown. Our people have gone to places they have never seen before and taken innovations from other sectors and applied it to ours. All of the technology is out there, we just need our engineers to find and access it somehow. We need to be ambitious in order to push people out of their comfort zone."