Procurement & Supply Chain
Avery Dennison's sustainable manufacturing tool exhibit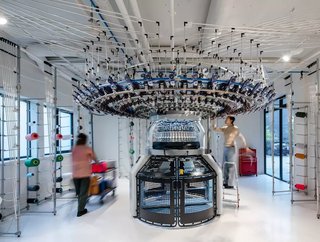 Packaging company Avery Dennison to show how speed, efficiency and automation can improve circularity in the fashion sector
BYBORRE has opened the Window of Textile Opportunities™ (WoTO) showroom with material innovator Avery Dennison as one of the inaugural exhibitors. WoTO will showcase the sustainability potential of manufacturing tools and champion a circular economy in the fashion industry.
Factory automation solutions and machinery technology can create sustainable change
The WoTO is permanently located in Amsterdam, with the aim to showcase sustainability advances to suppliers. Avery Dennison hopes that the WoTO will 'bridge the gap between creativity and supply chain transparency, to promote sustainability.' 
BYBORRE aims to raise responsibility standards in the fashion industry and create positive change, as well as provide access to tools and education for those in the sector who may not know where to start.
Avery Dennison's on demand manufacturing innovations on display include:
In-plant printing capable to bring speed, flexibility and resilience to the supply chain

Factory automation which will create cost savings

Digital ID technology which will supply end-to-end solutions across a garments lifecycle 
In addition, Avery Dennison will host workshops and demonstrations on factory automation solutions and machinery technology. One such product is the bonding heat transfer, which will remove the need for labour intensive work. 
Sharing sustainable habits for the fashion manufacturing industry 
The exhibit hopes to ignite conversations on how to make environmental improvements in the fashion industry as well as creating an opportunity for businesses to share knowledge and work towards creating a healthier planet and fashion industry.
"Part of Avery Dennison RBIS's innovation and sustainability strategy is to explore new solutions that can help the fashion industry become more transparent, efficient and sustainable," said Greta Moser, director PLM, Brand Protection, Factory Solutions & IPPS at Avery Dennison. "We are continuously looking for innovative partners in the space to help us understand the market better and develop new concepts and solutions. BYBORRE's mission to design out waste and bring different apparel players together is a very exciting opportunity to accomplish our goals and contribute to the overall sustainable apparel movement."
"As a global leader in materials science and manufacturing, Avery Dennison represents a crucial part of the supply chain, delivering physical and digital innovative solutions," said Arnoud Haverlag, CEO, co-founder BYBORRE. "With a deep commitment to driving sustainable change across the apparel industry, we're proud to work with an innovative company that is an agent for change and an important partner in the WoTO™ programme."