Procurement & Supply Chain
Bentley Motors recognised for carbon neutral strategy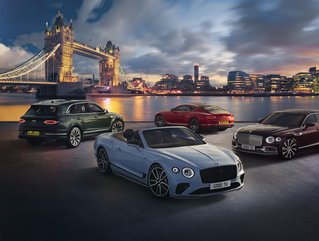 Luxury vehicle manufacturer Bentley Motors receives South Pole's 'Net Zero Plastic to Nature' status for carbon neutral push as it reduces plastic waste
South Pole has awarded Bentley Motors its first South Pole Net Zero Plastic to Nature accreditation, following a successful waste stewardship.
This status shines a light on Bentely's environmental initiatives and its Beyond100 strategy, which targets sustainable mobility leadership and plans to reach end-to-end carbon neutrality by 2030.
Carbon neutrality and vehicle manufacturing
Founded in 1919, Bentley is an iconic British car, which balances luxury craftsmanship with outstanding performance. Now, carbon neutrality is racing ahead to be included in the manufacturer's core business model.
Zurich-based environmental service South Pole was set up in 2006 and supports organisations who want to reduce their emissions. The assessment conducted by South Pole covers every corner of the supply chain - from micro-plastic's to emissions.
To secure its status, the manufacturer has invested in certified units which support two of South Pole's projects that are developing specialist plastic waste collection and recycling infrastructure projects based in India and Thailand.
A plastic-free manufacturing future at Bentley
The drive towards a plastic-free future is an essential part of Bentley's Beyond100 strategy and the pioneering collaboration with South Pole has helped the company evaluate the impact of its steps taken to recycle plastic or reduce its use around sites by examining every aspect of the logistics value chain.
Member of the Board for Manufacturing at Bentley Motors, Peter Bosch, has made sure that from the bubble wrap used to package inbound parts, to the car body covers used in vehicle protection Bentley has been able to make sustainable changes.
"We have reduced the amount of plastic parts protection on outbound products from 13 items to six. By removing unnecessary items like vinyl wheel protection and wiper blade covers, we've removed 12 tonnes of plastic from our outbound packaging operations in a year – and we're ensuring that where plastic is still needed to ensure our cars arrive in perfect condition, it is minimal, lightweight and has low CO2 impact."
Additional measures, for example, removing unnecessary packaging for items moved across sites, have lowered plastic shrink-wrap waste by 86%.
"Even the plastic banding we use to secure items on pallets has gone under the microscope, as we've carried out tests on a cardboard replacement to ensure that it is equally as effective," explained Bosch. "We also recognised that one of the greatest contributors is inbound logistics packaging, so we are working closely with our suppliers to reduce packaging on inbound parts – as well as empowering colleagues to quickly and effectively reuse packaging around site.
"As a global brand this process has helped us gain a broader perspective and insight into our footprint out in our regions and we will follow with great interest the progress of the two plastic waste and recycling projects our credits will support in Thailand and India."
For Bosch and the rest of the Bentley team, the next step is to continue to broaden the scope across the rest of the business.