Procurement & Supply Chain
The changing landscape & the role of additive manufacturing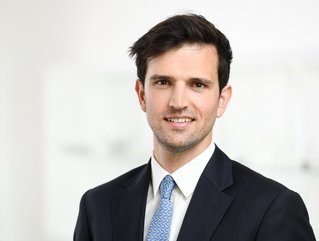 Nicolas Dill, Additive Manufacturing Consultant at EOS, on global supply chain trends & the future of additive manufacturing in the aftermarket sector
The Covid-19 pandemic has demonstrated the necessity of supply chain resilience, digitisation of production and flexible, distributed manufacturing. As product variety and complexity continue to increase, the spare parts businesses will be severely impacted.
Increases in supply chain cost and complexity for planning, production, stock holding and delivery will demand a shift away from physical parts towards digital products and services. Within this shift, in connection with Additive Manufacturing (AM), we expect to see new business models emerging, driven by three major trends:
Digitisation of production
Having parts digitised and ready for production, with all necessary information available, will be a prerequisite for creating a fully digital value chain that facilitates fast and efficient sourcing or manufacturing. This digital value chain will allow for constant data modifiability and control upfront, all supporting decentralised manufacturing close to the demand location, and even 'virtual' product transfers.
Increasing focus on after-sales and service and rising complexity
Customers are paying more and more attention to the quality of after-sales services, which directly affects their purchase decisions. The importance of after-sales service and spare parts operations within overall sales, e.g. in the automotive sector, is becoming increasingly obvious, since the aftermarket is typically a profitable, high margin business segment for many companies. Consequently, innovative service products have become a critical factor in retaining customers.
Sustainable and efficient production on demand
With climate change as the central challenge of the 21st century, resource efficiency and reducing the carbon footprint have become vital for today's manufacturing industry. Localised production to decrease transportation efforts and manufacturing products on demand to directly lower waste and avoid scraping excess parts will eventually become necessities to avoid taxation or institutional penalties. Regulatory changes like the EU right to repair for white goods will also affect other industries within the next few years.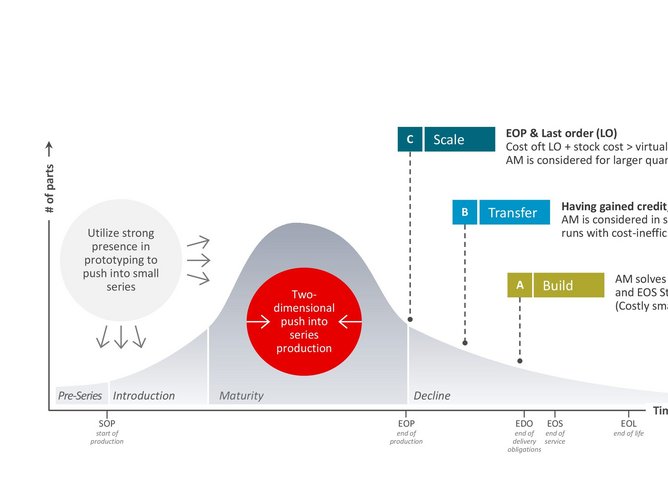 The different phases of aftermarket
The rising complexity in the aftermarket comes with a set of challenges across each phase of an aftermarket value chain. Considering the full lifecycle of long-lasting products and assets, (i.e. buses or manufacturing equipment) illustrates the pain points experienced by OEMs and end customers:
After the 'End of Delivery' or 'End of Service' Obligations, obsolescent or single-event parts occasionally need replacing. We have defined this phase of the aftermarket lifecycle as Phase A. While not being legally bound to provide the part, manufacturers may nevertheless feel obliged to serve their customer during this phase, despite very low quantities and high costs. Together with missing drawings, CAD data and production know-how, spare part needs in this phase are especially challenging.
Phase B is defined as the time between End of Production and End of Delivery Obligations. This phase is best characterised by systematic supply chain failures and shortages. For example, if an OEM is legally bound to provide spares for a period of ten years, the parts in stock may run out in year eight, but the remaining demand gap still has to be bridged.
Phase C reflects the virtual inventory-focused supply chain setup, starting with End of Production. Other than the increasing complexity of supply chain management, the annual cost of maintaining an inventory and locked-up working capital are two of the economic drawbacks of conventional aftermarket setups.
How additive manufacturing addresses the aftermarket challenges
Additive Manufacturing can address the occurring pains in each of the phases along the lifecycle differently. Additive Minds has defined a clear strategy for each phase to exploit the aftermarket possibilities of AM and realise its potential: Our strategy focuses on three stages: Build, Transfer, Scale.
Build
Initiating AM activities by using AM to replace single-event spares provides a basis for exploring the technical requirements of the technology. At the same time, it can generate additional revenue in the aftermarket and reduce costs, allowing spares to be sold to the end customer even after End of Delivery Obligations. This new revenue stream creates high customer satisfaction and compensates for the expenses and resources invested in building know-how and internal production capacity.
Building up internal production capacity to deeply understand the AM processes and value chain is a prerequisite for successfully developing the required core capabilities for Phase B, discussed above. A key element of building a virtual inventory is ultimately reverse engineering and qualification of parts. Independent of the sourcing strategy, i.e. whether the spare parts are built in-house or outsourced, organisations must understand AM-specific characteristics, for example which materials, orientations and printing parameters are best for each part.
Transfer
The knowledge generated during the Build stage is now transferred to a larger group of parts. In this stage, the core capabilities previously built up in-house are strengthened. However, involving external resources and know-how is likely to be required, for example to digitise more part datasets or to define a suitable supply chain strategy. Depending on the organisation's initial manufacturing setup, AM spare parts production will draw from a mix of internal and external capacities. AM provides another lever to address systematic supply chain shortages and failures. Manufacturing these spares according to a demand-focused approach allows cost-inefficient minimum order quantities (MOQs) to be bypassed. Reinvestment in worn-out tooling for small series productions, e.g. of injection moulded parts, can also be avoided.
Scale
Transferring AM to a sufficiently large set of spares allows the organisation to scale and develop a comprehensive digital inventory strategy. Once processes have been established to regulate how part data should be recreated and stored, and with the right manufacturing and distribution processes in place, a full CAPEX to OPEX scenario will become feasible for a larger share of parts. To achieve this, organisations must assess and utilise AM at the End of Production as a means for storing parts virtually, creating the opportunity to rethink and transform existing aftermarket supply chains. For some industries, this can potentially evolve into a distributed, on demand-focused supply chain setup where part data is stored and traded digitally and only retrieved when a spare part is needed.
Mastering Aftermarket for additive manufacturing
By mastering the challenges discussed above and uniting the tools along the value chain, digital spare parts management will push AM further into the established manufacturing environment. Additive Manufacturing in the aftermarket can bring about huge savings and efficiencies, while allowing manufacturers small and large to create new opportunities that align perfectly with our industry's biggest trends.
Nicolas Dill, Additive Manufacturing Consultant at EOS