Manufacturing LIVE - The ultimate virtual event of 2023
Exclusive Video: Join the ultimate virtual event for every manufacturing leader, Manufacturing LIVE, 6 - 7 December 2023
Manufacturers are building a more resilient and sustainable future. Manufacturing Digital LIVE will highlight the leaders changing the industry.
Brought to you by BizClik, Manufacturing Digital LIVE is streaming to global virtual audiences on 6-7 December 2023, this two-day exclusive virtual event delves into the future of Manufacturing.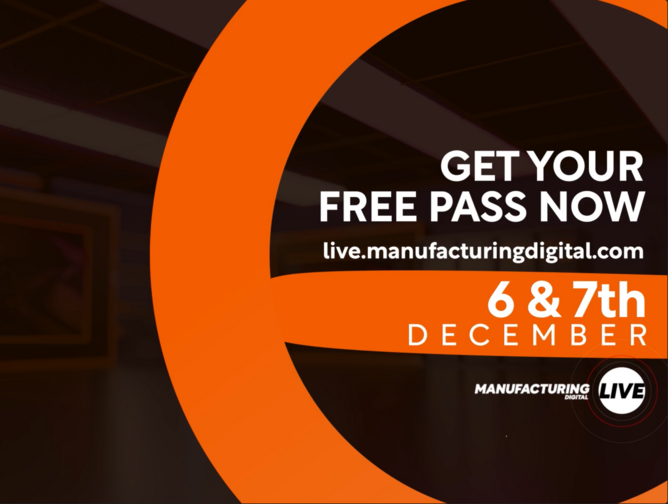 Manufacturing LIVE 2023 - Get your free pass!
Manufacturing LIVE 2023 - The ultimate virtual event for manufacturing leaders
With innovators in the world of manufacturing paving the way for a more resilient, sustainable and efficient future, Manufacturing LIVE debuts to highlight these innovators over its two-day event to deep dive into what the future holds for manufacturing.

The two-day virtual event will take place 6-7 December 2023.
Across six interactive panels, 30 internationally-acclaimed speakers will discuss:
Factories of the future
Sustainability
Digital manufacturing
Technology and AI
Women in manufacturing
At Manufacturing Digital LIVE, guests will have the chance to network with manufacturing leaders from across the world. Build new business connections, be inspired and gain personal and professional development in workshops and speaker sessions.

To get your free pass, click here.
Don't miss this 'must-attend' event of the year, inspiring attendees to champion innovation, sustainability, resiliency, and efficiency within their domains and contribute to a greener future. Save the date for this pivotal occasion shaping the path towards sustainability.

Want to be a sponsor of Manufacturing LIVE?
Showcase your values, products and services to your partners and customers at Manufacturing LIVE 2023.
Position your business as a pioneer in Manufacturing
Access thousands of potential partners
Influence businesses at the highest level

Global giants and innovative start-ups will all find the perfect platform with direct access to an engaged and active audience.
To get your free pass, click here.
Want to know more about other BizClik Media Events?
Debuting for the first time in 2023, Manufacturing LIVE offers an impressive lineup of expert keynote speakers, interactive fireside chats, and panel discussions, to explore the disruptive forces shaping the industry. To find out more about Manufacturing LIVE 2023 click here.

For those interested in sustainability, procurement, and/or supply chains BizClik Media will be returning to London with Sustainability Magazine, Procurement Magazine, and Supply Chain Digital to host Sustainability LIVE (6-7 September 2023) and Procurement and Supply Chain LIVE (26-27 September 2023).
To get your free pass for Sustainability LIVE, click here, or for Procurement and Supply Chain LIVE, click here.

******
For more insights into the world of manufacturing read the latest edition of Manufacturing Digital and be sure to follow us on LinkedIn & Twitter.
Other magazines that may be of interest: Procurement Magazine, Supply Chain Digital, Healthcare Digital, Sustainability Magazine
******
BizClik is a global provider of B2B digital media platforms, for leaders across: Sustainability; Procurement & Supply Chain; Technology & AI; Cyber; FinTech & InsurTech; Manufacturing; Mining; Energy; EV, Construction; Healthcare; and Food. Based in London, Dubai, and New York, Bizclik offers services including content creation, advertising & sponsorship solutions, webinars & events.