Siemens and Cathay Pacific Services enter into cooperation in Hong Kong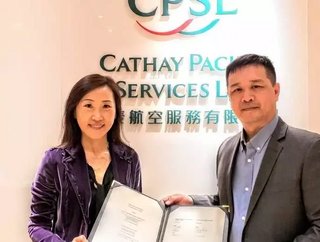 Siemens Postal, Parcel & Airport Logistics (SPPAL) and Cathay Pacific Services Limited have signed a Memorandum of Understanding (MoU) for digitalis...
Siemens Postal, Parcel & Airport Logistics (SPPAL) and Cathay Pacific Services Limited have signed a Memorandum of Understanding (MoU) for digitalisation of the cargo infrastructure at the Hong Kong airport.
Innovative maintenance methods, such as predictive maintenance, and other levers are to be applied to the freight handling system installed by Siemens in 2013 to achieve smooth and even more efficient operation of the Cathay Pacific Cargo Terminal. This will help prevent expensive downtime of the conveying systems and thus enhance the system availability. Spare parts management will also benefit from this optimisation.
This project is to be implemented using Internet of Things (IoT) applications and advanced data analytics. The planned software solutions are based on MindSphere, Siemens' open, cloud-based IoT operating platform.

"The signing of the Memorandum of Understanding highlights our long-standing and trusting cooperation with Cathay Pacific Services Limited," said Michael Reichle, CEO of Siemens Postal, Parcel & Airport Logistics. "Our decades of experience in air cargo logistics, combined with our know-how in implementing digital solutions enable us to support the customer in further optimising its process workflows and expanding its competitive advantage."
See also
Among other things, this agreement also covers the introduction of a standardised and secure method for real-time exchange of quality-assured data between various stakeholders at the airport. The contracting parties also aim to achieve energy optimisation of the cargo handling system in order to reduce operating costs and to make a meaningful contribution to environmental protection. 

"I am very pleased to enter into this cooperation with Siemens for digitalisation of our materials handling system," stated Jenny Lam, CEO at Cathay Pacific Services Limited. "Our main concern here is to continue to offer our customers excellent service. And we chose Siemens' profound expertise and innovative software solutions in order to accomplish this." 

Cathay Pacific Services Limited is a wholly-owned subsidiary of Cathay Pacific Airways, operating the ultramodern air cargo facility to serve the airlines at the Hong Kong International Airport. 

SPPAL further expanded its digital portfolio recently by opening a new MindSphere Application Center (MAC) in Dubai, which will develop future-oriented analytics and IoT solution - among others for airports and airlines. The MAC in Dubai is part of the global network of 20 centres for digital customer applications from the Siemens Group. Around 900 software developers, data specialists and engineers are collaborating with customers on digital solutions in the MACs.