Top 5 Reasons You Should be Using Digital Work Instructions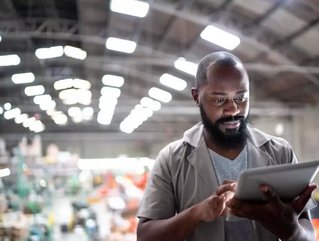 Digital, visual work instructions deliver dynamic and up-to-date information to front-line workers for improved efficiencies and smart manufacturing...
Digital, visual work instructions deliver dynamic and up-to-date information to production workers for improved efficiencies and smart manufacturing.
I can't lie. It's been a couple of years since I've been on a manufacturing floor. However, I would hedge my bets that many of them are still littered with paper-based work orders, job instructions, and quality checklists. And quite frankly, I think it's a shame. 
If you don't want to read on, don't. But I ask you to picture this— A production employee with a work order in his hand, revised to include the artwork the client just signed off on only hours ago. A video from maintenance walks him through the machine setup and highlights that issue that keeps popping up and what to do about it. With the touch of a finger, images show him whether the part coming off the line is acceptable or not and highlights exactly what to watch out for.
Oh, and those raw materials he's using? They're traced to the work order and maybe even backflushing inventory out of the system for accurate inventory control and full end-to-end traceability. And that is just the beginning.
In 2021, the project selection process is a tough one, the pressure is on, and efficiencies must be found. Here's more on why digital work instructions should be at the top of the list.
Revision management. It sounds like a small problem, but outdated instructions can lead to big headaches and even bigger costs, often leading to non-conforming or "bad" production. Ensuring your operators have the latest version of the work instructions is essential to reducing scrap rates and increasing efficiencies while avoiding the ambiguity, finger-pointing, and lack of accountability often caused by inaccurate or missing paperwork. It also allows you to archive old versions for quick reference, handy for traceability and quality control.
Mixed media. Using mixed media such as images, videos, and audio recordings allow you to provide clearer and more thorough information and examples. Machine setup and quality control guidelines are much easier to understand through video rather than simple text on paper.
Consistent training and improved human resource planning. Verbal training brings significant variability and inconsistency. Lead hands, supervisors, and quality techs often tire of constant training and have a lot on their minds as they try to communicate and ensure understanding of all the details paper-based work instructions cannot impart on their own. Additional materials, such as user guides and manuals, can further support your operators. And importantly, training and certification tracking can be a valuable tool for supervisors or plant managers planning their labor distribution. 
Improved quality control procedures. Digital quality control instructions can mitigate risks and improve production efficiencies by consistently capturing and sharing your organization's best practices and most crucial information. For example, images of "acceptable" and "not acceptable" parts can be attached to work orders, checklists can be linked to work instructions, and workers can be asked to upload images of final parts as proof of work.
Traceability. Digital work instructions allow for end-to-end traceability, from raw materials to finished goods, a growing requirement for manufacturing facilities. Traceability allows for quick and full containment of "bad" product upon contamination issues or recalls.
Many moons ago, as the clock was about to strike twelve on the year 2000, I spent my days on the production floor training employees on a new shop floor system. These employees knew the ins and outs of the machines they were there to run—large plastic extruders, complicated web presses, and old rickety converting machines that took a special touch. But they wanted their pen and paper.
Old habits die hard, and when you have a schedule to meet and a million problems to deal with, implementing new systems better be, well, darn well worth the headaches, not to mention a good ROI. Again, if I were a betting woman, I would hedge my bets that digital work instructions are worthy of your attention.
If you're ready to dive even further into Industry 4.0, smart tools can be connected via the IoT, where an abundance of possibilities and the power of AI await you.