5 Minutes With Tableau's Francois Zimmermann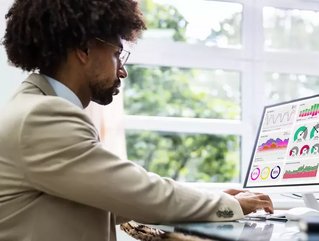 Manufacturing Global discusses predictive analytics in manufacturing with Tableau's Francois Zimmerman, EMEA Field CTO
Since the Outbreak of COVID-19, Would You Say Predictive Analytics is a Must-Have Technology? 
In 2020 we saw that companies that had a mature predictive analytics capability were much more likely to be able to respond to disruptions with agility because they could effectively model different scenarios and reprioritise resources. In the future, we see that predictive analytics will be a key success factor for companies to anticipate demand and recover fast from a crisis.
The COVID-19 disruptions were multi-faceted and required an integrated approach to data and decision making that broke down information silos between business domains. Travel restrictions led to the slowing of transportation and delivery of raw materials and goods. These issues caused major disruption by themselves but were coupled with changing consumer demands, panic buying and the reduced need for certain goods. In order to adapt their supply chains and operating models successfully, data-first manufacturers put new emphasis on structured planning and information gathering and used predictive analytics to accelerate and delegate decision making.
How is Predictive Analytics Being Used in Manufacturing?
For chemical and consumer goods manufacturer Henkel, using predictive analytics has been essential in navigating challenges. Using data analytics software from Tableau to rapidly build reports, access and analyse real-time data, the manufacturer has increased its operational and supply chain efficiency by more than 10%, despite the challenges of the pandemic. 
Henkel has developed a strong and widespread data culture among its employees and has been using Tableau to consolidate all of its data since 2016 - a decision that has saved the company more than €4million in energy costs. This shows that when used as part of a manufacturer's daily operations, data is crucial for transforming ways of working and offering long-term time, cost and productivity benefits.
What are the Challenges When Adopting Predictive Analytics?
Today the potential for predictive analytics is constrained by a shortage of data science skills and the relatively long time to value of data science projects. We also see problems with the quality and accessibility of the data used to train models. There are also ethical challenges with the use of machine learning models as these may perpetuate bias and discrimination.
To overcome these challenges we see a greater emphasis on auto-ML tools that lower the barrier to data science and can automate ethical safeguards like bias and proxy detection and privacy controls. Companies also need to look at data collection and quality assurance processes as these can seriously impact how accurate and detailed the results will be.
What Technology is Need Alongside Predictive Analytics to Realise the Value?
Cloud data platforms are a key enabler for predictive analytics as they enable historical training data to be maintained at a better level of granularity. They also enable elastic scale on demand which is required during model retraining. Companies that are looking to scale predictive analytics across their entire organisation therefore usually also look at their data pipelines and aim to bring together siloed information assets into a cloud PaaS or SaaS platform. These enable a single view across structured and unstructured data from business systems, customer interactions and IoT sensors.
What Does the Future Hold for Predictive Analytics?
The most significant change affecting predictive analytics and its future is its democratisation. Today data science is often deeply technical, expensive, hard to scale and siloed from the rest of the business. Low-code and no-code platforms are bringing these capabilities closer to line of business users that understand their workflow and have domain expertise but may not have data science training. This is key to improving time to value and ensuring that predictive analytics can deliver value at the point of maximum impact.
The quick wins in this space will be in augmented experiences that bring predictive insights directly to data consumers. Business users will need a variety of experiences that empower them to work alongside an AI to derive value from their data assets. The best tools can quickly and efficiently pull together large data sets from multiple sources into an analytics workbench that lets users understand 'what has happened and why', 'what will happen', and 'what is likely to happen if a specific action is taken'. This enables business users to sift through massive data sets and explore millions of combinations in seconds to automatically surface insights. If users can build custom predictions and perform what-if analysis, they can then bring these models and recommendations into their business workflow to operationalise the findings for the whole organisation. 
The future of predictive analytics is therefore that more data consumers can effectively see and understand their data. Tableau's focus is on helping businesses build a scalable data culture. The 2021.3 product release makes it easier for IT leaders to make the platform accessible across their entire enterprise to leverage the full power of data analytics. New features enable enterprises to scale deployment dynamically, manage resources more effectively, and bring predictive analytics to more parts of the business.