Decarbonisation & renewable energy in manufacturing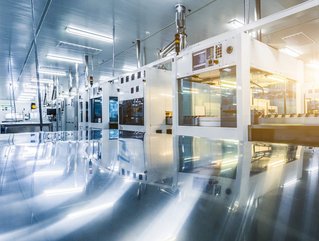 Paul Miller, Sales Director at renewable energy company Drax, discusses how the manufacturing sector can reach net zero with factories of the future
Drax is a renewable energy company on a mission to move the manufacturing sector in a decarbonised direction. Headquartered in Yorkshire, UK, Drax believes in enabling a zero carbon, lower cost energy future and operates a worldwide bioenergy supply business with manufacturing facilities at 13 sites, producing compressed wood pellets.
Paul Miller is the Sales Director at Drax and shares his expectations for the sector with Manufacturing Digital.
Net zero in manufacturing
"By 2050, the manufacturing industry will have to transform to fully decarbonise to meet the government's net zero target," says Miller. "It's expected that we'll enter a new chapter in development and innovation, enabled by technological advances at the same level as the first, second and third industrial revolutions."
There are various ways the industry can adapt to reach net zero – such as forming factories of the future.
Factories of the Future and reaching net zero
As technology advances and becomes more economically viable, Miller sees robots as more likely to make efficiencies across the industry.
"Coboting, a concept where humans and robots work collaboratively, may become a potential future for factories which will require a range of new skill sets across employees," says Miller.
The manufacturing industry is one of the biggest carbon emitters. In the UK, it was responsible for emitting 11% of the UK total emissions in 2018. Miller believes that soon, manufacturing processes will need to run on renewable energy to cut carbon emissions.
"Zero waste will also be another key consideration across the industry by 2050 to improve operational efficiencies," he says. "A key requirement will be predictive maintenance and digital twinning, which will aid manufacturers in optimising the performance of physical assets and processes.
"The concept of a fully efficient, zero-carbon factory of the future may seem a long way off, but there are plenty of actions manufacturers can take today to streamline their operations. As a UK-based supplier of renewable source power and related energy services to over 2,000 manufacturing businesses, we have the experience and expertise to help save companies time now and in the future. We do this by helping them to find energy efficiencies, minimise costs and create new revenue streams – all while reducing carbon emissions."