Hydraulic power packs streamline testing for BLOODHOUND's world record bid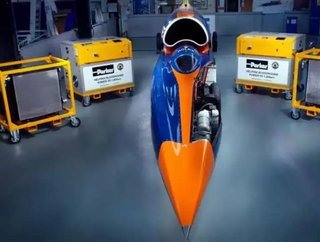 Two new hydraulic power packs delivered to the BLOODHOUND Supersonic Car (SSC) team last week will make safety and operational testing much easier, in t...
Two new hydraulic power packs delivered to the BLOODHOUND Supersonic Car (SSC) team last week will make safety and operational testing much easier, in the run-up to the project's world land speed record bid.
There is a host of complicated hydraulics on board BLOODHOUND SSC. This includes rotary actuators, which open and close ball valves within the High Test Peroxide circuit; winglets that control downforce to the car; and symmetrical airbrake doors moved by two large hydraulic cylinders. It's a major engineering task, which means there are hundreds of engineering checks to perform before the car attempts its world record bid in South Africa next year.
But running diagnostic checks is a challenge, as the on-board pump that powers them is connected to the jet engine – and it obviously isn't practical to switch on a jet engine each time project engineers need to perform vital tests. That's where the new power packs, supplied by motion control company Parker Hannifin, will make a difference.
Like ground support equipment for BLOODHOUND SSC, the Parker units plug directly into the car, allowing key hydraulic tests to take place without the need to start the jet engine and on-board pump.
Many power packs are reliant on visual checks, but the new BLOODHOUND equipment features Parker's IQAN touchscreen display. Designed like a tablet, IQAN brings together all the signals that come from the unit, such as pressure, flow and system health. The easy-read display flags condition changes and provides warning signals to show any potential problems, such as a blocked filter; if a fault arose, a 'system health' box on the main screen would prompt the operator to investigate further. There is also an integrated failsafe mode, which protects the HPU and car should critical operational limits occur (for example, excessive oil temperature, low oil level or system contamination).
Maintaining clean oil is critical for BLOODHOUND SSC, as the aircraft-specification hydraulic valves on the car are intolerant to the very fine South African desert dust. So there's even a full conditioning system built into the power packs - this continuously filters and cools the oil in the unit. Plus, machine diagnostics and electronic readouts on these packs will help the team spot any oil deterioration quickly and easily. Built-in condition monitoring through Parker's icountPD device provides a continuous screen reading on the International Organization for Standardization (ISO) code for the hydraulic oil; particle counts are read by a laser beam, converted into ISO cleanliness figures and displayed on-screen. All system data generated by the power packs can also be downloaded and analysed by the BLOODHOUND team.
The packs are designed for easy mobility. Around 1.4 metres long, 1.2 metres wide and 1.4 metres high, they are built on a base frame with wheels that makes them easy to transport.
Mark Chapman, chief engineer on the BLOODHOUND Project, said: "The new power packs will let us check settings, operation and safety when the car is stationary. That's important while we build BLOODHOUND SSC – and it will be mission-critical on our land speed runs in Newquay and South Africa in 2016 and 2017. So the packs will join us on the journey.
"It's not practical to operate a jet engine for a couple of minutes to perform tests like pressure checks. But plugging the vehicle into one of these units is quick and easy."
Parker's Mark Cattermole said: "The conditioning system and two-stage checking process are useful features. If everything is OK, the system will run without hindrance. But if there are any potential problems, prompts will appear on-screen to automatically warn the team there's a problem; and if the situation isn't sorted out, the system will go into failsafe mode and shut the system down, to avoid risking damage to BLOODHOUND's hydraulics."
"BLOODHOUND's engineers will use the power packs almost every day whilst they're preparing for the world record bid."
Follow @ManufacturingGL and read the latest issue of the magazine.