Introducing the 2016 Range Rover Evoque: The most efficient model yet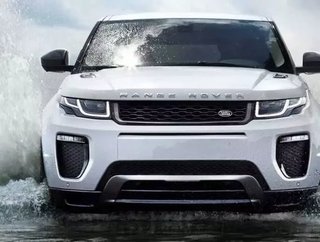 2016 model year Range Rover Evoque to make its world debut at the Geneva Motor Show in March 2015. Groundbreaking exterior design refined to give even...
2016 model year Range Rover Evoque to make its world debut at the Geneva Motor Show in March 2015.
Groundbreaking exterior design refined to give even more distinctive appeal.
The most efficient production Land Rover ever: New Ingenium diesel engines deliver best-in-class CO2 emissions of 109g/km and fuel consumption of 68mpg (4.2 l/100km).
Sector-leading residual values and extended service intervals (21,000 miles) contribute to lower running costs with estimated savings of up to €5,000 over three years.
2016 model year Evoque is now 18 percent more efficient than the top-selling original.
First Jaguar Land Rover vehicle to feature full-LED adaptive headlamp technology.
Five trim levels and 15 option packs allow customers even greater personalisation of their Evoque.
Land Rover has strengthened its fastest-selling model, the Range Rover Evoque. The luxury compact SUV features a comprehensive range of new design features and technologies to reinforce its status as the market leader.
Range Rover Evoque's cutting-edge exterior design has been further enhanced with a selection of carefully chosen revisions. These updates include a new front bumper, two new grille designs, all-LED headlamps and three all-new alloy wheel designs.  These changes will enhance Evoque's unique design to a broad range of customers.
Interior changes include new seats and door casings, new infotainment system, accessed via an eight-inch touchscreen, and the introduction of new colour and materials such as Lunar Ice, Vintage Tan and Dark Cherry (Autobiography only) complementing Evoque's bold architectural forms.
Land Rover's advanced new diesel engine also debuts. The new EU6-compliant four-cylinder Ingenium unit brings a class-leading combination of performance, refinement and efficiency. The cutting-edge engine, which is designed, engineered and manufactured in the UK, provides up to 180PS, fuel economy of up to 68mpg (4.2l/100km) and CO2 emissions as low as 109g/km.
That makes the class-leading Evoque the most efficient production Land Rover ever produced, saving customers up to €5,000, over three years, in some markets.
Gerry McGovern, Land Rover Design Director and Chief Creative Officer said: "The Range Rover Evoque first established and then dominated the luxury compact SUV sector generating worldwide acclaim and sales success. Our challenge has been to evolve the Evoque design without diluting its distinctive character."
Exterior design
Evoque's highly desirable design is a hallmark of this luxurious compact SUV. The introduction of the slimline LED foglamps and a noticeably wider tow-eye cover enhance the new front bumper design. The enlarged air intakes allude to its sporting character and create a more planted stance and further emphasise Evoque's assertive road presence.
Two new grille designs are available in a range of premium finishes. Evoque's standard grille is distinguished by two bold horizontal bars and a new fine-mesh grille pattern. Dynamic derivatives feature a hexagonal design, and its more prominent mesh area lends a suitably performance-oriented character to these sporting derivatives.
2016 model year Evoque is the first Jaguar Land Rover product to be offered with full-LED adaptive headlamps, providing superior visibility at night. This advanced technology has been pivotal in creating a signature headlamp and tail lamp design, working in harmony with Evoque's dramatic exterior. Enhancing safety and creating an even more striking visual statement, the indicator function is now integrated into Evoque's distinctive LED daytime-running lights (DRLs), sweeping across the full width of the light clusters. As an additional benefit, energy-efficient LED technology reduces the demands placed on Evoque's electrical systems.
Elsewhere, the distinctive bonnet vents previously fitted only to coupé models are introduced on five-door HSE Dynamic and Autobiography specification, bringing the sporting character of coupé to the most versatile derivative. A new tailgate spoiler includes a wider, slimmer high-level LED rear brake light that cleanly integrates within the spoiler and optional eye-catching new roof fins feature an integrated 3G antenna, for improved mobile phone signal.
With three all-new alloy wheel designs with two finishes, a choice of Dynamic or standard body kit, and an extensive palette of exterior colours with available contrast roof designs, the possibilities for creating an Evoque to a customer's bespoke specification are now almost endless.
Interior design
New seats and door casings combined with a redesigned instrument binnacle promote a sophisticated ambiance to the overall interior. New premium soft-touch materials create improved levels of quality with a broader specification range than ever before.
Standard models feature textile-woven Ebony fabric and six-way adjustment while flagship models feature new unique-in-class front massage seats (optional) with 14-way electric adjustment. Owners can choose from 13 colourways – two of which are new (Lunar Ice and Vintage Tan) – while customer configurable  ambient interior lighting provides additional visual drama on the inside.
New engines
The new aluminium Ingenium diesel engine brings class-leading efficiency to the 2016 model year Range Rover Evoque, making it the most efficient production Land Rover ever. The new engines are manufactured at the company's advanced new £500m Engine Manufacturing Centre in the West Midlands, UK.
The all-aluminium Ingenium TD4 engine, 20-30kg lighter than its predecessor with stiff cylinder blocks and decoupled injectors ensuring low levels of vibration and noise intrusion, is available in two power outputs: 150PS offering fuel economy of up to 68mpg (4.2 l/100km) and class-leading CO2 emissions of 109g/km, while the potent 180PS unit offers 59mpg (4.8 l/100km) and CO2 emissions from 125g/km. The 150PS unit is 18 percent more fuel efficient versus the Evoque's previous diesel engines.
A range of advanced features have been applied to the Ingenium engines to ensure outstanding environmental performance, including variable valve timing and a series of low friction technologies. Selective catalytic reduction and a new low-pressure exhaust gas recirculation system significantly reduce NOx emissions.
Service intervals have been extended from 16,000 miles to 21,000 miles to reduce running costs on the new lightweight engines.
The 2016 model year Evoque is also offered with Land Rover's advanced 240PS Si4 petrol engine. Delivering strong performance, Si4 derivatives can accelerate from 0-100km/h (0-62mph) in just 7.6 seconds and achieve a top speed of 217km/h (135mph), and return fuel economy of 36mpg (7.8 l/100km) and CO2emissions of 181g/km.
Efficient capability
The 2016 model year Range Rover Evoque will be the first Land Rover vehicle to be designated as an 'E-Capability' variant. The most efficient models will wear a blue 'Evoque' badge, applied to the eD4 109g/km (coupe) and 113g/km (five-door) front-wheel drive models, as well as the 125g/km all-wheel drive derivative, highlighting the status of Land Rover's most efficient vehicles.
Advanced consumer-centric technology
The range of improvements engineered into the 2016 model year Range Rover Evoque includes a series of new convenience features, with an all-new eight-inch InControlTM Touch touchscreen infotainment system providing a more intuitive experience.
InControlTM Touch is fitted as standard equipment on the Pure and SE Evoque models, featuring easy-to-navigate menus and allowing users to swipe between screens just like a smartphone. InControlTM Apps allows owners to access many popular smartphone apps using the centrally-mounted touchscreen on the central console.
Additionally, the six-speaker stereo system can be upgraded to include SD-card based satellite navigation, DAB, Sirius and HD Radio where appropriate.
InControlTM Touch Plus, standard on HSE, HSE Dynamic and Autobiography, can also be specified, comprising HDD-based navigation† , a rear-seat entertainment system complete with a pair of eight-inch video screens and wireless digital headphones, and an 11- or 17-speaker Meridian audio system.
An innovative hands-free tailgate function also adds a new dimension to the convenience of Evoque ownership. It allows owners to automatically open and close the tailgate by waving a foot beneath the rear bumper, whilst not compromising security. The handy feature is even compatible with a tow bar and greatly improves access to the luggage space when returning to the vehicle with your arms full of shopping.
Class-leading capability
The 2016 model year Range Rover Evoque's class-leading capability has been enhanced by the introduction of Land Rover's innovative All-Terrain Progress Control (ATPC), first seen on the Range Rover and Range Rover Sport.
The stress-reducing technology maintains a pre-determined speed (selected using the cruise control function) in forward or reverse gears between 1.1mph and 19mph (1.8km/h to 30km/h), allowing the driver to concentrate on negotiating tricky terrain. ATPC makes Evoque's class-leading off-road capability more accessible and enjoyable than ever.
Safety features
A range of innovative new features enhance 2016 model year Evoque's comprehensive array of safety features. Lane-Keeping Assist uses the stereo digital camera to prevent unintended lane changes by monitoring road markings. If the vehicle begins to drift into an adjacent lane without the driver signalling beforehand, Lane-Keeping Assist applies a gentle steering correction to maintain its lane position.
Autonomous Emergency Braking (AEB) prevents or greatly reduces the severity of accidents in the event of the driver failing to take preventative action.
Using an advanced forward-facing stereo digital camera, the system can identify potential hazards ahead. If a collision risk is detected, the driver is alerted by visual and audible prompts and, if the driver fails to take evasive action, the system helps to avoid collisions below 50km/h (32mph), and reduces the severity of an impact at speeds below 80km/h (50mph).
Attention Assist Estimation completes the trio of advanced new safety systems fitted to 2016 model year Evoque. It monitors steering inputs to detect when a driver is at risk of falling asleep at the wheel. Audible alarms and visual warnings signal when drowsiness is detected.
Evoque: the most desirable luxury compact SUV
The 2016 model year Evoque's trim levels have been realigned to match those of the Range Rover Sport so customers have the choice of five highly-desirable models: Pure, SE, HSE, HSE Dynamic and Autobiography; and a suite of 15 desirable option packs.
More than 400,000 units of Evoque have been produced since its introduction in 2011 making the premium compact SUV the fastest-selling Land Rover of all time. Last year, 2014, marked the Evoque's most successful year to date, with 125,364 global sales.
This sales success has been accompanied by critical acclaim, as Evoque has won more than 165 international awards since launch. The hugely successful model will also be the most efficient car in its class when deliveries begin in August 2015, in over 170 markets worldwide.
Specific pricing by market will be announced closer to launch. Indicative pricing for the 2016 model year Range Rover Evoque will be comparable with the current model.