Kennametal: tooling up for the future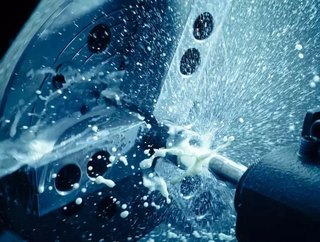 Kennametal was founded on the strength of its technological innovation. In 1938, following years of research, metallurgist Philip M. McKenna created a t...
Kennametal was founded on the strength of its technological innovation. In 1938, following years of research, metallurgist Philip M. McKenna created a tungsten-titanium carbide alloy for cutting tools that provided a productivity breakthrough in the machining of steel. 
"We have provided innovative tools and services for the aerospace, transportation, energy and general engineering industries for more than 80 years," confirms CIO Tom McKee. "Our products are used by our customers to transform how everyday life is built." Kennametal's global operation supports 80,000 customers in 60 countries. McKee explains that his role is to oversee the IT component of the company's factory modernisation around the world. He is well placed to lead this transformation with decades of experience in manufacturing and supply chain management underpinning 14 years spent in IT roles at Kennametal.
"Our customers are demanding more," he says. "Whether it's tighter tolerances and specifications, improved on-time performance and deliveries or simply higher overall quality. We needed to react and make an investment in smarter factories. A big part of that investment is in newer equipment and the automation to move product from one work cell to the other, but we came to the realisation early on that there's more to this transformation than simply buying new equipment and throwing some robots on the shop floor…"
Smart Factory Framework
Kennametal's approach has been to create a smart factory framework based on four pillars: machinery and automation, skillsets and resources, a solid foundation in operational excellence, and the IT/OT systems integration as the connective tissue to pull the strategy together
"We can throw all the data in the world at people, but if they don't know how to use the information to make proactive decisions, or to quickly resolve issues, we cannot progress. Therefore, OpEx is a big part of the journey to modernise our factories," confirms McKee. "When you have real time data coming off the shop floor, it's a whole different environment where you have to ask: What does our work structure look like? What are the positions and skills that are needed? We need to answer these questions to make sure our four pillars are working in harmony."
Kennametal has run its business on SAP's ERP system for the past 25 years. SAP's Manufacturing Integration Intelligence (MII) is now the foundational layer that allows the company to collect, consolidate and present actionable data to internal audiences from shop floor to corporate office. This visibility is enabling efficiencies, increasing throughput and improving overall operations as a result of real-time decision-making that wasn't previously possible.
"SAP's tools play a key role in enabling us to provide the right real-time insights to offer an optimised production schedule; not only based on available equipment but the right available manpower, components and raw materials," says McKee. "Additionally, we're leveraging some of the tools that come are embedded in the basic ERP system, such as the quality management and plant maintenance modules. All of these become part of the overall system layer that we're using to start running our initial smart factories plants. As we continue to optimise the SAP tools at the initial pilot sites, we need to take those learnings and scale that approach to all of our factories."
Product Lifecycle Management
SAP's Product Lifecycle Management (PLM) tool is at the heart of Kennametal's design to manufacturing process. "We needed a way to combine product drawings and process data that resides in Siemens NX with product data from the SAP PLM and classification systems, then delivering it to the factory floor."  states McKee. 
Instead of continuing to manually build manufacturing routings, Kennametal is building capabilities to leverage the digitised data governed by its engineering and technical teams to define the optimal production process.  "SAP PLM is a significant part of bringing together product design information, manufacturing parameters, quality and inspection plans, plus tooling and fixturing information to better run the shop floor," adds McKee.
SEE ALSO:
BMW Group: AI innovation in the automotive industry
Coronavirus: Tesla's Elon Musk offers to produce ventilators
McKinsey and Company: five ways 5G can change manufacturing
Read the latest issue of Manufacturing Global here
Two-Platform Strategy
"To support our journey, we are leveraging a two-platform strategy, integrating the best of SAP and Microsoft solutions. This is why the Embrace announcement (aimed at more easily migrating SAP ERP application and SAP S/4HANA customers from on premise to public cloud with Microsoft Azure)is such a big win."
Over the years, Kennametal has significantly invested in a host of SAP tools including C/4HANA, Ariba, Concur and SuccessFactors; while currently piloting Fieldglass and Qualtrics. 
On the Microsoft side, Kennametal is a long-term O365 and D365 customer, has recently deployed Microsoft Teams, and is expanding its use of Power BI. "We migrated SAP to Microsoft Azure last year, which has opened up a whole new world from an Azure IOT perspective, providing increased visibility and insights to make effective business decisions" adds McKee, who notes that while these two partners are critical, it does take a broader ecosystem to deliver its smart factory framework. "Whether it's AT&T for the network, Palo Alto for our firewalls, or integration partners like eLogic, you can't do it alone."
Training for the Future
"The system and the technology are great, but if you can't operationalise it and drive adoption, it's just expensive technology that no one is going to use and you are not going to get the return on that investment," warns McKee, who's keen that the company pillar for skillsets and resources is supported. "We have a strong focus on change management and driving adoption of the tools. The key is assisting employees to understand how these new capabilities help them to perform better in their daily jobs.Change isn't easy, but through experiential training we can explain how new solutions relate to a team's deliverables. It has to be hands-on. They have to see it and use it repeatedly. It cannot be a one and done. Training should be ongoing and iterative – use it and come back with questions and insights."
Continuing the Digital Journey
McKee's team are planning a series of transformation projects to continue the roll out of Kennametal's smart factory framework. "We now have several plants at various stages of maturity," he confirms. "We have several more plants next in line. At the same time, we are in the early stages of our digital customer experience project. Growing those programs to maturity will be key for us, but it does not stop here. Next, we need to ask how we can leverage augmented reality, machine learning, artificial intelligence. All are huge opportunities for manufacturers like Kennametal to optimise the shop floor, gather insights about customer buying patterns, or better understand what customers need. We are just scratching the surface of the value we can bring to our operations and our customers."
For more information on manufacturing topics - please take a look at the latest edition of Manufacturing Global.