The Rise of Robotics in Manufacturing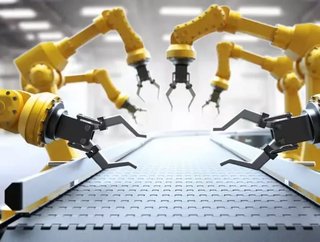 Imagine if your colleague wasn't a human, but instead a robot. Perhaps it is not that difficult to picture as integrating Artificial Intelligence (AI...
Imagine if your colleague wasn't a human, but instead a robot. Perhaps it is not that difficult to picture as integrating Artificial Intelligence (AI) into the workforce isn't a brand new concept. From computerised train station assistants to self-serving supermarket cashiers, the reality is that we are already interacting with 'digital staff' for varying services. In some instances, however, robots are operating like humans, serving us freshly ground coffee in cafes in Tokyo and in more frustrating circumstances, giving us parking tickets on the roads of Milton Keynes.
The rise of robotics is demonstrated in a new report released by the International Federation of Robotics (IFR), which highlights that robot density has accelerated globally. This may come as no surprise to some manufacturers. Industrial robots, for example, have been speeding up operations, as well as making core processes smarter and cheaper for years now. According to a recent PwC report, more than half (59%) of manufacturers are already using some form of robotics technology.
Yet, the emergence of technologies, such as Robotic Processing Automation (RPA), presents the opportunity to propel transformation in the sector further, as well as importantly improve productivity for the UK manufacturing sector.
How is robotics being used in manufacturing?
In some factories today, robots can be seen collaborating with human workers. The Tesla Gigafactory is allegedly one of the most advanced factories ever built. Robots self-navigate Autonomous Indoor Vehicles (AIVs) freely without beacons or magnets guiding them and their major responsibility is to shift goods between workstations.
The term 'cobot' was coined by professors at Northwestern University in America and defines robots that collaborate with humans in the workspace. The ROI behind cobots is already being realised by companies such as Cornell Dubilier – a power capacitor manufacturer in the US. The company has introduced robots to inspect capacitor installations, which has resulted in the speed of its labelling process doubling from 125 parts an hour to 250 parts an hour. A drastic reduction of wasted time throughout the supply chain means that human workers are freed up to dedicate time to tasks that require more creativity and thought.
Beyond the Spielberg-esque sci-fi scenes of physical robots in the workplace is the robotic software that mimics intelligence. RPA is an emerging technology with a growing list of use cases across multiple sectors, such as Financial Services, and new research from The Hackett Group suggests that adoption of the technology is about to grow in demand.
Unlike the physical robotic machines, RPA works behind the scenes, replicating human minds, accelerating operations and transforming business processes. The technology can act as an additional employee in various disciplines throughout the supply chain, working between IT systems and the back office functions to carry out repetitive tasks, such as invoice processing and purchase management order, at a rapid pace.
In a study carried out by Capgemini, almost all respondents (91%) said that RPA can save companies time on repetitive tasks and 84 percent of RPA users felt that robotics can help significantly reduce costs. Whilst momentum of the technology in manufacturing is slower to adopt than its physical cousins, it will only be a matter of time before implementation of the software accelerates.
The robotics opportunity
There is a huge opportunity for UK manufacturers to adopt robotics and artificial intelligence, but a key barrier to implementation is often a lack of understanding around how to effectively introduce these technologies into the business. Arguably the UK manufacturing landscape is built up of traditional organisations that adopt conservative approaches to business, as opposed to modernisation. Barclays Corporate recently found that there is still resistance from UK manufacturers when it comes to adopting the latest and greatest innovations and are falling behind other nations when it comes to adopting fourth industrial revolution technologies.
Yet, innovation in automation and robotics is happening in pockets across the UK manufacturing sector. The University of Lincoln's National Centre for Food Manufacturing and supplier English Provender, for example, recently announced an R&D project introducing state-of-the-art robotic arms to weigh out powdered ingredients with more accuracy and with the overall goal of reducing food waste in the supply chain. These types of initiatives gain a lot of awareness and traction in the sector as the ROI is usually fruitful, yet generally across the board the UK is falling behind when it comes to robotics. In fact, the International Federation of Robotics (IFR) highlighted that the UK sits at 22nd in the world for robot density behind nations such as Slovakia and Czech Republic.
UK manufacturing is, however, on the cusp of further global recognition and RPA could be the enabler of getting Britain back on the map. Recent successes in British exports has meant that the UK manufacturing sector is set to outpace the rest of the economy this year and as such, experts are anticipating that by 2021, the UK will climb from number eight in the global manufacturing economy to fifth place. Yet, to remain competitive the UK manufacturing sector must continue to cultivate and invest in emerging technologies, such as Artificial Intelligence (AI), cloud computing and robotics, putting digital change at the beating heart of growth strategies and making operations smarter, freeing up workers' time to focus on innovation and creativity.
Getting robot ready
Manufacturers must be bolder in how they transform, but they must also ensure that they are carefully approaching how they adopt RPA. This goes beyond simply assessing whether the solution is cohesive with other systems and includes a strategic approach to encouraging employees to embrace robotics more. As this next wave of automation continues to cement itself across the manufacturing industry, we will begin to see transformation like never before; robots will not only collaborate with humans in the workplace, but they will help to revolutionise the job roles and skillsets that humans can adopt.
Antony Bourne is the Vice President of Global Industry Solutions at IFS.