Taiwan Semiconductor Manufacturing Co Ltd's Arizona factory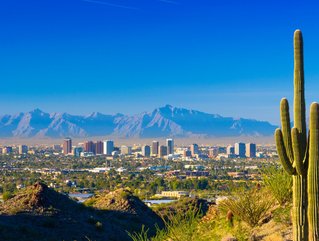 The world's biggest chip making company, Taiwan Semiconductor Manufacturing Co Ltd, is investing in a new factory based in Arizona
Taiwan Semiconductor Manufacturing Co Ltd (TSMC) is planning on a multibillion-dollar semiconductor plant in Arizona, USA.
TSMC is the world's biggest contract chipmaker, with a revenue of US$18bn and a range of customers, such as Apple. Founded in 1987, the first semiconductor foundry continues to lead the sector in manufacturing efficiency.
In 2015, TSMC's managed capacity reached over 9m 12-inch equivalent wafers, used in various power management products. TSMC also operates three advanced 12-inch wafer fabs, four eight-inch wafer fabs, one six-inch wafer fab and two backend fabs.
USA manufacturing hub
The USA has been encouraging manufacturers back to the country, to prevent any future supply chain disruption, such as that seen during the COVID-19 pandemic.
"America invented the computer chip when we went to the Moon," said US President Joe Biden. "Then we led the industry for decades. But then something happened: America stopped investing in America. American companies went overseas for cheaper labour and American manufacturing got hollowed out, despite leading the world in research and design of new chip technology. We knew we had to do something to change that."
This new factory is a step in the right direction for US manufacturing.
Manufacturing differences between the USA and Taiwan
Chief Executive of TSMC Arizona, Rick Cassidy, highlighted that TSMC is keen to keep costs down, build a skilled and efficient workforce and manage a reliable supply chain.
"In terms of cost economics, our consideration was the cost difference between the United States and Taiwan — how we could level the playing field between the potential investment site and the locations where we are already operating," he said.
However, threats of invasion by Chinese President Xi Jinping will certainly disrupt the supply chain. There are fears that Jinping may want to invade the island in order to take over the semiconductor industry and use it to boost the Chinese economy.
Some have suggested that if an invasion does take place, the semiconductor factories in Taiwan should be destroyed by the Taiwanese army, instead of letting them slip into the hands of the invader.
However, Chen Ming-tong, director-general of Taiwan's National Security Bureau, said this would be unnecessary.
"If you understand the ecosystem of TSMC, the comments out there are unrealistic," said Ming-Tong. "TSMC needs to integrate global elements before producing high-end chips. Without components or equipment like ASML's lithography equipment, without any key components, there is no way TSMC can continue its production. Even if China got a hold of the golden hen, it won't be able to lay golden eggs."