The UK's productivity puzzle: how updating technology can bolster manufacturing output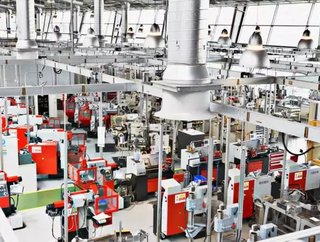 At the tail end of last year the future for manufacturing seemed pretty bleak with reports of output growth over the past five years averaging only0.2...
At the tail end of last year the future for manufacturing seemed pretty bleak with reports of output growth over the past five years averaging only 0.2%, and UK productivity trailing behind our European contemporaries. However, fast forward to January and the most recent UK Manufacturing Purchasing Managers' Index (PMI), gives us reason to be optimistic, finding that UK manufacturing output is expanding at its fastest rate since early 2008. 
One way the industry can now maintain this momentum, from merely an upsurge into long-term, sustained growth, could be affected by how businesses approach their technological processes. What, therefore, can manufacturers do to sustain this surge in productivity and keep increasing their levels of output?
The Government recently announced  significant investment in industry-transforming technology, making the next 12 months an exciting, and potentially transformative, time for manufacturers. In his Autumn Budget speech, The Chancellor cited investment in infrastructure, skills and research and development as key to recovering productivity growth. This has reiterated the importance of technological investment to support productivity issues in manufacturing.
This commitment to technology funding has signalled a new dawn for manufacturers. With £75m being dedicated towards artificial intelligence and £76m towards boosting digital and construction skills, the necessary pieces are being put into place to address Britain's productivity puzzle.
What is clear from these pledges is the recognition that technological investment is a necessary ingredient to propel innovation forward in Britain. Off the back of the Autumn Budget, industries like manufacturing have been given the 'green-light' to be more proactive in pursuing the technology that will transform businesses and enable long-term growth. This new approach to facilitating the adoption of transformative technology will enable those who are bullish in embracing innovation, to reap its rewards.
In fact, a recent study from Epicor Software found almost one-in-four (23%) UK companies that experienced very high growth in the last 12 months believe technology has had a positive impact on their business. Firms who refuse to update their production systems with better technology therefore, often do so to their detriment.
During the instability of recent times, many manufacturers have taken the route of being cautious and avoided large investments in capital spending. However, investment in digital transformation among manufacturers is likely to be the key that will boost productivity, allowing workers to adopt new processes and become more efficient. Overlooking the impact that outdated legacy systems have on productivity in manufacturing, would be ignoring a key element of the productivity puzzle. Instead, manufacturers should focus on updating production systems and using technology to gain advantage amongst their competitors.
Embracing the Internet of Things (IoT) is one such example that manufacturers should be keen to explore. Increasing connectivity between machines, computers and humans will promote efficiency levels. The potential for digital systems to improve productivity is vast, creating a more dynamic factory workforce that will move more seamlessly in unison. This motion, fuelled by the constant guidance of smart products, can be a critical component to optimising production. Having such systems in place enables internal teams to identify where operational inefficiencies originate and allows senior management to develop strategies to meet their Overall Equipment Effectiveness (OEE) standard. For instance, Southco, manufacturer of fasteners and latches for access, which is currently operating at 75% OEE (10% short of world-class standard) is just one business that reports it has seen a noticeable improvement since implementing the Mattec Manufacturing Execution System (MES).
The concept of digital twinning has also gained momentum in recent years as more manufacturers invest in smart machines that are transforming the industrial landscape. Defined as the mapping of a physical asset to a digital platform, digital twinning is enabling manufacturers to gather data from sensors on their machines to find out how they are performing, in real-time. Providing the manufacturer with valuable insight to improve production processes and the final product.
The use of robotics is already a priority for many manufacturers. From welding to assembly machines, factory floors are beginning to see effective and thorough applications of robotics in the production process. Freeing up employees to focus on more difficult tasks and providing them with the opportunity to upskill.
Augmented reality is another technological development that many manufacturers are implementing and reaping the rewards from. More than just creating illuminating experiences for employees to engage with their workloads, this technology allows for far greater accuracy when conducting complex tasks. Not only will it optimise production levels, but it also offers a level of precision that can be very effective in manufacturing.
Manufacturers may also be looking to blockchain in the near future to further enhance their business's productivity. Whilst this technology is currently most commonly associated with cryptocurrencies, blockchain could be hugely beneficial in enabling manufacturers to oversee their entire supply chains in the future, as these online ledgers provide the opportunity for those at all levels of production to input data where problems may have occurred. In doing so, employees at all levels can access data to trace where the incident originated from. This can greatly enhance efficiency, as employees need not comb through paperwork trails, but will instead have instant access to information, freeing up their valuable time.
Whilst some of these technologies may not be relevant to all manufacturers right now, having sophisticated enterprise resource planning (ERP) and manufacturing execution software (MES) technology to assist production, automate processes, assist with resourcing and provide one source of data for all users, will provide great dividends to manufacturers across the board. Enabling businesses to be more agile to today's business climate.  Providing them with the technology to re-visit and revise strategies to thrive, whether that's solely in the UK or with plans for growth internationally.
Fundamentally, we have every reason to be optimistic as we enter 2018, Britain's manufacturing sector has not been as buoyant since April 2008 and we are in the midst of our strongest run of growth since 1997.  However, to maintain these advances and continue to enjoy a period of growth, investment in technology will be essential.
David York is the Regional Vice President of the UK and Ireland devisions at Epicor Software.