Will your next family car be made from carbon fiber? Ford thinks so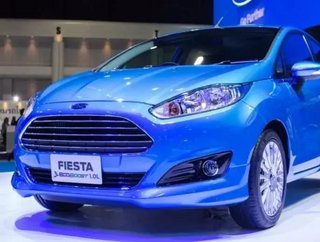 Ford is working alongside manufacturing firm DowAksa to research and develop high-volume manufacturing techniques for automotive-grade carbon fiber. The...
Ford is working alongside manufacturing firm DowAksa to research and develop high-volume manufacturing techniques for automotive-grade carbon fiber. The aim being to make vehicles lighter for greater fuel efficiency, performance and capability.
The companies will be part of the newly formed Institute for Advanced Composites Manufacturing Innovation, created by the U.S. government. The institute is part of the larger National Network for Manufacturing Innovation supported by the U.S. Department of Energy.
"Our collaboration with DowAksa and participation in this organization significantly boosts what we are able to achieve," said Ken Washington, Ford vice president, Research and Advanced Engineering. "We have a true alliance of highly talented people working to take automotive materials to the next level."
The mission of the institute and the goal of Ford's collaboration with DowAksa is to overcome the high cost and limited availability of carbon fiber, while developing a viable, high-volume manufacturing process. Ford and Dow Chemical began working together in 2012 to develop low-cost, high-volume carbon fiber composites.
"This opportunity builds upon Ford's current joint development agreement with Dow Chemical and accelerates our time line to introduce carbon fiber composites into high-volume applications," said Jim deVries, Ford global manager, Materials and Manufacturing Research. "This collaboration helps us accelerate our efforts to create lighter automotive-grade composite materials that benefit customers by enabling improved fuel economy without sacrificing strength."
"DowAksa's technology and manufacturing expertise will help effectively overcome barriers to entry for the use of carbon fiber composites in high-volume automotive applications," said Douglas Parks, DowAksa board member and a primary participant in the founding of the Institute for Advanced Composites Manufacturing Innovation. "The new institute provides a collaborative platform to accelerate our progress."
Carbon fiber composites have been used in aircraft and racing cars for decades because they provide high strength with extremely low weight. Ford aims to being this technology to the mass market.
"Our goal is to develop a material that can greatly reduce vehicle weight in support of improved fuel economy for our customers," said Patrick Blanchard, Ford supervisor, Composites Group. "The flexibility of the technology allows us to develop materials for all vehicle subsystems across the product line – resulting in a weight savings of more than 50 percent compared to steel."
Creating lighter vehicles is a major part of Ford's Blueprint for Sustainability to reduce fuel consumption and exhaust emissions. Current products that apply a light-weighting philosophy include Fiesta – which uses high-strength, lightweight boron steel. The all-new 2015 Ford F-150 uses high-strength, military-grade, aluminum alloy to help reduce overall weight by up to 700 pounds – returning an EPA-estimated 5 percent to 29 percent better fuel economy, depending on engine and driveline configuration on the combined cycle, along with best-in-class payload and tow ratings.
The Ford Lightweight Concept Fusion applied such lightweight materials as aluminum, high-strength steel, magnesium, composites and carbon fiber to nearly every vehicle system to reduce the car's weight to that of a Fiesta – a near 25 percent cut.
Learning from this concept can springboard light-weighting technologies to a much larger scale of production. Ford and DowAksa also are working together to reduce the energy needed to produce carbon fiber components, cut the cost of raw materials and develop recycling processes.