Elfsquad CPQ enables error-free quotations for Fulton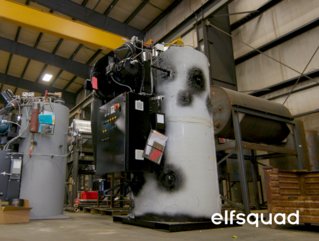 Elfsquad's CPQ (Configure Price Quote) solution streamlines Fulton's sales processes, resulting in error-free quotations and improved customer satisfaction
Fulton, a leading manufacturer of heat transfer equipment for commercial and industrial applications, has recently implemented Elfsquad's innovative CPQ (Configure, Price, Quote) software solution to streamline its sales process. The implementation has allowed Fulton to provide accurate and error-free quotations to its customers, leading to improved customer satisfaction and increased sales.
Automating at Elfsquad
Elfsquad's CPQ solution simplifies the complex sales process by automating the configuration and pricing of products, eliminating the need for manual calculations and reducing the possibility of errors. The solution also integrates seamlessly with Fulton's existing CRM and ERP system, providing a smooth and efficient experience for sales reps and customers.
"We are thrilled to partner with Elfsquad and implement their CPQ solution," said Sara Dowes, ERP & CPQ Manager of Fulton. "A big challenge we would have without a configurator is always needing an engineer to help with quotes. Elfsquad enabled us to streamline the quote-to-cash process."
"We are proud to be working with Fulton and helping them streamline their sales process," said Wessel de Haan, Commercial Director of Elfsquad. "Our CPQ solution is designed to simplify the sales process and provide accurate and error-free quotations and BOMs for ERP, in order to have zero manual hand-overs between sales and production, eliminating frequent errors. It's great to see it having such a positive impact on Fulton's business."
Watch the full case study: How CPQ enabled Fulton to scale their business processes
About Elfsquad
Elfsquad is a cutting-edge software company specializing in configure, price and quote solutions for manufacturers. Their CPQ (Configure, Price, Quote) solution is designed to simplify and streamline the sales process for businesses of all sizes, reducing errors and increasing accuracy in quotations. The solution integrates seamlessly with company's existing software including CRM and ERP systems, increasing the efficiency of sales reps and providing a smooth customer experience.
With a team of experienced software developers and a commitment to customer success, Elfsquad is at the forefront of innovation in the CPQ space. The company has a proven track record of delivering high-quality solutions that drive results for its customers, making it a trusted partner for businesses looking to streamline their sales process and drive growth.