Expect to see these food manufacturing trends in 2022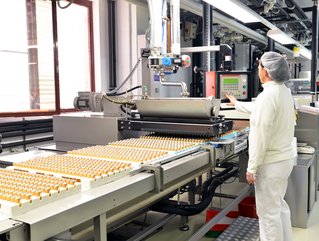 Douglas Woodruff, Director of R&D at JBT Diversified Food & Health Division, explores 2022's food manufacturing trends, from sustainability to automation
Ramifications from COVID-19 are continuing to be felt across industries, and as a result, food manufacturers can expect some existing trends to be ongoing with others to emerge in 2022. Innovation in sustainability practices will adapt as consumer demands and ESG requirements evolve, including the accelerated rise of plant-based products. Widespread labour shortages will continue to make their impact on the industry and shift the balance between food service and retail products.
Today, the food manufacturing industry is well positioned to help its customers adapt to these trends:
Increased IoT connectivity and automation
No matter the industry, implementing and updating new digital technologies will be a priority in 2022. The food manufacturing industry has historically been conservative in adopting new technology solutions, but all sectors vary in how they are introduced and applied. Industry 4.0 tools will continue to grow across the industry as they enable processors to optimise workflow, remove production bottlenecks, improve margins and more.
In the near term, we can expect to see an increase in automation. Food manufacturing is one of many industries facing labour shortages in the wake of the COVID-19 pandemic, shifting workforce priorities and more. This has caused immense stress on technology solutions providers to develop equipment that will help customers continue to meet their goals, but with fewer employees on-site. Expanded roles for automation, such as robotics, will be a key factor in the mitigation of human labour shortages and to enhance process efficiency and end-products for producers.
The rise of plant-based
Plant-based products will continue to grow in popularity in 2022. Plant-based diets have increased 300% for Americans in the last 15 years, and global retail sales of plant-based food alternatives may reach $162bn by 2030 — up from $29.4bn in 2020. If so, the projected plant-based food market would make up 7.7% of the global protein market.
As health and nutrition continue to drive consumer desires and decisions, manufacturing technologies should adapt accordingly. While manufacturers have already adopted solutions to address this increased demand, it will be also important for manufacturers to adapt to their customers' unique internal processes, the type of product being developed and the means of processing them.
In addition to already popular plant-based proteins and dairy alternatives, the culture-based proteins, while not mainstream yet, are certainly on the horizon. Cultured meat made its marketing debut almost a decade ago and will continue to rise as a leading alternative-protein source.
As these new processes scale up, specialists will work with customers to transform existing batch processes to efficient continuous processes and bring their well-established food science expertise for conventional foods to this new technology.
Commitment to sustainability
As positive climate action becomes increasingly urgent with each passing year, consumers are ever more conscientious about how their personal decisions and those of the food industry impact the environment. Manufacturers are answering customer calls to be more eco-conscious and replace fossil fuel-based energy sources with renewable, electricity-based energy.
Other sustainability trends we can expect to continue and even expand across food industry sectors include changes in packaging (recyclable, biodegradable, or options that significantly reduce plastic use), the reduction of water consumption, and increased development of sustainable detergent and cleaning solutions for end-products and equipment.
Balance between food service and retail
The pandemic has changed consumer behavior and continues to require the food industry to adjust as demands evolve. At the beginning, the food service sector took a dive and retail shot up in many cases because of the decrease in demand for food typically supplied to restaurants, and increased demand for grocery stores.
64% of consumers do not plan to return to their pre-pandemic habits of dining in restaurants. This has resulted in 61% of consumers ordering takeout or delivery at least once per week, which is up from 29% one year ago.
The balance between these two markets will continue to evolve, and the food manufacturing industry will need to adopt ever-changing and innovative approaches to the continued fluctuations of the pandemic and in consumer preferences throughout 2022.
Douglas Woodruff is a professional engineer and has worked as an engineer and an innovation leader in the food and packaging industries for almost 30 years in both North America and Europe. He currently leads the R&D program for JBT's Diversified Food & Health Division.