Oqton & DigiFabster advance manufacturing ecommerce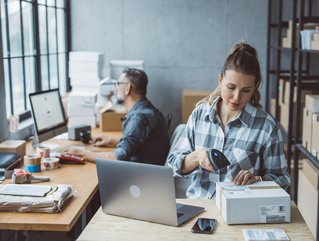 Manufacturers Oqton & DigiFabster have teamed up for a new ecommerce solution designed to aid manufacturers in on-demand manufacturing
Automation manufacturers Oqton and industrial machinery manufacturing company DigiFabster have teamed up to advance their manufacturing capabilities in a new ecommerce solution.
AI and automation reduce production delays
Oqton was founded in 2017 and is based in Ghent, Belgium. The company enables manufacturers to become more efficient with intelligent automation production. By bringing together engineering and production with AI, it offers complete traceability across a business. Oqton's also builds applications for reverse engineering, inspection, design, 3D printing and simulation.
Founded in 2014, DigiFabster is a California-based sales automation company which supports the custom manufacturing businesses. Its solutions provide web-based, secured and ITAR-compliant software which support job shop manufacturers & large OEM's to streamline quote generation, creating an easy buying process and minimising production delays.
The partnership between the two companies is designed to help manufacturers automate their production workflow. A solution that offers integrated, purpose-built order, payment and production automation will help manufacturers in dealing with the challenges of on-demand manufacturing.
Advancing manufacturing capabilities
According to Dr. Ben Schrauwen, SVP & General Manager at Oqton, ecommerce continues to be a disruptive force in its transformation of consumer behaviour and expectations for easy-to-use services.
"We saw a real opportunity to bring together Oqton's advanced manufacturing capabilities with DigiFabster's ecommerce solution to transform the entire process," explained Schrauwen. "Through the combination of a convenient, modern frontend experience with streamlined backend processes such as digital inventory management, and automated fulfilment and logistics, we've automated the entire production workflow to provide a more efficient experience for manufacturers and purchasers."
Konstantin Ivanov, CEO at DigiFabster, agreed that all manufacturing shops should have access to software that is both quick to implement and makes a significant impact on day-to-day shop operations.
"Our partnership with Oqton provides manufacturing companies with an integrated solution that unlocks the power of ecommerce sales along with providing the critical data to automate the complete production process," said Ivanov.