The benefits of robotics in manufacturing warehouses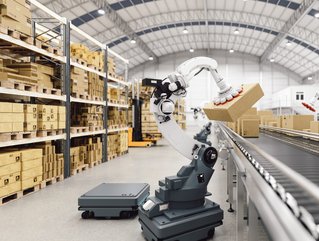 Simon Jones of Exotec, on creating robust, responsive and reliable warehouse environments & how robotics can enable this transformation
Technology, no matter how rudimentary, has long supported factory and warehouse environments. While the coming of the machine reduced the need for skilled human workers in some roles centuries ago, the tables have since turned. Now, robots and technology in contemporary warehouse settings enable organisations – particularly in the retail sector – to elevate human staff to new levels of importance. This is done by leaving the less desirable and more labour-intensive tasks to automated robots, while tackling shifting consumer and economic demands on retailers and their warehouses.
Organisations are on the tail-end of COVID-19, with an uncertain future ahead which may or may not include a recession. It's becoming harder to predict what's around the corner due to fluctuating demand, increasing customer expectations and volatile energy costs. To protect their business, meet organisational objectives and provide quality customer service, leading retailers want to make their warehouses resilient, responsive and reliable, using the lessons learnt from the pandemic to accommodate the growing market. Robots are the answer.
Difficult challenges, smart solutions in manufacturing
Robot deployment can significantly enhance the warehouse and logistics environment. A recent Gartner report, Emerging technologies: smart robot adoption generates diverse business value, highlighted that robots used to replenish retail stores demonstrate quantifiable results in 72% of use cases – the highest percentage among industries. The analyst firm forecast in the report that by 2030, 80% of humans will engage with robots daily, and for many, this may be in the workplace.
One of the key challenges facing retailers that need to restock their stores, fulfil eCommerce demands and meet click and collect, as well as logistics operators is labour shortages, which are seriously impacting operations across the UK. Put simply, fewer people on the ground means fewer items picked and sent to customers and stores. In addition to being unable to fill roles, retailers are also experiencing difficulties with staff retention. Working in a warehouse environment is physically exhausting and often mundane and brings with it a number of health and safety risks due to the nature of the work. These issues severely impact throughput and make it much harder to keep up with demand.
This is where robots can provide value. 'Tedious' jobs typically carried out by humans can instead be done by autonomous mobile robots (AMRs), eliminating non-productive walking time, which makes up 60% of manual picking time.
With an automated system in place, human staff can take on more technical, skilled tasks within the warehouse environment, adding value to their roles and reducing the most strenuous elements. For example, there is a need for human workers to monitor the performance of machines and carry out elements of the order picking and packing processes that cannot be automated. Additionally, AMRs can help to reduce workplace incidents and support the health, safety and wellbeing of warehouse workers.
Maximising warehouse space
The short supply and high cost of land is also impacting retailers wishing to expand their facilities to keep up with consumer demand, keep shelves stocked and eCommerce orders fulfilled. Building an entire new warehouse can be prohibitively expensive, so integrating robots that make the very most of existing space is paramount.
Robotic picking systems, for example, can retrieve products quickly and efficiently even if they are stored on racks several metres above the ground, which would be inefficient or unsafe for human staff to do. This means companies can maximise the height and depth of their warehouses, leading to greatly increased storage combined with enhanced efficiency. Effectively, the people power gap is plugged, and existing facilities are fit for purpose once more.
Peak time robotics power-up
Picking robots can also speed up processes during busy periods, such as Christmas and Black Friday. This is due not just to the fact that they can retrieve products and bring them to picking stations faster than human staff, but also because extra robots can simply be added when demand picks up and removed once things quieten down again. This reduces the need to recruit swathes of seasonal workers, who would typically need a month of training before they are up to speed.
This is especially important for organisations experiencing a high level of growth or fluctuations in demand in the eCommerce space. Robots and their complementary systems enable retailers to scale when they need to, adding or removing robots, racks and bins in line with demand. Operations can be scaled quickly and easily to meet future demand, so that nothing more than what is needed is installed. This sets these systems apart from more rigid traditional automation solutions.
Time, money, people and space are crucial considerations for any retail business in 2022 and beyond. Deploying robots can not only help businesses scale up and fulfil customer orders quickly, but also respond to fluctuating demand without putting pressure on businesses to make lots of short-notice new hires or increase warehouse space. Retailers that feel stuck between the cusp of growth and keeping costs down can balance these requirements by integrating robotics systems that are flexible, future-proof and enable them to thrive.