GE Appliances: Imagining a full lean enterprise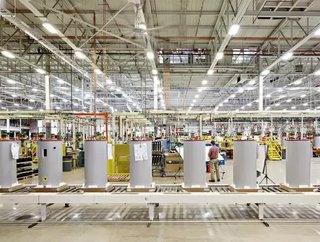 Lean Enterprise Leader Marcia Brey outlines how GE Appliances is coming together to improve the ownership experience and its bottom line. At GE Appli...
Lean Enterprise Leader Marcia Brey outlines how GE Appliances is coming together to improve the ownership experience and its bottom line.
At GE Appliances we are on a journey to become a Lean Enterprise in all aspects of our business. This demands that we "go see" to discover, learn and elevate how our teams work together. As Lean Enterprise Leader, I imagine an even more nimble and responsive organisation that applies lean thinking to everything we do to improve the ownership experience for our consumers.
What can a full lean enterprise look like? The following are glimpses of the vision we are pursuing within our factories, offices and other facilities as we strive to succeed together and approach problems through the eyes of our customer.
Putting the owner first
We are building microenterprises (think miniature lean enterprises) that put the owner first in prioritising what actions are implemented. We call this "zero distance to the customer" and task our team members to walk in the shoes of our owners, retailers and service technicians to truly understand and empathize with problems and see for ourselves the obstacles and opportunities before us.
We are working cross-functionally to solve problems because success must be defined at the system level, not the functional level. Simply put, no one individual or data set can see a problem from every angle. When each function – from sourcing to manufacturing to sales – understands its influence on the others, the decisions we make cooperatively can take our lean strategy to the next level by helping us think about the many dimensions of a problem.
New product introduction
We are delivering leading products profitably and at the pace of market demand by focusing on winning definitions, determined by owners and our commercial teams, as the first step in our new product introduction (NPI) process.
This demands an outside-in focus, where each function within the value stream executes against the same high-level strategy. For instance, our marketing team may identify one of our owner segments as the 'Traditionalist' who values highly durable and simply designed appliances. This owner is also price sensitive and takes longer to reach a purchase decision.
Using this data, all functions from product design to distribution must pool their knowledge and create a cohesive plan to meet the owner segment's need. What style of refrigerator is our Traditionalist asking for? Where will we manufacture it? Which quality materials are essential? What added features are not? Can delivery be improved? Component costs cut? And what messaging will connect with this owner?
To take lean thinking beyond the manufacturing environment, a team-centric, systems-thinking approach is necessary to ensure the problem or issue you are solving is, in fact, the same one the customer is experiencing.
Optimising the system
We are shaping a supply chain where pace is purely dictated by the pull of orders from our customers. When each function in the system is operating together to reduce total system lead time (as opposed to optimising the individual functional processes), it streamlines workflow and reduces the opportunity for errors.
Required is a product design, sourcing and assembly strategy that speeds the order to delivery without sacrificing quality. Key to this effort is modularity for NPIs that will give consumers more options while creating more opportunities to simplify assembly. Also critical is the connected factory that tracks the owner's order completely through the supply chain and distribution, ensuring we deliver the right product at the right time with the right quality.
Segmentation and mass customisation, versus a "one size fits all process," are fundamental to differentiation within the marketplace moving forward.
A thorough process
We are enabling microenterprises where all team members can "see" data instantaneously from our ordering process, inventory flow, factory production, and even our suppliers.
When we know how people are using our products in real time, we can respond to imminent problems and often before owners feel the pain. Or when parts ordering is automated, it creates efficiencies across the entire value stream from seamless sourcing to maximising productivity in the plant, meaning timely deliveries and lower logistics costs.
This digital transformation does not happen overnight, but the incremental steps we make as a systems-minded organisation can become the foundation of our future connected enterprise.
Ultimately, linking our people, processes and technologies leads to greater collaboration, and immediate access to data informs faster, more confident decision making. The result is an optimal outcome for our product owner.
It's an exciting time to be part of GE Appliances as we have a chance to imagine a new generation of products that enable happiness and wellbeing in every home. To do that, we must think and act in concert regardless of job function, replacing silos of information with systems that allow us to freely share and easily disseminate knowledge throughout the enterprise. We look forward to making our vision a reality with every associate playing a critical part.