Procurement & Supply Chain
AliExpress Delivers Record Sales for UAE Merchants in 2020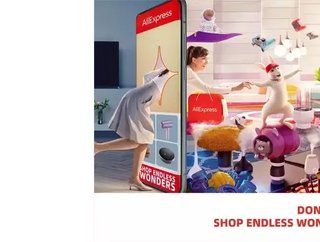 AliExpress, the global behemoth, managed to maintain it's global supply chain operations and manufacturing norms to secure profits across the board...
Household category products in the UAE achieved sales of over 200% compared to last year
The first four hours of transactions in 2020 exceed the total transactions in 2019
Unprecedented record-breaking performance as a result of upgraded logistics infrastructure, investment in live streaming and support for UAE merchants
AliExpress, a global retail online marketplace under the Alibaba Group, delivered record-breaking sales for the UAE merchants during the annual 11.11 Global Shopping Festival that lasted for 48 hours. With a more than threefold increase in participating sellers from outside of China and a 600 per cent surge in the number of product listings by overseas sellers, AliExpress reinforced its commitment to facilitating SMEs worldwide to sell globally, especially in the face of challenges following the COVID-19 pandemic. 
Consumers worldwide immersed themselves in the Festival, resulting in strong sales performances. In Spain and France, within the first half an hour, the total recorded transaction amount exceeded that of the first hour in 2019. In those two markets, the total recorded transaction amount at the 12-hour mark in 2020, surpassed that of the 48-hour mark in 2019. In the UAE, AliExpress recorded an exceptional year-on-year increase of more than 200 per cent in transaction value on household products such as Epilator, Vacuum Cleaners, Oral Irrigator and Coffee Makers, as compared to last year. 
"The 11.11 Global Shopping Festival has grown to be the world's largest shopping festival. In the UAE, COVID-19 has led to a great shift in buying habits and spending rate this year. Consumers have started buying online products more than before with an increased order value. In the UAE, the top product categories are Home Garden and Home Appliance followed by Electronics and Fashion", said Jingyun Eason, Head of MENA Market at AliExpress
Upgraded Logistics Infrastructure to Ensure Efficiency and Enhance Capability
To ensure the efficiency of cross-border delivery during the Festival, AliExpress made significant investments to upgrade its logistics infrastructure across multiple aspects. 
Further, to provide a reliable and efficient delivery experience for the Festival, AliExpress is working closely with Alibaba Group's logistics arm Cainiao Smart Logistics Network and last-mile logistics partners to significantly shorten cross-border delivery times. During COVID-19, AliExpress Direct delivered packages within 18 working days for orders shipped to Saudi Arabia and the UAE. 
Other Key Highlights of AliExpress from the Festival
The first buyer this year was from Brazil, making nine orders within one minute.  
A buyer from Spain ordered a 55-inch colour TV and it arrived within half a day after the order was placed, delivered from a local warehouse.
For the first cross-border delivery order this year, a customer from Ukraine ordered a backpack and it was dispatched within 15 minutes.
The first cross-border order to reach the customer this year took place in South Korea. Through the warehouse in Weihai of Shandong province, the shopper from Pyeongtaek received his compact food vacuum sealer on 13 November, only two days after he purchased it on AliExpress during the Festival.