Procurement & Supply Chain
Car industry sanctions Russia & supports Ukrainian workers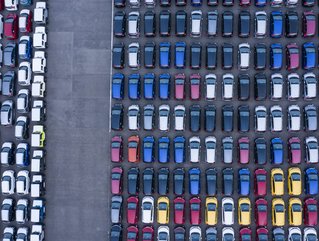 Toyota, Volkswagen, Ford, Honda & Mercedes stop selling vehicles in Russia to protest the invasion of Ukraine, in addition to donations & calls for calm
Russia is the eighth-largest automotive market in the world, yet many of the biggest carmakers on the planet have stepped away from sales with the increasingly ostracised country.
From calling for calm, to making donations, to scrambling to fill supply chain shortages, here's what these top car manufacturers are doing:
Toyota Motor Corp.
Founded: 28 August 1937
Headquartered: Toyota, Aichi, Japan
The world's biggest carmaker, Toyota, was hit by a cyber attack on 28th February, which targeted plastic and electrical suppliers.
The attack took place just after Japan declared that it would join in sanctions against Russia for its invasion of Ukraine, but Toyota has not blamed Russia for the attack - yet.
Japan's Prime Minister, Fumio Kashida, expressed alarm at the cyber attack, but he has not directly blamed anyone.
"It's difficult to say whether this has anything to do with Russia," Kashida said.
Investigations hope to uncover those responsible.
Volkswagen Group
Founded: 28 May 1937
Headquartered: Wolfsburg, Germany
Volkswagen Group announced it would stop building cars at its Kaluga factory, which is based in Russia and employs 4,000 people.
"Against the background of the Russian attack on Ukraine and the resulting consequences, the Group Board of Management has decided to discontinue the production of vehicles in Russia until further notice," said Ralf Brandstätter, Volkswagen CEO. "This decision applies to the Russian production sites in Kaluga and Nizhny Novgorod. The export of vehicles to Russia will also be stopped with immediate effect.
"At Volkswagen, we are convinced that a sustainable solution to the conflict can only be achieved on the basis of international law. We therefore appeal to the political actors to end the fighting and return to diplomacy."
Ford Motor Co.
Founded: 16 June 1903
Headquartered: Dearborn, Michigan, United States
Over the last year, Ford sold 21,000 vehicles in Russia. Yet Ford was quick to suspend its joint-venture (JV) operations in the country, following the invasion of Ukraine.
"While we don't have significant operations in Ukraine, we do have a strong contingent of Ukrainian nationals working for Ford around the world," Ford said in a statement. "As part of the global community, Ford is deeply concerned about the invasion of Ukraine and the resultant threats to peace and stability.
The situation has forced Ford to reassess its operations in Russia.
"In recent years, Ford has significantly wound down its Russian operations, which now focus exclusively on commercial-van manufacturing and Russian sales through a minority interest in the Sollers Ford joint venture. Given the situation, we have today informed our JV partners that we are suspending our operations in Russia, effective immediately, until further notice," the statement concluded.
Honda
Founded: 24 September 1948
Headquartered: Minato City, Tokyo, Japan
In joining in with the sanctions, Honda has stopped exporting cars and motorcycles to Russia, although the Japanese company does not have any factories in Russia.
According to Honda spokeswoman, Misako Saka, Honda will resume shipments once the situation "returns to normal."
Mercedes-Benz
Founded: 28 June 1926
Headquartered: Stuttgart, Germany
Luxury car maker Mercedes-Benz announced that it would support those impacted by the crisis in Ukraine.
"As an immediate emergency measure, we're donating €1mn to Deutsches Rotes Kreuz eV (Red Cross) for their help for Ukraine," said CEO Ola Källenius.
However, as many small parts used in Mercedes-Benz vehicles were manufactured in Ukraine, there will be a forced reduction in production across Europe.
"The high flexibility of the plants will be used to avoid downtime as much as possible," Mercedes-Benz said in a statement. "We are closely monitoring the situation and are in close contact with our suppliers to work intensively together on solutions to secure our supply chains."