Procurement & Supply Chain
Circular Logic: The future of manufacturing is circular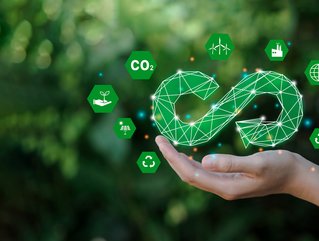 Carl Schweihs, President and COO of PeopleManagement, a TrueBlue company, shares his thoughts on manufacturing & the circular economy
The manufacturing industry today faces many new challenges. As the ecological crisis looms larger in the zeitgeist, it is difficult to ignore the growing scarcity of natural resources as well as heightened competition for both these resources and ensuing profits.
A geopolitical event like the Russian invasion of Ukraine can have a tremendous impact on access to resources like timber, precious metals, gases, and more, while simple attrition and overuse can deplete formerly plentiful sources of materials crucial to manufacturing. As competition intensifies, only the most profitable companies will be able to acquire the resources they need to remain profitable, creating a vicious cycle that threatens to lock out smaller competitors.
Companies must learn to adapt to these changing conditions if they wish to survive and thrive in the emerging market. Adaptations could include new methods of doing business, revolutionary new manufacturing techniques, or pivots to entirely novel areas of business.
But perhaps the best way to face the new world of resource scarcity is to simply become more resource efficient. Leaders who embrace the circular economy — using and reusing resources at peak efficiency and deriving maximum value throughout each product's life cycle — will shepherd their companies to greater fiscal resilience and profitability in the years to come.
How the circular economy can support the manufacturing sector
The circular economy reimagines manufacturing to drastically reduce waste by making optimal use of all resources. To participate in the circular economy, companies can adopt one or more of the following six steps:
Regenerate: Shift to renewable energy and materials
Share: Hold products in common and extend product life spans through design and maintenance
Optimise: Eliminate waste from supply chains and boost product efficiency
Loop: Keep parts and tools in a "closed loop" using remanufacturing, recycling, and reuse
Virtualise: Deliver goods and services online
Exchange: Switch advanced renewable materials in for outdated materials and adapt 3D printing and other new technologies
While not every company in every industry can embrace all six of these steps, most businesses worldwide can improve productivity and profitability by finding opportunities among these options. Below are just a few avenues companies can explore to enter the circular economy.
Reducing waste in the manufacturing industry
Businesses can always make better use of a resource most entrepreneurs ignore: waste. Governments in emerging markets can spend up to half their budgets on managing consumer and industrial waste. By finding new uses for discarded items and resources, innovative companies can validate that old adage about trash and treasure. The key is in finding the optimum use for each item.
For example, plastic bottles can be burnt for fuel but are much better used in bottle-to-bottle recycling. Meanwhile, tires are ten times more valuable as an industrial fuel source than for having their metals extracted through harmful tire fires. For a good source of metals, look no further than electronic waste, which contains more gold per pound than gold ore.
The rise of "fast fashion" has driven clothing sales up dramatically, with global production doubling between 2000 and 2014, and the number of garments sold per person increasing by 60%. In larger developing economies, the rate is even more dramatic. Manufacturing and washing these clothes calls for immense water consumption and chemical use that creates significant greenhouse gas emissions.
Furthermore, the fibres and materials from discarded fast fashion items cannot be reused. Companies seeking to enter the circular economy could do so by developing reusable fast fashion fibres, discovering environmentally friendly ways to launder large quantities of clothes, and generally reducing waste within the fast fashion industry would quickly make up any expenditures on research and development by leading the market.
Manufacturing supply chains
Many companies exploring the circular economy focus exclusively on internal options and ways to innovate within the company. But with the global consumer sector set to expand 5% annually for the next twenty years, companies will depend more and more on effective and reliable supply chains. Vulnerable to natural disasters, government emissions caps, and safety and pollution issues, worldwide supply chains are already facing crises that could impede this projected growth.
Rather than focus internally, companies may look for strategies to alleviate strain on the supply chain. This industry features incredible room for improvement through the circular economy, as it is responsible for 80% of greenhouse gases produced by consumer industries, and few manufacturing companies are exploring this avenue. By improving and streamlining the use of water, soil, and fuel when transporting their goods, manufacturing companies can drastically upgrade their resource efficiency, and can pass these enhancements along the supply chain.
The circular economy is built around finding new uses and improvements for existing resources. Changing the ways we use our available natural capital for the better will provide an innovative company with notable advantages over competitors, and these advantages will translate into greater profits and thus better access to resources. The smarter use we make of those resources, the better positioned we will be to transcend the issues posed by resource scarcity over time.

By Carl Schweihs, President and Chief Operating Officer of PeopleManagement, TrueBlue's workforce management division.