Procurement & Supply Chain
SEAT: committed to production worker safety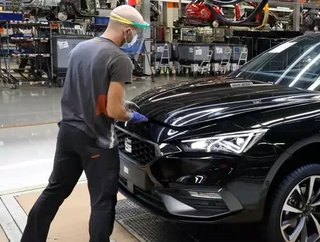 SEAT increases its commitment to its workers' safety as a priority in 2021, protecting against COVID-19...
Furthering the automotive manufacturers commitments to the health of its employees, SEAT has announced new measures to effectively protect its workers from COVID-19. This will continue to be a top priority for SEAT in 2021.
Since 1 January, SEAT has conducted over 15,000 tests on employees, establishing a mass rapid testing plan that comes into effect today (28 January). As part of the plan, SEAT will test over 10,000 workers at all work centres twice a week for antigens, averaging 4,500 tests a day.
With these measures SEAT hopes to minimise the risk of an outbreak in the workplace as well as relieve the public health system.
"The health and safety of our employees is and always will be a priority at SEAT. In the most severe phase of the health crisis we demonstrated our commitment in this regard and implemented measures that have proven to be effective in controlling the virus. That is why we are convinced that continuing in this line of prevention, strictly complying with the recommended measures (facemasks, safety distance and hand hygiene), as well as carrying out mass testing, will help us to protect all those who form part of this company and of the Volkswagen Group in Spain," commented Xavier Ros Vice-President for Human Resources and Organisation, SEAT.
Did you know? SEAT was to decide to mass test workers in the first phase of the pandemic, since April 2020 the company has conducted over 55,000 tests to date.
SEAT's three stage vaccination plan
In coordination with the Health Department of the Catalan Government, SEAT is working to vaccinate its workers as the availability of the COVID-19 vaccines increase. SEAT states that it has "expressed its willingness to the authorities to collaborate in different ways with the vaccination plan for the population and thus contribute to alleviating the burden on the public health system."
In committing to these measures, SEAT further demonstrates its commitments to society and to combat the pandemic.
Did you know? In April 2020 SEAT manufactured over 600 emergency ventilators in record time using parts from the windscreen motors of its SEAT Leon model. The company also mobilised to manufacture surgical facemasks using filters from its paint shop at Martorell and donated US$171,807 to the #YoMeCorono project against COVID-19.
Specifically, SEAT's three stage vaccination plan - without interfering with the authorities' supply plans - will vaccinate all its healthcare staff in the first phase. In the second the company will aim to vaccinate all staff at risk and with greater exposure to the virus, before moving to mass vaccination in the final phase, and an opportunity for employees to participate voluntarily in a study of vaccines developed against COVID-19.
SEAT's new medical centre
At its new meeting place - CASA SEAT - in Barcelona, SEAT has outlined plans to launch a new medical centre, which will be equipped with "a permanent medical service to attend to employees, visitors, exhibitors and workers from other Volkswagen Group companies located in the city."
The new centre joins CARS Madrid, which was launched in 2020 and is the second SEAT CARS Health Care and Rehabilitation Centre established in partnership with Volkswagen Financial Services. The centre provides health care and prevention services to the 1,350 Volkswagen Group employees in Madrid.
For more information on manufacturing topics - please take a look at the latest edition of