BMW & Mercedes-Benz use NVIDIA Omniverse for manufacturing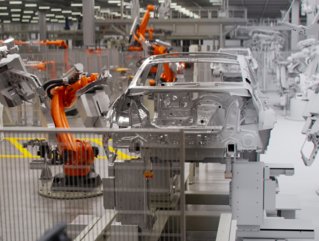 Smart-connected factories
Leading automakers BMW & Mercedes-Benz utilise NVIDIA Omniverse for the next generation of smart-connected factories in car manufacturing
BMW is working with NVIDIA in advancing its use of the NVIDIA Omniverse platform, used to build and operate industrial metaverse applications in its production network. By 2025, operations will start at BMWs planned electric vehicle plant in Debrecen, Hungary.
Smart-connected factories
NVIDIA's Omniverse allows manufacturing businesses to plan factory projects virtually. This helps manufacturers to identify flaws in the plans quickly and complete production faster, saving time and money.
The BMW team can use the Omniverse from any location and on any device, to:
Aggregate data into massive, high-performance models
Connect their domain-specific software tools
Enable multi-user live collaboration across locations
Starting to work in the virtual factory early will allow BMW to ensure optimal efficiency, as the Omniverse platform is a 'blueprint for reducing risks and ensuring success before committing to massive construction projects and capital expenditures'.
Jensen Huang, NVIDIA founder and CEO, came together with Milan Nedeljković, BMW Group's member of the board of management, to open BMW's first virtual factory, powered by NVIDIA Omniverse.
"We are excited and incredibly proud of the progress BMW has made with Omniverse," said Huang. "The partnership will continue to push the frontiers of virtual integration and virtual tooling for the next generation of smart-connected factories around the world."
"This is transformative — we can design, build and test completely in a virtual world," said Nedeljković.
The BMW team is also manufacturing custom applications with Omniverse, including a new application: Factory Explorer. This will be based on Omniverse USD Composer, a foundation application of the Omniverse platform.

Mercedes-Benz digitises production process with NVIDIA Omniverse platform
Mercedes-Benz is also digitising its production process, using the NVIDIA Omniverse platform to plan its manufacturing and design assembly facilities.
Through the utilisation of NVIDIA AI and metaverse technologies, Mercedes-Benz can find ways to reduce waste, minimise energy consumption and enhance quality.
*************************************************
For more insights into Manufacturing - check out the latest edition of Manufacturing Magazine and be sure to follow us on LinkedIn & Twitter.
Other magazines that may be of interest - Healthcare Digital.
*********************************************
BizClik is a global provider of B2B digital media platforms that cover 'Executive Communities' for CEO's, CFO's, CMO's, Sustainability Leaders, Procurement & Supply Chain Leaders, Technology & AI Leaders, Cyber Leaders, FinTech & InsurTech Leaders as well as covering industries such as Manufacturing, Mining, Energy, EV, Construction, Healthcare + Food & Drink.
BizClik, based in London, Dubai & New York offers services such as Content Creation, Advertising & Sponsorship Solutions, Webinars & Events.