Conexiom: Optimising Your Order-to-Cash Process Flow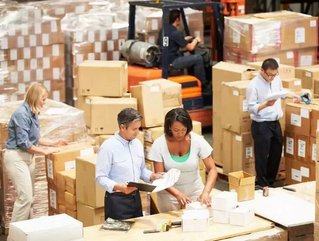 Optimising the order-to-cash process is vital to success. Conexiom examines how automation can improve three of the key steps in the process...
In wholesale manufacturing and distribution, the order-to-cash process is a vital part of success. Streamlining the order-to-cash process flow helps you serve customers more efficiently, reduce delays and errors, and deploy your staff most efficiently.
To optimise the order-to-cash process, it needs to be understood as a series of discrete steps – three of which can be massively improved via automation: Order Fulfillment, Customer Invoicing, and Accounts Receivable.
A Macro View of the Order-to-Cash Process
The order-to-cash (O2C) process constitutes the entire order processing system of an organisation. It starts off with a customer placing an order, and ends with the company receiving payment. Workflows differ across companies, and orders come in via a variety of platforms, but this sequence underpins any O2C process.
The order-to-cash process is affected by all aspects of operations: labour, supply chain management, inventory management, and so on. The more quickly and more smoothly the process is completed, the shorter that order cycle times become, reducing time to revenue. What's more, the data gathered from the invoicing and accounts receivable functions of the O2C cycle determines a company's revenue and cash influx – meaning that delays in the process can trigger further liquidity problems.
Automating Your Order-to-Cash Cycle
For most companies, the order-to-cash process can be segmented into eight steps:
1. Order Management
2. Credit Management
3. Order Fulfillment
4. Order Shipping
5. Customer Invoicing
6. Account Payable
7. Payment Collections
8. Reporting and Data Management
Order Fulfillment
This where many companies start to let inefficiencies creep in. Even though we've achieved tremendous advances in technology, still process orders by hand. In fact, every single year, North American companies process .
With manual order processing, customer service representatives manually key in purchase orders, the same thing they've done since the 1990s. However, since most buyers now use procurement and ERP software, this turns into a complex choreography of manual data entry and back-and-forth document exchanges.
This is time-consuming and terribly inefficient. Using a is the smarter move. By moving beyond manual order processing, you can speed up the whole O2C process.
Customer Invoicing
According to , organisations that excel in their order-to-cash cycle only process 16.2% of their invoices manually. Automated processing is the more popular choice because it is faster and error-free. With manual processing, invoicing inaccuracies and delays can pile up, which can lead to cash problems, disrupting operations. Employ tools that with 100% accuracy to further streamline your process.
Accounts Payable
Automating your accounting systems can help you easily flag outstanding invoices before they are overdue. Moreover, your accounts payable team must have a quick way to review the data from your system. This will help them determine where the errors are, and speedily send back a revised version of the invoice.
Easing Your O2C Flow With Sales Order Automation
A successfully managed and optimised order-to-cash process, coupled with the right technology, helps businesses efficiently deliver value to their customers, as well as receive timely compensation for their services. Throughout the eight-step process, technological innovations can improve your order-to-cash process flow.
converts purchase orders into sales orders with a speed and accuracy that is beyond human teams. The technology eliminates mundane data entry tasks, drives down costs, creates resource efficiencies, scales to thousands of trading partners, and improves the customer experience. By implementing Sales Order Automation, you inject a new efficiency into the very beginning of your order-to-cash process. Everything moves faster, with fewer errors. Orders are processed quicker, cash and arrives quicker.
Getting ideal results from your order-to-cash process requires a fusion of process management, interdepartmental collaboration, and technology. Employing the right solutions streamlines the entire process and ensures smooth transitions from one step to another. Moreover, this frees up resources and personnel to focus on what matters most: providing an enhanced customer experience.
As puts it: "Our CSR team used to spend 80% of their time on order entry, and 20% of their time on customers. Now, it's 80% on customers and 20% on order entry. And no need to backfill former employees."